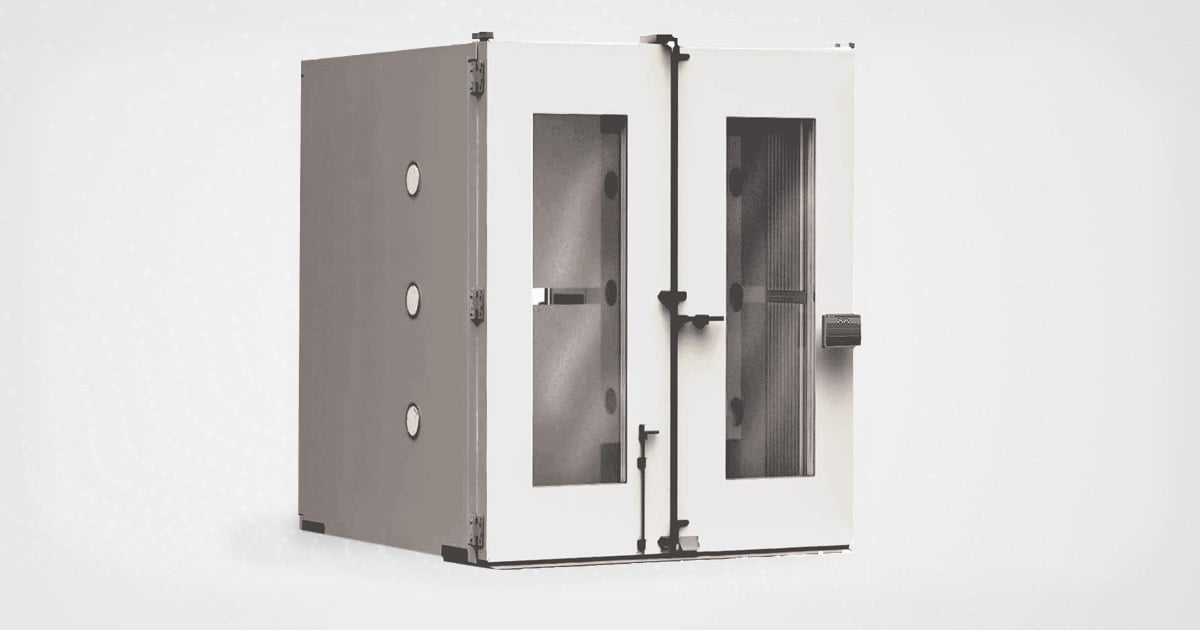 Product testing is one of the most important pre-market stages of development and manufacturing in any industry. Whether you're in the automotive industry, electronics, or pharmaceuticals, it helps protect both you and consumers from costly (and even dangerous) mistakes and recalls.
While it's common to outsource this critical process, purchasing your own environmental test chamber has immediate and longterm advantages. First and foremost, it lets you control the testing process. When you outsource, you have to book an eight-hour day, months in advance, while paying for a technician to run the equipment for you. That's expensive in its own right and grows more costly if you need to adjust the test, restart, or go beyond the scheduled time slot.
Purchasing a test chamber, on the other hand, enables additional testing for inconclusive results and an iterative design process. And walk-in test chambers are perhaps the most versatile—capable of verifying products of various shapes and sizes.
The following guide will help you determine the best walk-in test chamber to meet your needs.
What is a walk-in test chamber?
A walk-in test chamber is a vault-like structure utilized to simulate and evaluate specific indoor or outdoor environmental conditions on a wide range of products and components, even during various stages of assembly—from automotive and aerospace parts to batteries and medical devices.
If you require significant capacity for your R&D, pre-market release testing, quality and reliability testing during manufacturing, you likely need a walk-in chamber.
What are walk-in test chambers used for?
Depending on your needs, walk-in chambers can be used to analyze:
Extreme Temperatures
Humidity Performance
Stability & Extended Performance
Accelerated Life testing
Stress Screening
Extended Performance (Constant Running for Long Periods of Time)
Examples of products often tested include:
Cars
Servers
Cell Phone Batteries
Medical Devices
Retail Packaging
You can customize the size and parameters of a walk-in chamber to suit your needs. For example, sliding doors are especially useful for testing small planes or vehicles. Racks can be added to hold a large volume of smaller goods. Anti-rooms can be attached to pre-condition a product before placing in the test workspace. The precise dimensions can be tailored to meet your facility's unique specifications.
Before you purchase your walk-in test chamber, it's helpful to ask the following questions:
What will you be using your test chamber for?
Walk-in chambers are ideal for testing a wide variety of products and materials, but if you're sterilizing testing equipment, testing polyamides, or conducting other such tasks, you might instead look at laboratory ovens.
What is your budget? What other specifications must be met?
Your budget will determine size, configuration, performance, and even hardware options. Predetermined designs (rather than customized) will help you save money. The same goes for standard versus customized hardware.
Panel vs. Structural
Budget and testing demands will help determine whether panel or structural chambers are more optimal.
Panel chambers are the fast, easy-to-build standalone solutions that are constructed on-site, which provides greater mobility regarding placement. They're also less expensive than structural models, which are more permanent and can test for more extreme parameters and high-performance change rates.
Once you have purchased the test chamber that best suits your needs, you must ensure proper maintenance protocols are followed. What does this entail?
Regularly clean and perform monthly, quarterly and annual maintenance to keep your test chamber running smoothly and effectively, and minimize the risk of downtime, which can be costly.
We recommend the following.
Monthly:
Make sure the water lines are clear.

Check the demineralizer cartridge to see if it needs to be replaced.
For quarterly maintenance, check and recalibrate the following as necessary:
Interior Lights
Control Switches (Power, Heating, Cooling, & Lighting)
High & Low Voltage Reading Remotes, Outside Units, Conditioning System, & Control Side
Heat & Compressor Amperage Units
Condenser Coil (Cleaning & Combing)
Static & Operating Pressures in the Refrigeration System
Door Operation & Seal
Air Registers
Drain & Condensate Pump (Including Draining & Adjustment)
It's also necessary to perform quarterly quality checks for high- and low-temperature parameters: Test how long it takes for your walk-in chamber to get to both the highest and lowest setpoint.
For annual maintenance, you should do a full vacuum and blow-out of your electrical and mechanical compartments. You should also do a thorough inspection of the electrical and refrigeration systems, including the heaters, sensor clips, and wiring. Finally, calibrate the controllers and the sensors to ensure accurate measurements.
Owning a walk-in test chamber is a great way to save time, money, and the headache of worrying about product recalls. To learn more about Associated Environmental Systems and our diverse line of test chambers, or to get a quote started, contact us today.