LN2 rapidly drops the temperature of the test chamber interior. This is ideal for stress tests and efficient thermal dissipation. CO2 can lower the chamber's internal temperature almost rapidly to -73°C (-100°F).
Liquid CO2 is available to customers in either a bulk system, a stand-alone tank, or a cylindrical system that stores much smaller amounts in multiple attached vessels.
Liquid nitrogen (LN2) is directly injected into the test chamber to both expand achievable temperature ranges and raise the temperature change rate. Upon contact with the air inside the test chamber, following the same thermodynamic principle as the CO2 boost, liquid nitrogen can rapidly decrease the interior chamber temperature.
Unlike CO2 which has a boiling point of -57°C (-70.6°F), liquid nitrogen has a boiling point of -196°C (-320.8°F). Therefore, liquid nitrogen provides pull-down rates that are much faster.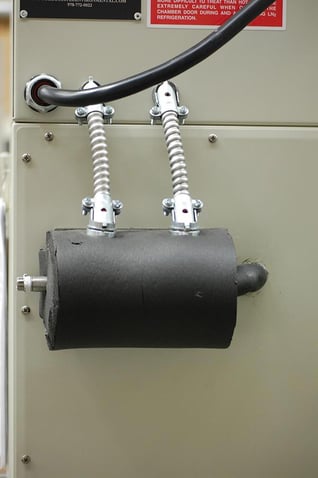 LN2 Valve
CO2 Scrubber Cartridge
The CO2 scrubber cartridge is a dependable filtering system designed to eliminate contamination caused by moisture, oil, and dirt in bulk or bottled liquid CO2 supplies. It's suitable for both 1000-psi and 300-psi services and assures pure CO2 at valves and metering orifices, completely eliminating problems of clogging and erratic operation.
Availability
Bulk System
For bulk systems, AES team members will discuss and plan out detailed specifications internally.

Customers will need to provide delivery pressure information from their facility, so AES can select the appropriate fittings.
Dewers are available from local specific gas companies. Many customers have large tanks of LN2 and CO2 outside their facilities.


1000PSI Scrubber Cartridge
Note: 300PSI looks the same but does not include the black scrubber