What Is EV Battery Testing?
Your electric vehicle (EV) batteries will encounter extreme conditions, high and low altitudes, hills and highways, and diverse climates as passengers drive around the world. Will they surpass the challenges of the road? Rigorously testing your batteries to ensure performance, safety, and reliability is crucial to driving innovation in the EV industry. AES is here to help you do that.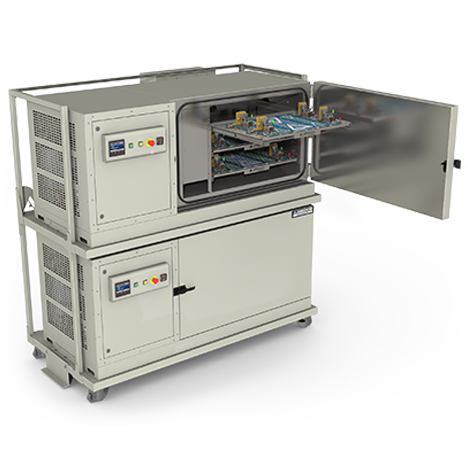 Why AES?
Setting the Standard in the EV Battery Test Chamber Industry
Patented for a system for the high-density testing of batteries within an environmental test chamber, AES offers battery testing solutions that are equipped to grow with you and your battery testing needs as the EV industry changes.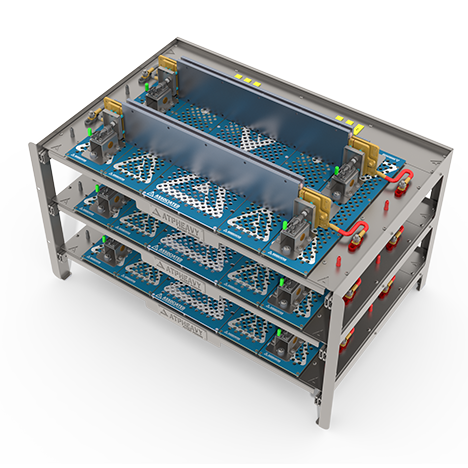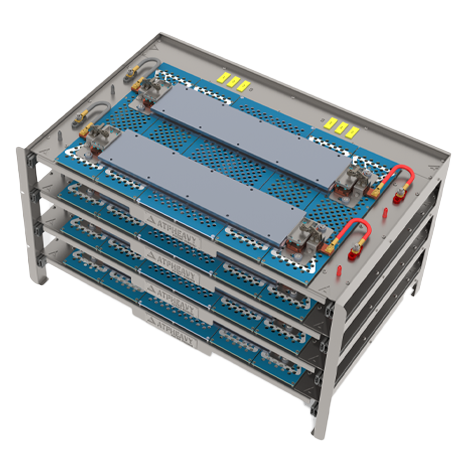 Featuring Horizontal Pouch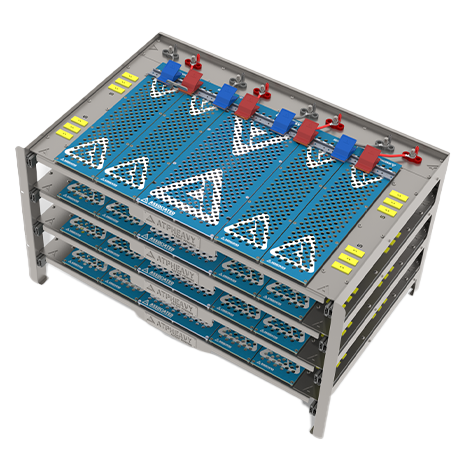 Featuring Pouch or Prismatic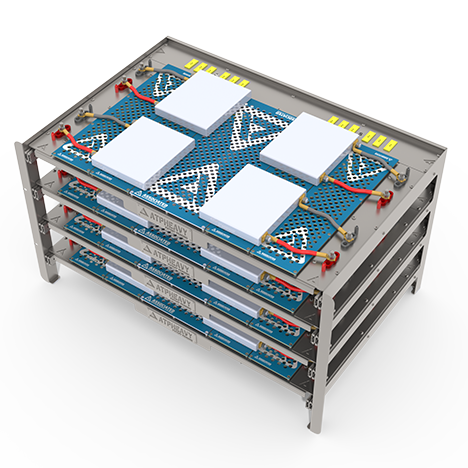 We're adaptable.
AES' ATPHEAVY®
allows you to easily switch between different battery types during testing. This flexibility simplifies evaluating various battery chemistries, sizes, and configurations, saving time and effort.
We're patented.
Your battery innovations can only go as far as your battery test chambers enable them. You need a manufacturer who truly understands the unique challenges of testing labs. That's why we offer a range of patented products and solutions designed specifically with labs in mind.
We Get Labs
Innovation requires agility. AES gets it. We're here to help you address battery testing challenges in the short term and plan for expansion so you can stake your place as an industry leader.
High-Amperage Battery Testing for Cylindrical, Pouch, and Prismatic Cells
ATPHEAVY® ADAPTABLE
Patent-pending ATPHEAVY ADAPTABLE® comes with sliding shelves and can be adjusted to accommodate different setups and battery formats. It's compatible with the SC-512-SAFE.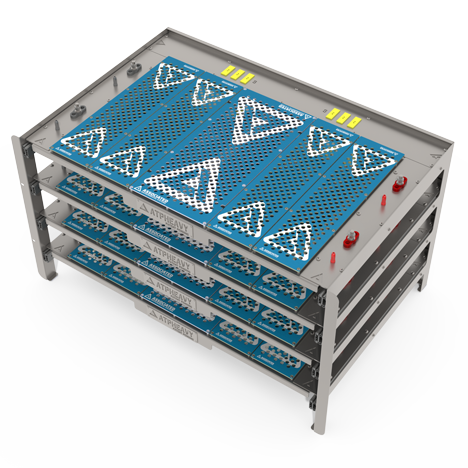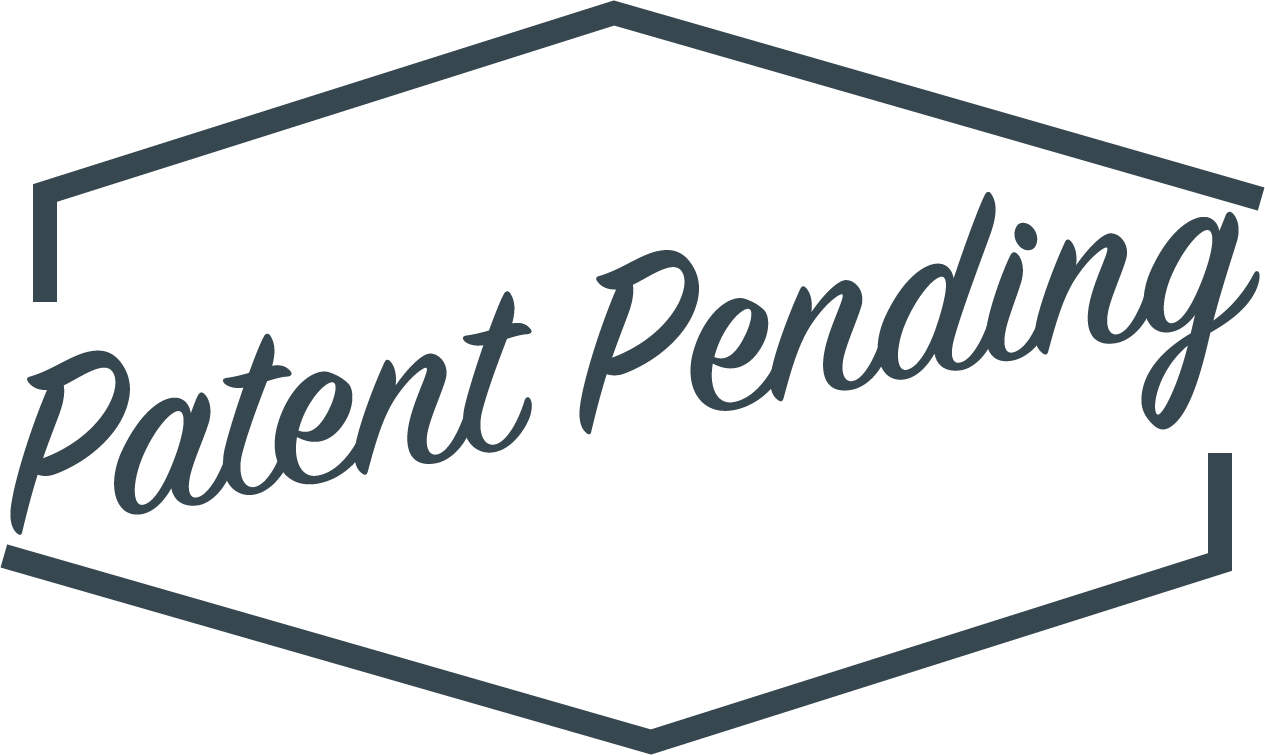 Specs at a Glance
Application: High Current
Channels: 6-16 Channels
Cell Format: Cylindrical, Pouch, and Prismatic
Maximum Current: 500 Amps
Cable Management: IGUS Track
Adaptable Testing
Universal terminals on both sides provide an adaptable and agile solution for battery testing. You can effortlessly change the battery holders whenever your testing requirements shift, allowing for seamless transitions in your application.
Easy Access
ATPHEAVY® ADAPTABLE's shelves (up to 4) slide out of your chamber to give you safe, easy access to each cell.
High-Amperage Battery Testing for Cylindrical and Prismatic Cells
ATPHEAVY®
AES' patent-pending high amperage battery fixture is engineered to fit your testing needs, and is compatible with the SC-508-SAFE and the SC-512-SAFE. The ATPHEAVY is the only large cell testing fixture of its kind.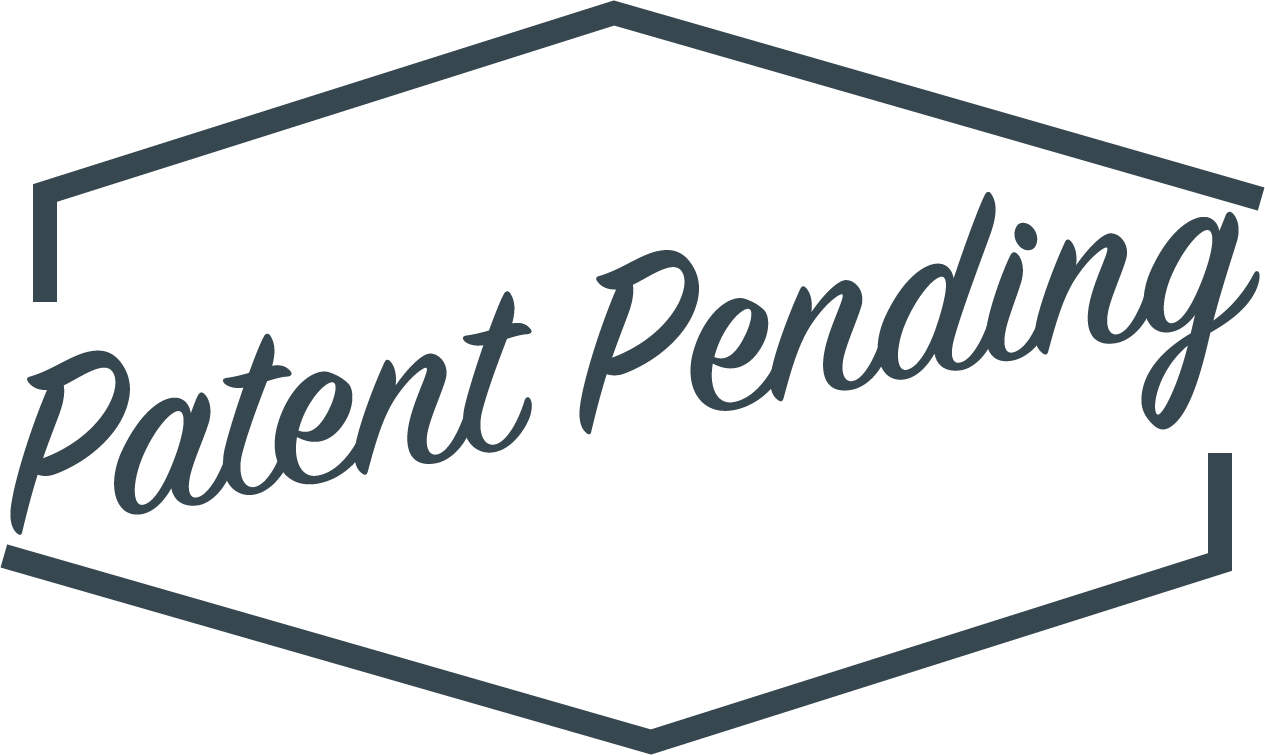 Specs at a Glance
Application: High Current
Cell Format: Prismatic and Cylindrical
Maximum Current: 1000 Amps
Cable Management: High-amperage Cables, Direct Wire, and IGUS Track
Efficiency Meets Reliability
At AES, we prioritize efficiency and reliability in every product we create. Our High Current Power Solution is meticulously designed to provide seamless power delivery, reducing downtime and enhancing productivity. Trust in our solution to keep your operations running smoothly.
EASY ACCESS
With ATPHEAVY, you can perform continuous testing of up to 1000 amps. The system features a pneumatic lift that enables safe loading and removal of large cells. The lift ensures proper touch points to a gold-plated bus bar, ensuring reliable connections during testing.