Humidity chambers are vital to electronics, military and defense, pharmaceuticals, transportation, medical devices, shipping, communications, and more.
Just as there's a wide range of industries that utilize chambers, there's also variance in how companies conduct testing. In fact, it's safe to say that no two companies' testing requirements are the same, although they do share one thing: They need chambers that give them precise control over their conditions.
For humidity testing, that means access to a water source, accurate readings (±0.5°C on temperature and +/-2% RH), and the capability to reach extremes if need be.
Associated Environmental Systems (AES) has built a reputation as a leading environmental test chamber manufacturer by optimizing every aspect of its chambers. Its temperature and humidity models give you the high-performance and control you need.
AES knows how important testing is to the success of your company. Our chambers match the care, research, and ingenuity you put into your products. Here's what you need to know about humidity chambers.
What Is a Humidity Chamber?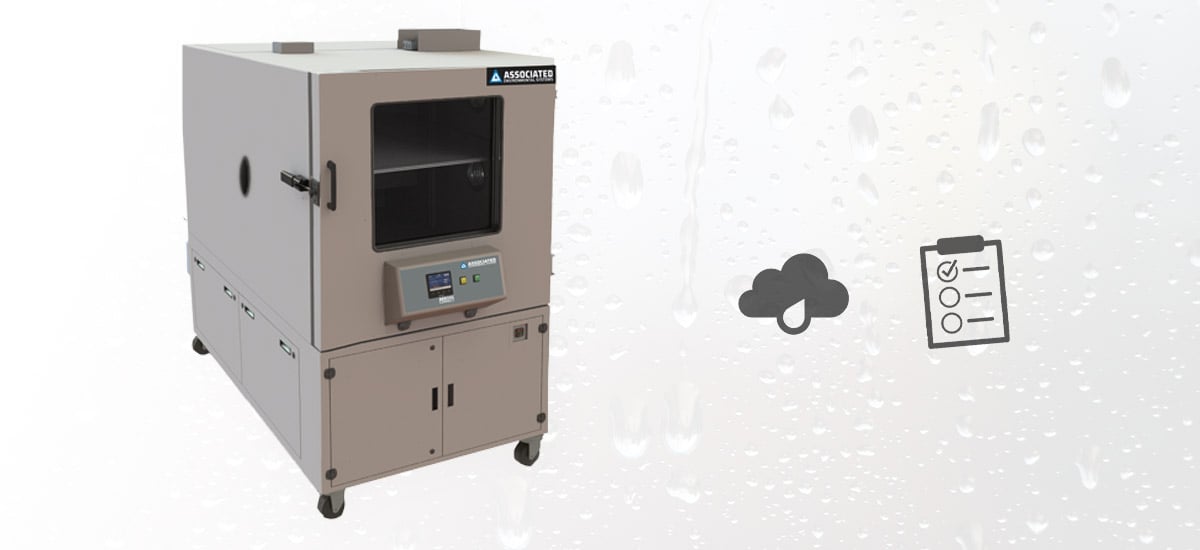 A humidity chamber enables you to precisely control temperature and humidity conditions in an enclosed space. In doing so, you can test how products, materials, and components can be expected to perform in real-world environments.
They range in size from small benchtop units (one cubic feet of volume or smaller) to large walk-in chambers.
What Is the Price of a Humidity Chamber?
The price of a humidity chamber varies tremendously depending on a number of factors, namely size and performance. Small chambers are less expensive than larger ones. The same is true for chambers designed for steady-state, or stability, testing compared to cycling.
The more you need from your chamber in terms of workspace volume, condition extremes, and change rates, the more you can expect to pay.
As a good rule of thumb is that a quality, standard humidity chamber ranges between $14,000 to $20,000. This base price often increases with optional features (such as dry air purges or recirculating desiccant air dryers) and customizations. Be sure to work with a manufacturer that can build a humidity chamber that fits your specific needs.
AES offers the following series of temperature and humidity chambers:
Leading Functions of Humidity Chambers
A number of industries rely on humidity chambers. Humidity is a key component of environmental testing where companies simulate real-world conditions to discover any defects in their products as well as determine how long they'll last. In doing so, they can set warranties and expectations for consumers, including proper use.
This is particularly important for handheld electronics. Think of cell phones. They need to work in desert climates as well as those closer to the ocean.
Here are just some of the common standards (by industry) that require a humidity component: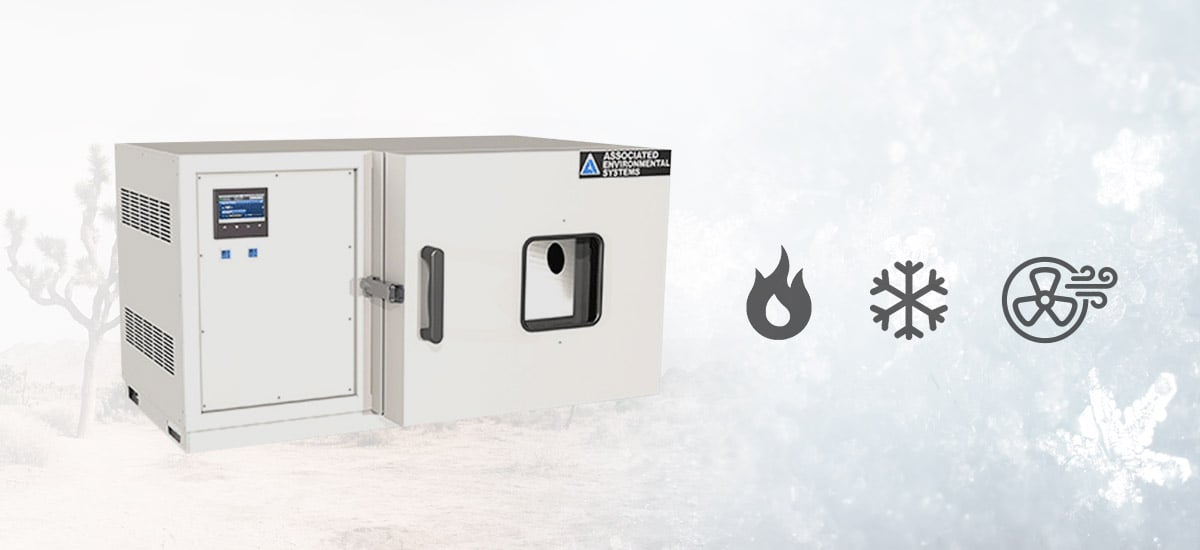 Heating System
The heating systems in AES chambers are all-electric and pass air over fast-response, low-watt-density resistance heaters with a ceramic core, ensuring a long, reliable life with no downtime. The combination of airflow, instrument response, and these fast-reacting heaters give highly accurate and straight-line control of temperatures. These heating systems support temperatures upwards of 180°C (356°F), and heaters may be controlled independently or in unison. Heating systems are located in a plenum, so test items are not subject to direct radiation.
Standard temperature ranges: -37°C to +180°C (-34.6°F to 356°F) | -70°C to +180°C (-94°F to 356°F)
Precision: ±0.5°C

Cooling System
The cooling system in AES chambers consists of a self-contained mechanical refrigeration system with a single-stage or cascade configuration. You'll have the option of air-cooling or water-cooling. Air-cooling comes with easier installation and is less expensive than water-cooling. However, it produces slower pulldown rates.
Water-cooling systems result in faster pulldown rates and are more energy efficient, but they require a dedicated, conditioned water supply and are more complicated to install.
You can supplement your system with boost cooling, employing liquid nitrogen (N2) or carbon dioxide (CO2) for even faster pull-down rates. It's a great option for stress tests that require rapid cooling. Even without boost cooling, AES standard cascade refrigeration systems have the fastest standard change rates of any environmental test chamber manufacturer.

Air Circulation
Air circulation is crucial for environmental testing. AES's chambers have proprietary baffle and fan design combinations that optimizes temperature conditions within the workspace.
AES uses vapor generator systems to give you precise control over the humidity conditions of your chambers' internal workspaces. The vapor generator system is a closed stainless steel or copper tube. An element heats a constant water source creating vapor or steam that travels through the tube and mixes with conditioned air in a plenum before moving into the workspace. Notably, this water source must be treated and demineralized to avoid contaminating the test.
This system yields a standard relative humidity (RH) range between 10% and 98%.

Optional Features to Increase Humidity Range
High Humidity Sensors let you measure humidity as high as 98% RH.
Dry Air Purge Through Desiccant Air Dryers can achieve humidity as low as 5% RH. It compresses air through a desiccant system, absorbing the moisture before it moves into the workspace.
Dry Nitrogen Purges prevent condensation and frost from accumulating on DUT surfaces at colder temperatures by forcing out the moisture-heavy air. This also prevents the oxidation of metals at high temperatures.
Recirculating Desiccant Air Dryers are a more feasible option for larger chambers. Air is circulated through a desiccant system and then returned to the chamber, often cycled through a honeycomb wheel that releases captured moisture into the external workspace.
Associated Environmental Systems has developed a Dew Point Calculator to help you determine whether you'll need optional features for your humidity systems.
Humidity Chamber Maintenance

Regular maintenance keeps your chambers running for 10 years or more, and it's crucial, in particular, for humidity chambers. They require properly conditioned water. AES suggests defined ranges for resistivity (0.05MΩ * cm to 6MΩ * cm), conductivity (20µS to 0.167µS), and total dissolved solids (TDS) (10 ppm to 0.083 ppm). The demineralizing cartridges used to condition the water should be checked monthly.
In addition, be aware of any buildup of sediments and sitting water, which can lead to mold or mildew that corrodes metal over time. Don't worry, though, AES has expert service techs around the country ready to make sure your humidity chambers retain their top performance.
Humidity Chamber Resources & FAQS
How does a humidity chamber work?
Leading test chamber manufacturers build humidity chambers with closed, vapor generator systems. They require properly conditioned water as well as regular maintenance to ensure performance. Read More
What are the leading functions of a humidity chamber?
Humidity chambers rely on vapor generator systems to create specified conditions in the workspace. Companies across industries (from packaging to electronics, pharma, communications, and more) test their products in humidity to evaluate the effectiveness of those products in different environmental conditions and set expectations for consumers. Read More
Humidity chambers: Calculating dew point to fit your testing
The relationship between temperature, relative humidity, and dew point can be a bit complicated to calculate, but it's vital for ensuring reliable and consistent humidity testing. Read More
Troubleshooting: Common Humidity Chamber Questions
Associated Environmental Systems is committed to long-term, responsive relationships with our customers. Looking to purchase a new chamber? Have questions about service, support, or retrofitting an existing chamber?
Don't hesitate to contact us with your questions or challenges.