Temperature Chambers
Precise control over your environmental testing conditions
Nearly every industry benefits from—if not requires—some form of environmental testing. Be it transportation, electronics, medical devices, packaging, batteries, or military and defense, temperature chambers play a central role in the success, research and development, and safety of products.
As an industry leader, Associated Environmental Systems (AES) designs and builds sophisticated temperature chambers ideal for temperature cycling, steady-state testing, battery testing, and more.
Here's what you need to know about temperature test chambers to best meet your performance and testing requirements.
What Is a Temperature Chamber?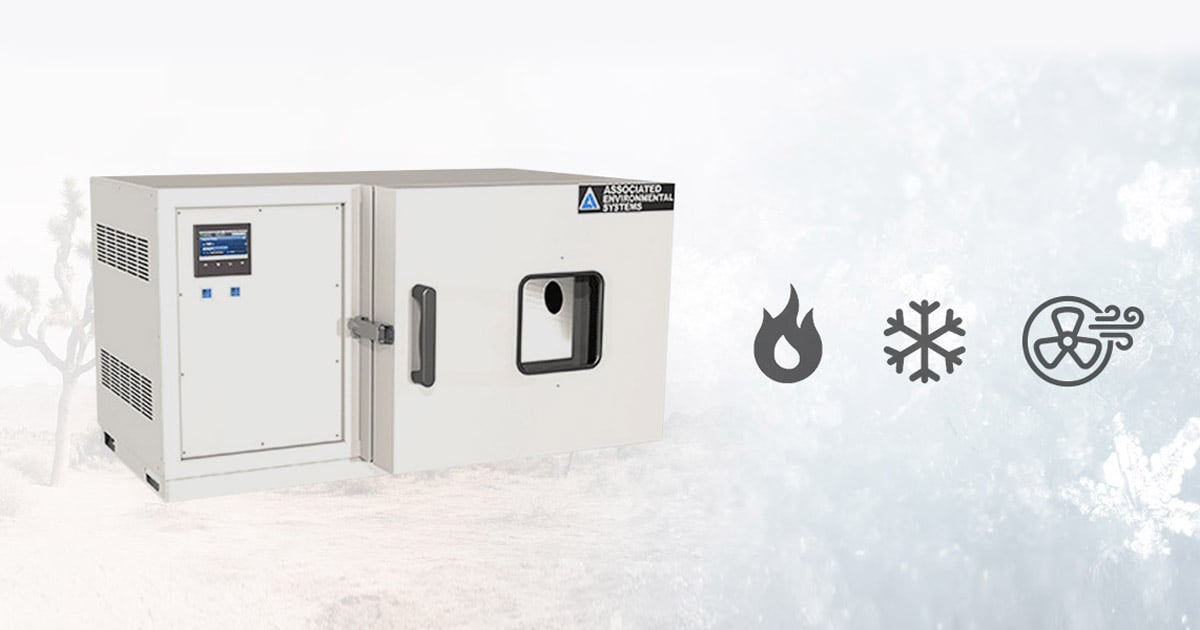 A temperature chamber, also known as a thermal chamber, enables you to manipulate the temperature conditions of an enclosed space to run controlled tests. They vary in size and performance, from small, benchtop models as well as large, walk-in or drive-in rooms.
AES manufactures a number of standard temperature chambers (in addition to designing custom chambers for your needs). They are built to last with components designed to withstand rigorous testing. The internal workspaces are lined with type 304 stainless steel for a vapor-tight internal construction while the exteriors feature a durable, powder-coat finish over heavy-gauge steel for a long-lasting, clean look. Between the two layers is highly efficient, low k-factor, thermal insulation to ensure safe, accurate, and efficient testing.
What Is the Price of a Temperature Chamber?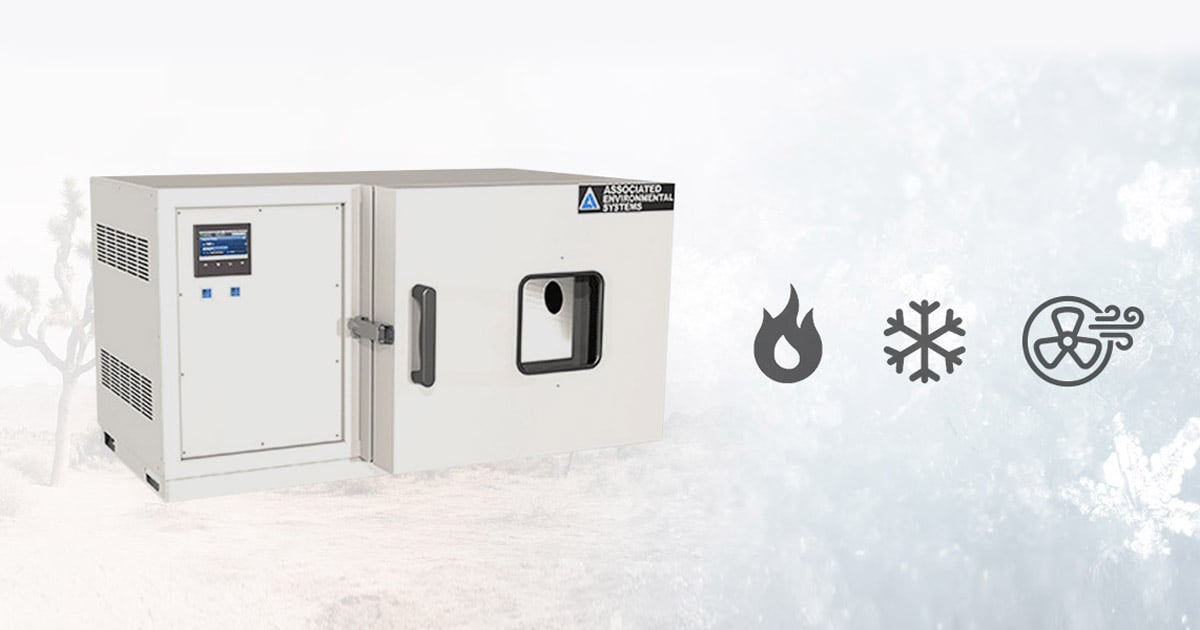 The price of a temperature chamber varies tremendously depending on a number of factors, including size and performance. Large chambers tend to be more expensive than smaller ones.
Standard temperature chambers typically start at between $14,000 and $20,000. This base price often increases with optional features (such as boost cooling or battery testing fixtures) and customizations. Be sure to work with a manufacturer that can build a temperature chamber that fits your specific needs.
AES offers the following series of temperature chambers:
Temperature Chamber Systems
AES carries a wide variety of top-of-the-line temperature chambers from benchtops to walk-ins. You can also purchase rack-and-stack test chambers to maximize your lab space and optimize efficiency. Consider a chamber equipped with ATPPRIME or ATPHEAVY for the safest, most effective battery testing in the industry, or ATPFLEX, a battery testing fixture that can be installed into nearly any chamber.
Standard temperature ranges: -40°C to +180°C (-94°F to 356°F) | -70°C to +180°C (-94°F to 356°F)
Precision: ±0.5°C
Ramp Rates: 3.9°C/minute to 9°C/minute and faster

Heating System
The heating systems in AES chambers are all-electric and pass air over fast-response, low-watt-density resistance heaters with a ceramic core, ensuring a long, reliable life with no downtime. The combination of airflow, instrument response, and these fast-reacting heaters give highly accurate and straight-line control of temperatures. These heating systems support temperatures upwards of 180°C (356°F), and heaters may be controlled independently or in unison. Heating systems are located in a plenum so that test items are not subject to direct radiation.

Cooling System
The cooling system in AES chambers consists of a self-contained mechanical refrigeration system with a cascade configuration. You'll have the option of air-cooling or water-cooling. Air-cooling comes with easier installation and is less expensive than water-cooling. However, it produces slower pulldown rates.
Water-cooling systems result in faster pulldown rates and are more energy efficient, but they require a dedicated, conditioned water supply and are more complicated to install.
You can supplement your system with boost cooling employing liquid nitrogen (N2) or carbon dioxide (CO2) for even faster pull-down rates. It's a great option for stress tests that require rapid cooling. Even without boost cooling, AES standard cascade refrigeration systems have the fastest standard change rates of any environmental test chamber manufacturer.

Air Circulation
Air circulation is crucial for environmental testing. AES's chambers have proprietary baffle and fan design combinations. This optimizes temperature conditions within the workspace.

Safety Features
A high/low temperature control function enables you to adjust testing conditions so they do not exceed a certain temperature limit above or below what is set for the device under testing (DUT). This includes an internal high-temperature safety component and refrigeration system over-pressure safety circuit. These elements combine to help protect your product throughout the testing process.
Additionally, temperature chambers designed for battery testing come equipped with standard and optional safety features. AES SAFE chambers protect products and labs and keep user safety in mind so you can innovate with confidence.

Radio Frequency Shielding
Some companies need to block radio frequencies during their testing because they can affect the performance and functionality of DUTs. This is also important for compliance. The United States government, in the form of the Federal Communications Commission (FCC), strictly enforces safety restrictions on radio frequencies. The regulations cover everything from broadcast television and radio to satellite communications and aeronautical navigation.
AES builds some temperature chambers with RF shielding that features the following:
Cellular, metallic, chromatic gaskets and conductive adhesives that seal the workspace
A honeycombed RF-shielded grill that keeps the circulation motor cool
Electrical wiring fed through special RF filters
Standard and customer-requested RF-rated connectors, installed on a side-mounted interface plate to provide a shielded pass-through grid so you can communicate with the DUT
The level of attenuation (the strength of the signal the test chamber blocks and, by extension, isolates) varies as well. Each test chamber is certified by an independent facility prior to being shipped.
Temperature Cycling Vs. Steady-State Testing
While heating and cooling are also utilized in other types of test chambers, such as salt spray and humidity chambers, temperature-only test chambers are primarily used for temperature cycling or steady-state testing.
Sometimes referred to as thermocycling, temperature cycling focuses on exposing DUTs to alternating low and high temperatures to identify breaking points and durability. Repeating these temperature changes enables engineers to analyze how well DUTs are likely to perform under real-life conditions.
Temperature cycling reveals early-term defects including short-circuiting, cracking, breaking, warpage, debonding, and seal failure. This is done by saturating DUTs in cycling temperatures over several hours.
Temperature cycling is similar to thermal shock testing. The primary difference between the two is found in how rapid those temperature changes happen. Shock testing exposes devices to opposite, extreme temperatures immediately while temperature cycling is more gradual.
Cycling requires fast change rates from higher-performance chambers. AES accommodates users by providing four standard performance levels in the FD Series for chambers 18 cubic feet to 96 cubic feet in volume.
The change rates may vary by chamber size, DUTs, and the ambient conditions of your lab.
Towards the other end of the performance spectrum, steady-state or stability testing exposes DUTs to a constant temperature over an extended period. Be it textiles, pharmaceuticals, electronics, or cosmetics, steady-state testing is another means of assessing a product's durability and how it will perform in a real-world environment.
Although it's focused on testing product sturdiness, stability testing is frequently employed to evaluate packaging stamina, as well.
Battery Testing in Temperature Chambers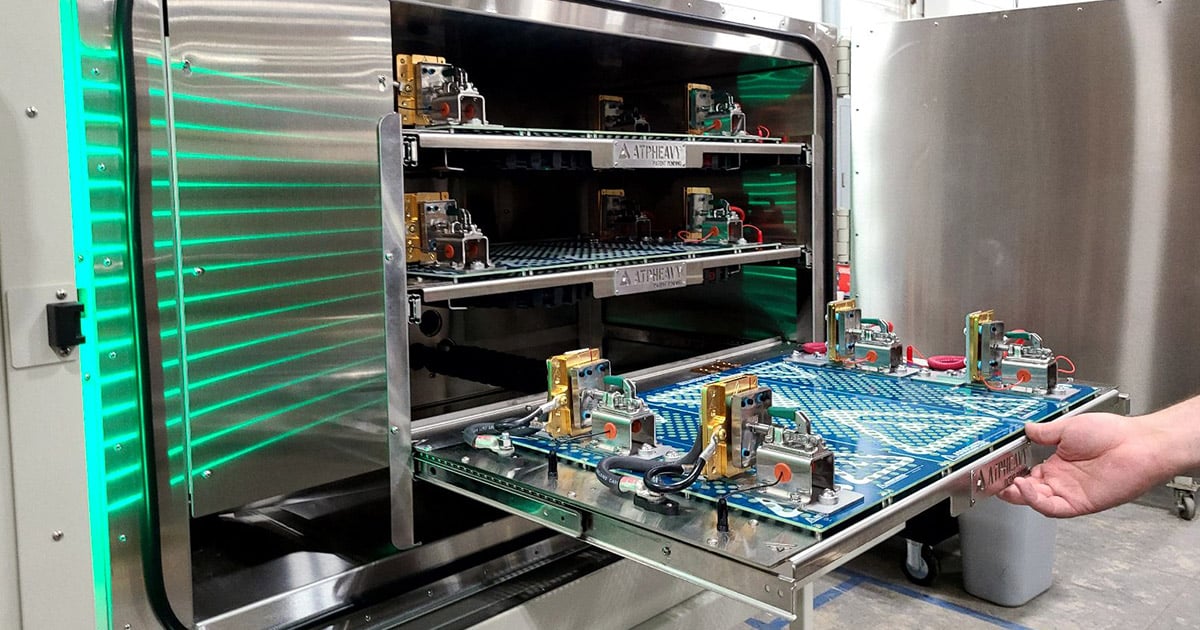 Advancements in battery technology—how they're made, shaped, and used—require rigorous testing for safety, performance, and reliability. Companies utilize temperature chambers, and sometimes humidity chambers, for this purpose.
The results are often world-changing. Rechargeable batteries power not just our cell phones, tablets, and laptops but also medical devices, drones, and more. Increasingly, companies are investing significant time and resources into developing longer-lasting, faster-charging batteries for electric vehicles to help manufacturers meet consumer demands and achieve their carbon emission goals.
All of these batteries must be evaluated before being packaged or included in a device shipped to market.
AES has designed battery test chambers (with extensive safety features) to expand a company's ability to conduct battery research and development in controlled conditions, enabling them to innovate toward a brighter future.
Patented ATPPRIME
Patented ATPPRIME, available in several AES temperature chambers, enables testing of almost any battery type, including coin, cylindrical, pouch, prismatic, and pack cells. The fixture can seamlessly rotate between battery types using universal kelvin connectors. Each connector is safely accessed by sliding shelves capable of accommodating loads holding up to 48 cells across four levels.
Patent-Pending ATPHEAVY
ATPHEAVY enables testing of up to 1000 amps per channel. It is designed specifically to accommodate large prismatic pouch cells that power electric vehicles. In addition, ATPHEAVY ADAPTABLE is a first-of-its-kind fixture. The board is optimized to move holders closer together and further apart to account for different battery sizes and cell types. You can conduct all your high-amperage testing needs in a single chamber with one adjustable fixture.
Both the SC-512-SAFE and SC-508-SAFE, two of the most powerful benchtop temperature chambers in the world, can be equipped with ATPHEAVY or ATPHEAVY ADAPTABLE. You can stack multiple chambers as well to maximize testing efficiency.
Already have an environmental chamber and looking to test batteries? Explore ATPFLEX, a fixture capable of testing coin, cylindrical, pouch, prismatic, and pack cells that can be integrated into your chamber.
Remote Monitoring With AESONE CONNECT
The days of standing next to your chambers to observe ongoing tests are over. AES temperature chambers come standard with AESONE CONNECT, a combination of hardware and software solution that enables you to monitor tests remotely. You can view real-time and historical data, create, edit, save, and move between test profiles from anywhere you can access a web browser.
This reduces labor costs and saves time. For instance, you are informed exactly when a test fails part way through rather than learning after the fact and having to start over again. At any moment you can start, stop, resume, or restart a test from a web browser.
Watching from a full-screen monitor, AESONE CONNECT empowers you to design and rearrange tests with visually intuitive plot lines, clear data intervals, and colorful graphs. Furthermore, sharing a chamber is not a security problem. Multiple login authentication methods and user-access permission levels are controlled by the administrator, who can establish expiration dates for each user.
If your budget can't afford to purchase a new temperature and humidity chamber, AESONE technology can also be retrofitted to nearly any chamber you own. An AES team member will examine your configuration and retrofit the AESONE XCHANGE hardware to your chamber so you can connect to AESONE CONSOLE software.
Notably, well-cared-for chambers can function longer than ten years, outlasting their controller technology. Retrofits enable you to extend the lifespan of your chamber even further.
If you have 10 or more chambers at one or more locations, AES has a new AESONE solution for management. Contact us today to find out if it's right for you and to receive a quote.
Temperature Chamber Resources & FAQs
Temperature Chamber Considerations: System Components & Power
Before you purchase a test chamber, it's important to understand the system components and power as they pertain to the devices you plan on testing. Read More
The Best Temperature Chambers for Battery Testing
The ideal temperature and humidity battery testing chambers consist of high-performance materials and designs, versatile fixtures, combination hardware and software instrumentation, and more. Read More
The Best Temperature Chambers for Battery Temperature Cycling
Industry-leading temperature chambers for temperature cycling have powerful compressors, temperature ranges from -70°C to 180°C, reliable conditioning systems that control temperature within ±0.5°C, various cooling system options, and remote control to monitor testing from anywhere. Read More
The Importance of Testing Batteries in High Temperatures
Battery test chambers enable you to rigorously test your batteries in controlled conditions, including high temperatures, to ensure they perform as expected. Read More
Troubleshooting: Common Temperature Chamber Questions
Associated Environmental Systems is committed to long-term, responsive relationships with our customers. Looking to purchase a new chamber? Have questions about service, support, or retrofitting an existing chamber?
Don't hesitate to contact us with your questions or challenges.