Control System
There are three controller options for walk-in chambers.
Our most popular controller is standard on all walk-in chambers. The Watlow F4T with AES|XChange is the easiest way to manage your walk-in chamber.
The F4T's state-of-the-art control system gives you easy operation and flexibility with an intuitive, user-friendly touch-screen interface at the chamber.
AES|XChange has a browser-based dashboard allowing you to monitor processes, operate the chamber, and visually drag-and-drop to build profiles from your desk, or remotely on your laptop or tablet. Your IT security team will be happy that your chamber is not a security risk on your network because we built it on a microprocessor architecture with secure firmware and we do not use Windows or Linux-based controller. Our published API utilizes a standard REST-Like JSON API which is easy to communicate with. We provide Python script examples.
Watlow's F4 controller is ideal for multi-step ramp and soak operation. Controlled with 6 discrete buttons and four-line, 20-character LCD display, the F4 allows you to write profiles to automate steps and events at the chamber. Add AES|XChange to remotely start, pause, stop, and monitor your product via live graphing and data storage.
The Watlow EZ-ZONE PM controller offers easy functionality and is ideal for single-function, steady-state operation, a set it and forget it type controller.
Our test engineers will program profile setpoints for you at the factory to ensure you are up and running as soon as installation is complete.
AES|XChange Dashboard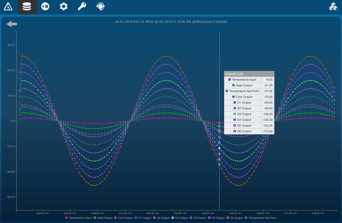 The AES|XChange Dashboard is a remote, network-based method for controlling your walk-in chamber
Network securely
Monitor test cycles from your desk or remotely
View data in real time
Pause, stop, start, reset remotely
Lock and unlock operation
Allow multiple users six levels of access
Never before has a controller been so intuitive and easy to use. The unique dashboard display makes remote operation and data logging accessible to all users. Increase efficiencies by integrating AES|XChange into your current process management system.