AES builds custom test chambers to fit your testing needs.
You can expect a full selection of test chambers that range in size, function, and performance at AES. Sometimes, however, you need something unique to your testing requirements, industry, or project.
Our engineers are ready. They design and build custom test chambers based on your specifications.
We often build custom chambers with a diverse collection of customers to accommodate devices under test and/or special test requirements. Customizations can be simple: an extra port, for instance. They can be complex: creating port-and-window configurations to accommodate specialized glass for LIDAR sensors.
No matter the customization, prompt communication between the customer and the build team is crucial. AES end-users are in direct contact with our engineering design team to formulate their specific test chamber specification within a timely and efficient process. AES iterates CAD designs in a cooperative design methodology with the end-user.
We will happily work around your current situation to ensure your testing chamber is as efficient and effective as possible–we provide custom installation.
Custom Test Chamber Features & Options Available
Access for a roll-in vibration table
Thermal shock test chambers with additional ambient compartments between the hot and cold workspaces
Lab ovens with bi-parting doors
Custom chambers with a vibration table and guillotine door
Ports of all shapes, locations, and configurations
Removable electrical compartments and compressor units
Portable units for conditioning any workspace
Safe content access with port-and-window configurations supporting an enclosed fume hood-style glove box
Seamless faces and inner wraps without crevices for sterilization needs
Uninterrupted tests ensured by electro-magnetic safety door lock
And more—Tell us what you're looking for. Our engineers will work with you!
Interested in seeing what's behind a custom test chamber?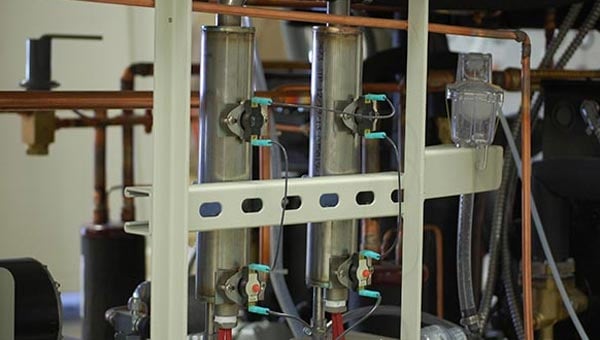 Modular Humidity Systems
AES can outfit a non-traditional-sized test chamber with dual steam generators for humidity control. Depending on the size of the unit, AES is happy to customize all test chamber systems to meet your needs.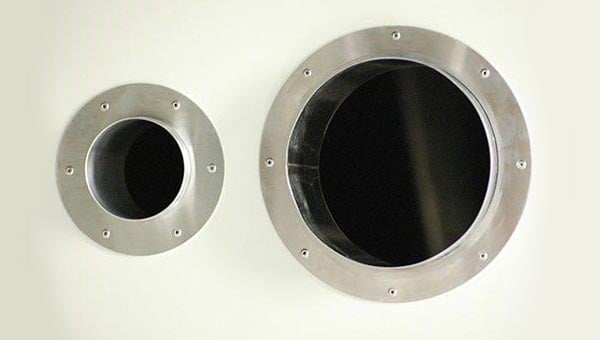 Ports, Glove Boxes, Interface Panels
AES builds test chambers with multiple large access ports for easy item manipulation during testing. Glove boxes may even be added to larger test chambers for safe and direct manipulation of items during condition testing.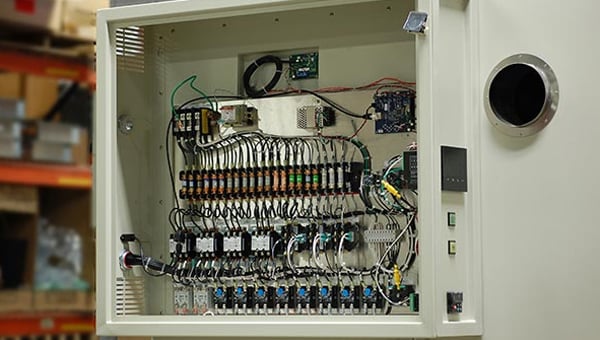 Removable Electrical Panel
Custom test chambers can feature removable electrical panels for easy transportation and installation. The pictured panel is hardwired to the test chamber body via a flexible hose, allowing this chamber to fit through a standard 34" doorway.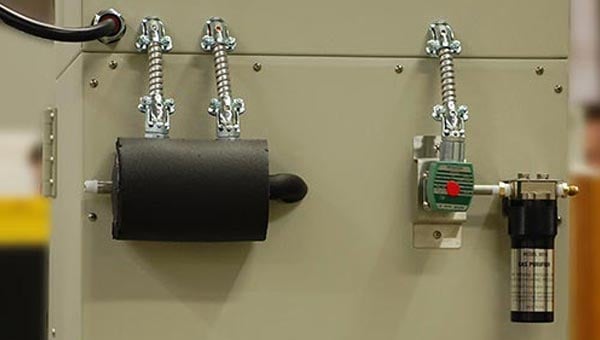 CO2 & LN2 Boost Cooling
Test chambers include both CO2 and LN2 boost cool options. This option is quite common among small lab ovens as it allows for intense heat and cooling to manipulate the most severe environmental conditions.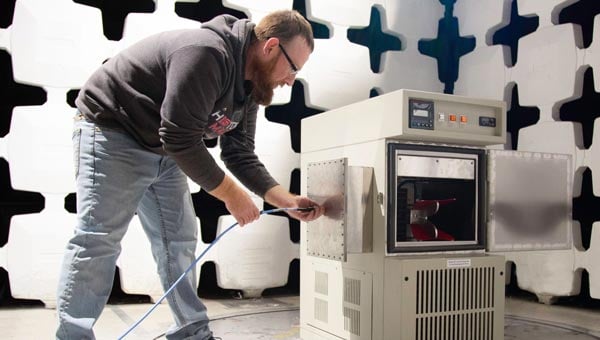 Radio Frequency Blocking
Associated Environmental Systems offers a temperature chamber that forms a conductive barrier to block radio frequency energy as you test circuit boards and other electronics. The FDR chamber provides the ability to test frequency-generating devices within a shielded environment. The chamber also offers the ability to test devices inside that are shielded from the outside.