CONTROLLERS

Standard on all LH, FD, HD, SM, SD, BHD, & Walk-In Series Environmental Test Chambers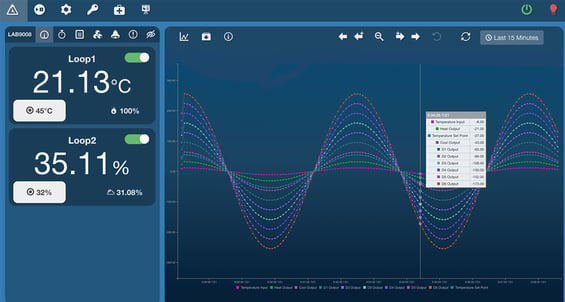 Now you can monitor your environmental testing away from the chamber. Enabling communication, AESONE XCHANGE is hardware that lives inside your test chamber opening a world of access.
When AESONE XCHANGE is connected to your test chambers controller and you company network you get access to AESONE CONSOLE. A web-based dashboard view lets you monitor your test chamber remotely as a device is undergoing test. The home pages is a side-by-side view of the setpoints and current temperature and humidity and a customizable graph. AESONE CONSOLE software allows you to operate your chamber on a full-screen monitor at your desk or remotely on a laptop or tablet. View real-time readings and control your chamber's temperature and humidity.
A full-screen-mode graph allows you to view and monitor live and historical data with a pause-and-resume feature while the chamber is running a test profile.
From a web browser, you have the ability to move between profiles, create new profiles, edit and save them. The Profile Builder uses an easy drag-and-drop interface that makes choosing steps and rearranging test profile steps a breeze. Say goodbye to spending hours standing at a small screen in front of the chamber building test profiles or using an overcomplicated interface.
Using a shared chamber is not a problem if you are using AESONE XCHANGE security features which decrease test interference with three authentication methods and six permission levels controlled only by the administrator.
Dimensions: Embedded software allows you to work on a full screen at your desktop or remotely on a laptop or tablet. Ask for the optional touchscreen monitor to mount on the chamber for full-screen access or plug your laptop in when you're working at the chamber.
Analog Inputs: up to 24* (dependent on controller configuration)
Networking: Ethernet, JSON API, python scripts
Data Storage: Internal flash memory
Capacity before Reset: up to 8 years of continuous recording* (dependent on data logging settings)

Watlow F4T
Standard on all FD, HD, SM, SD, BHD, & Walk-In Series Environmental Test Chambers
The F4T has 4 channel control as well as easy-to-set-up custom profiles. This enables you to easily adjust profiles in the controller without having to worry about deleting or messing up pre-existing profiles. The F4T has Modbus over TCP, RS-232, and RS-485 communication capability. The ability to connect to optional data logging is available via after-market auxiliary computer-based software.
Control/Limit Loops: 4/4

Alarms: Up to 14

Mounting: Front panel or flush mount

Profile: Yes

Max Output: 10A SSR

Ambient Operating Range: -18 to +50 C°

Data Logging: Yes (Optional)

Communication Protocols: Standard Bus, Modbus TCP, Modbus RTU, SCPI, USB 2.0

Optional Protocols: IEEE-488 GPIB

Screen Type: 4.3" PCAP color graphical touch

Documentation: Watlow F4T

Example Profile: F4T Controller Example Profile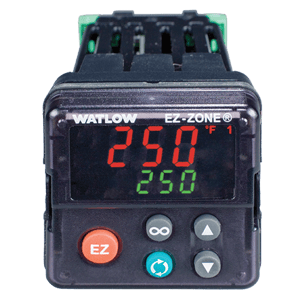 Watlow EZ-ZONE PM
Standard on all LH, BD, MX Series Environmental Test Chambers
A push button controller with segmented displays. Has optional RS-232 or RS-485 serial communication. This controller is standard on LH, BD, and MX Series environmental test chambers.
Control/Limit Loops: 1/1

Alarms: 2

Mounting: 11/32, 1/16 DIN front panel

Profile: No

Max Output: 15A

Ambient Operating Range: -18 to +65 C°

Data Logging: No

Communication Protocols: Modbus RTU

Optional Protocols: Modbus TCP, IEEE-488 GPIB

Screen Type: LCD Segmented Display

Documentation: Watlow PM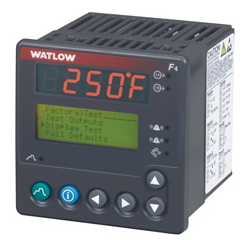 Watlow Retro F4
Optional Feature: This controller is no longer a standard product on AES environmental test chambers.
The Retro F4 can also be used with after-market auxiliary computer-based software. The F4 comes with standard RS-232 or RS-485 and has optional adapter board for Modbus or TCP Ethernet, IEEE-488, or GPIB.
Control/Limit Loops: 2/0

Alarms: 2

Mounting: 1/4 DIN front panel

Profile: Yes

Max Output: 2A

Ambient Operating Range: 0 to +55 C°

Data Logging: No

Communication Protocols: Modbus RTU

Optional Protocols Modbus: TCP, IEEE-488 GPIB

Screen Type: Backlit LED Segmented Display, 4 Lines, 40 characters each

Documentation: Watlow F4