Technology
Remote Access, Collaboration with Enhanced Controller Capabilities
AESONE CONNECT
Increase Access Through Connected Chamber Technology
Your AES test chamber has the power to free up your time and make remote test monitoring possible. Most temperature and humidity test chambers shipped have our exclusive connected technology living inside. AESONE CONNECT is a combination of software (AESONE CONSOLE) and hardware (AESONE XCHANGE) that gives you the ability to view and operate your test chamber and view real-time and historical data from anywhere, at the office or away.
Hardware
Work from anywhere, any time
Monitor your environmental testing away from the chamber. You no longer have to stand at the test chamber, scrolling through small LED screens or layers of pages on a 4" touchscreen. AESONE CONSOLE lets you view and operate your chamber on a full-screen monitor at your desktop or remotely using a laptop or tablet.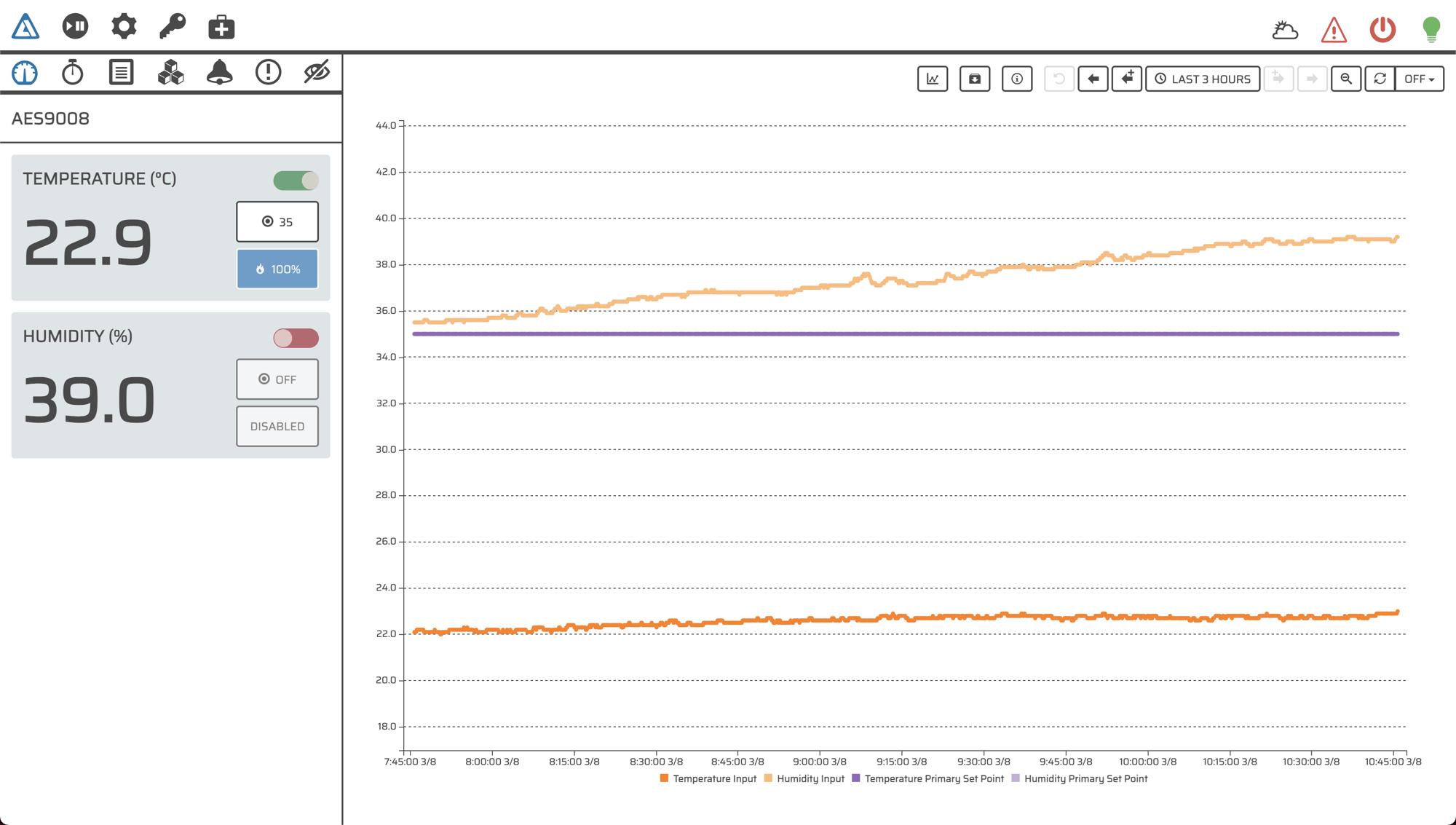 Watch from Afar
In a dashboard format, you can see your setpoints and actual readings beside a customizable large-format graph. These are real-time readings of your device-under-test straight from the test chamber controller via AESONE XCHANGE. At any time, you can start, stop, pause, resume, start from the beginning of any step, and jump to any step.
See It Your Way
A full-screen-mode graph allows you to view and monitor live and historical data. The graph has features that enable you to change colors of plot lines for easy viewing, set the data intervals for graph updates, pause and resume to narrow in on a point, scroll back to different points in the test, and add observation notes to the graph, all while the chamber is running a test profile. You can also switch from light to dark mode.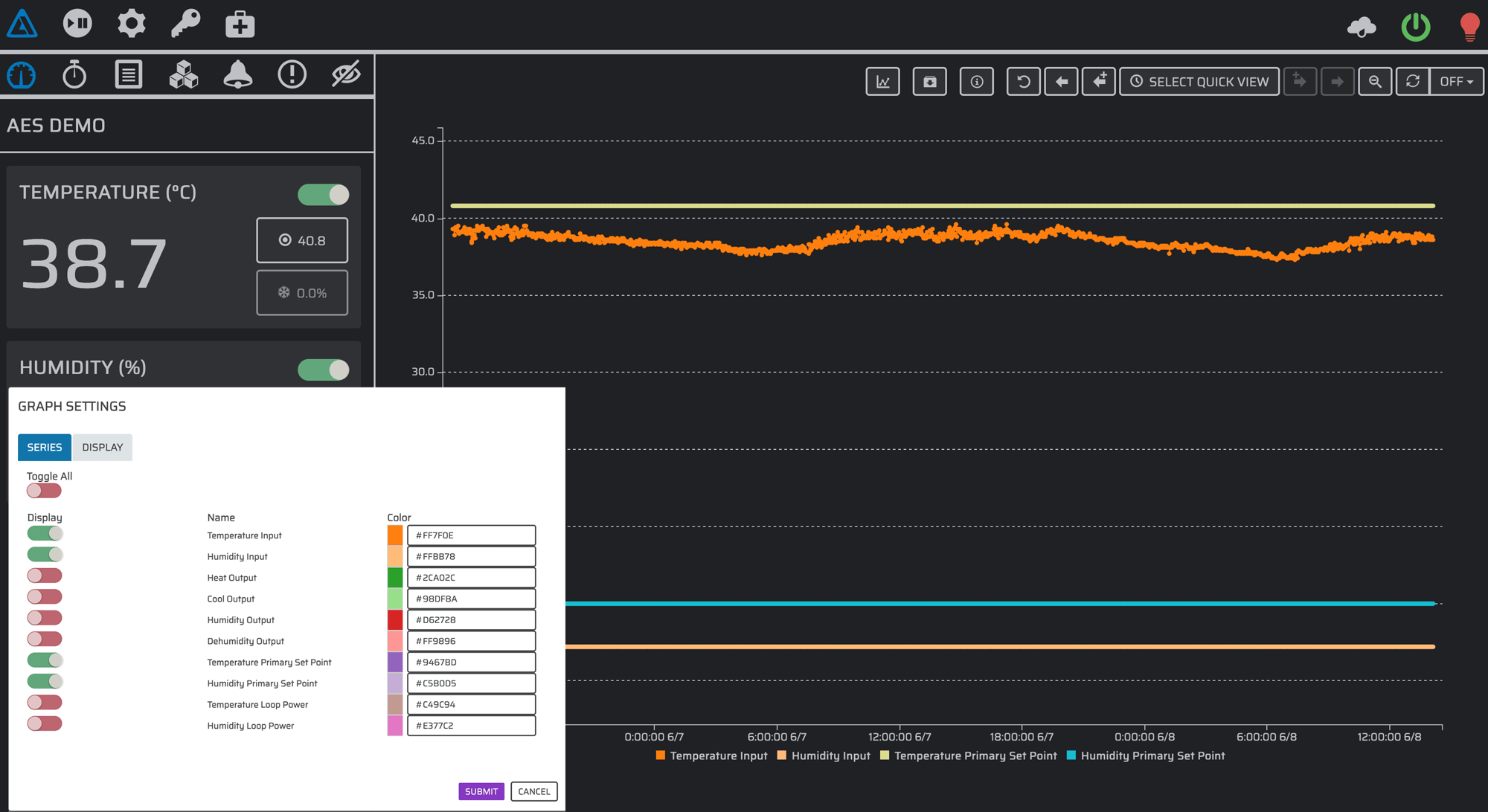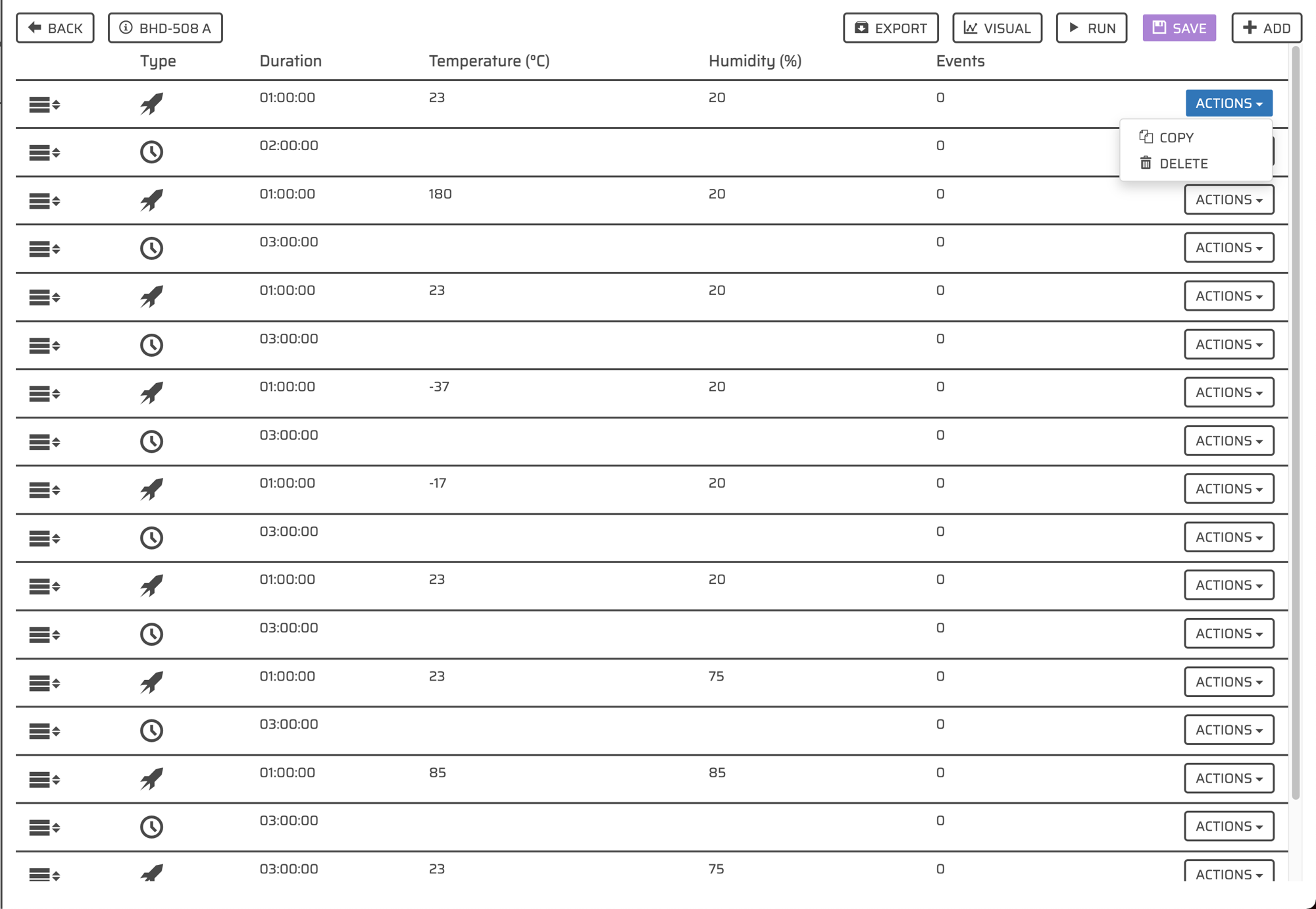 Build the Perfect Test
You can create, edit, save, and move between profiles from anywhere you can access a web browser. An always-visible taskbar lives on the right side of your screen that makes choosing steps and rearranging them a breeze. Adding, removing, cloning, and rearranging steps in the profile is simple with color-coded bars designating steps and icons depicting the event.
Communication and Control
Hardware
Increase Chamber Functionality
The technology gives you the ability to walk away from your devices-under-test (DUT) without worry. Connect your controller to your company network with AESONE XCHANGE. Once you access the IP address, you have the ability to view data that is stored in AESONE XCHANGE and completely monitor and control your test chamber.
Hardware
It's not too late to get in the game
Let an AES Service Team Member deliver the power to you with a retrofit that will put AESONE XCHANGE in any chamber you own. After a consultation that will assess your chamber configuration, an AES Service Team Member will come to your chamber to install a retrofit that will allow your controller to communicate with your network.
Any Manufacturer's Test Chamber