Many industries have established standards for product reliability and lifespan that is dictated by governing boards, industry standards, or consumer expectations.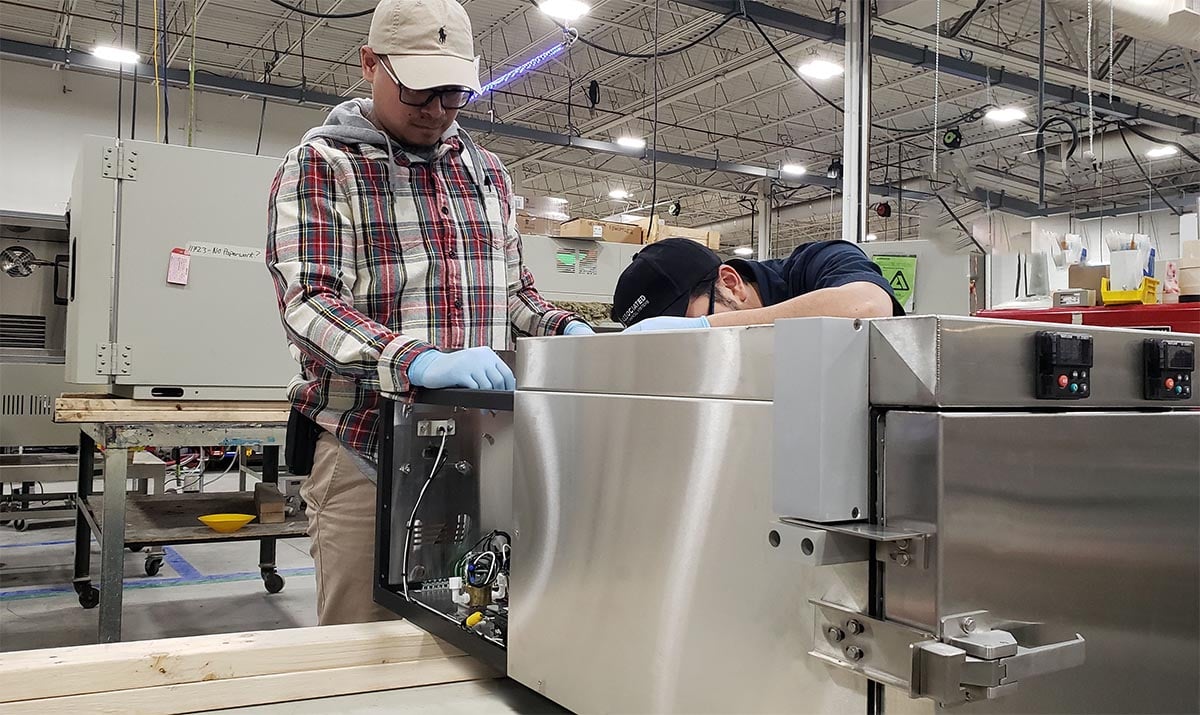 Your company has developed a new product, and now you need to select an environmental test chamber to test it and make sure the product will perform as expected. The product must be tested at various temperature and humidity conditions to ensure its quality and reliability. Where do you start? What will determine your selection criteria?
Development Testing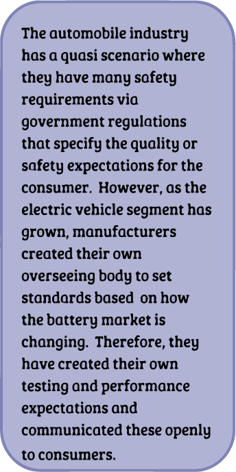 If you are testing in R&D, consider how the different elements can be tested to shorten the development time by identifying the shortcomings of components. Environmental test chambers feature precise temperature and humidity control to create repeatable climate conditions. The most common tests run are for product shelf life, accelerated life testing/reliability testing (ALT/HALT testing), and stability and package testing. These tests can be run using temperature for thermal cycling and humidity to find weak points. By identifying defects products can be redesigned, or stress limits can be identified to meet or set product performance expectations.
In the United States, consumers know when their milk will expire through required date stamping implemented by the FDA. However, most consumer products do not have expiration dates, and companies are left to self-govern themselves.
Additionally, industries have their own test specifications that are self-regulated through organizations or adhere to government regulations under applications like light exposure, corrosion, military standard testing, temperature evaluation studies, electronic component burn-in, plant growth, and insect rearing just to name a few.
Production Testing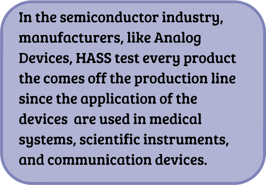 During production companies choose to sample test products from batches or lots, or they may choose to test every product that comes off the line with highly accelerated stress screening (HASS testing). This form of testing involves pushing the product to its identified stress limits determined by the HALT testing in the development phase. HASS testing is important because it will likely identify improper manufacturing processes. There is the chance that product fails during manufacturing due to unreliable components that could have been identified in HALT testing. It is common practice to test products that contain Lithium Ion batteries during production. Automated external defibrillators (AED's), flight recording devices, mobile/cell phones, and many more products are tested during production. Finding defects during manufacturing is much more costly and more difficult to identify where the failures are occurring, so it is beneficial to put more time and resources into development. Customer expectation will determine the need for batch sampling or total production testing, as this varies by industry.
In-house vs. Outsourced Testing
While some companies rely on external test labs to do all their testing, most companies that perform a simple return on investment (ROI) analysis show cost savings by bringing environmental testing in house. Along with the cost savings, companies are also realizing the customization, freedom and time savings of purchasing their own test chamber equipment. Many companies, even smaller and startups, have not only experienced a financial return on investment but have also experienced how much easier an in house environmental chamber is to manage. When testing occurs in-house, engineers can test often, when, and whatever they want. Many top technology companies like Google, Segway, and Zoll have experienced these benefits along with positive ROI.