Before You Buy a Test Chamber, Consider Your Test Requirements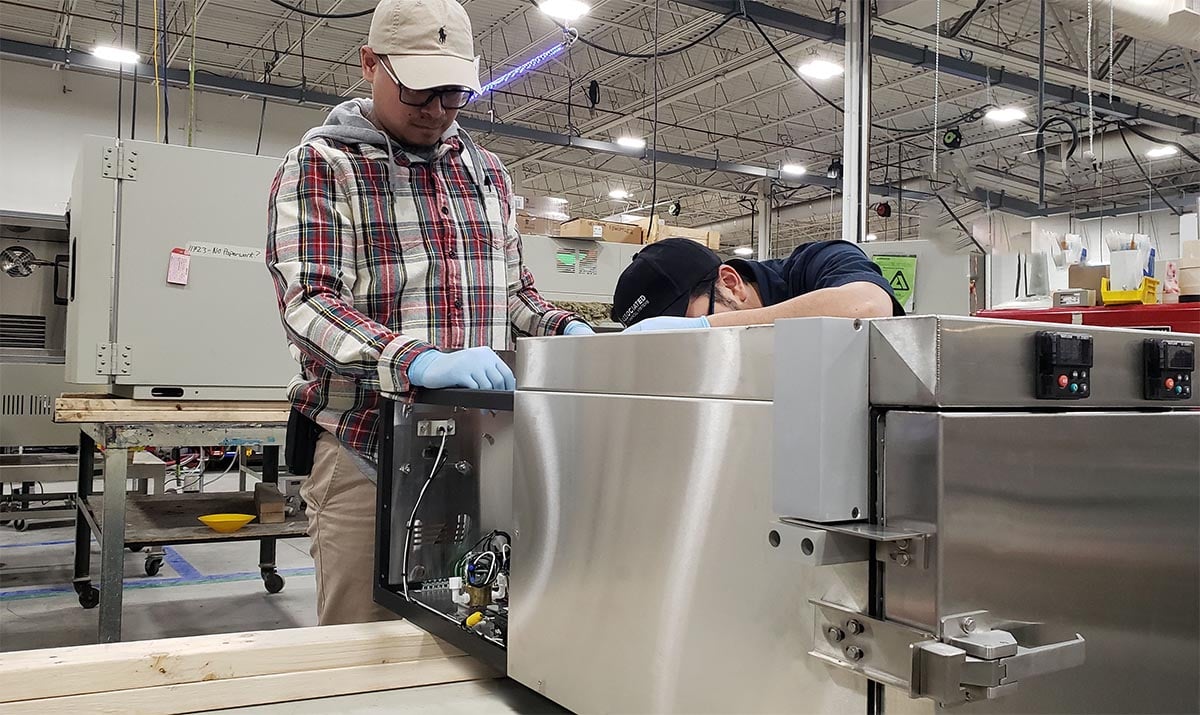 Originally published September 4, 2019. Updated February 4, 2021.
Your company has developed a new product, and now you need to select an environmental test chamber to test it and make sure the product will perform as expected.
The product must be tested at various temperature and humidity conditions to ensure its quality and reliability. Where do you start? What will determine your selection criteria?
Many industries have established standards for product reliability and lifespan that is dictated by governing boards, industry standards, or consumer expectations. Individual companies have their own best practices and processes. The phase of testing will also factor into your purchasing decision.
All should be considered before you buy a test chamber. Here's more information on what you need to know.

Development Testing
If you are testing in research and development (R&D), consider how the different elements can be tested to shorten the development time by identifying the shortcomings of components.
Environmental test chambers feature precise temperature and humidity control to create repeatable climate conditions. The most common tests run are for product shelf life, accelerated life testing/reliability testing (HALT/HALT testing), and stability and package testing. These tests can be run using temperature for thermal cycling and humidity to find weak points. The goal is to tweak components, materials, and designs (if necessary) to improve performance or set product performance expectations.
Think of it this way. In the United States, food products, such as milk, must carry expiration dates required by the FDA to keep consumers safe. However, most consumer products do not have expiration dates, and companies are left to self-govern themselves.
Additionally, industries have their own test specifications that are self-regulated through organizations or adhere to government regulations under applications like light exposure, corrosion, military standard testing, temperature evaluation studies, electronic component burn-in, plant growth, and insect rearing just to name a few.
The automobile industry, for instance, is unique. Government regulations specify the quality or safety expectations for the consumer, but as the electric vehicle segment has grown, manufacturers have created their own overseeing body to set standards based on how the battery market is changing. Therefore, they've created their own testing and performance expectations and communicated these openly to consumers.
Understand what the standards are for your industry before you invest in a chamber to begin R&D testing.
Production Testing
One important thing to note about production testing is that it's much more costly to remedy defects during manufacturing than it is in R&D. That's why it's so crucial to invest energy and resources in R&D testing then use production testing to confirm your results.
Companies do this in different ways. Some choose to sample test products in random batches or lots to assess their quality. Others test every product that comes off the production line. These companies often supply devices for the medical field or other industries where safety (and in some cases, life-saving purposes) is paramount. It's also common for products with lithium-ion batteries because of the potential risk to consumers.
Whether you'll conduct batch testing or individual product testing could factor into the size of your chamber, i.e. a smaller chamber for smaller products you test individually, a larger one for large batches of products.
In production testing, you push the product to its identified stress limits, but not past, determined by HALT testing. It's called highly accelerated stress testing (HASS), and you'll need a chamber that can create the designated environmental conditions.
In-house vs. Outsourced Testing
Although companies have found a strong return on investment in purchasing their own test chambers, there are scenarios where you should consider outsourcing.
If you don't have the in-house capabilities to conduct tests—either in performance or personnel requirements—then working with an external lab makes more sense in the short-term.
Outsourcing is also popular for start-ups and newer companies in the proof of concept stage. They can focus their attention on other aspects of their business while letting experts conduct tests.
However, there's always an element of risk when you outsource. Liability doesn't transfer. If your battery fails after it goes to market, it's on you, not the lab that tested it. Then there's the level of control. If your product proves defective during testing, or the test itself goes wrong, you essentially have to start over, a costly problem if you're paying a high rate.
When testing occurs in-house, engineers can test whenever and whatever they want. Plus, if you work with Associated Environmental Systems, you get support throughout the life of your test chamber.
For more information on buying a test chamber, read the AES test chamber buyer's guide.