6 Questions to Ask Your Manufacturer Before Buying a Test Chamber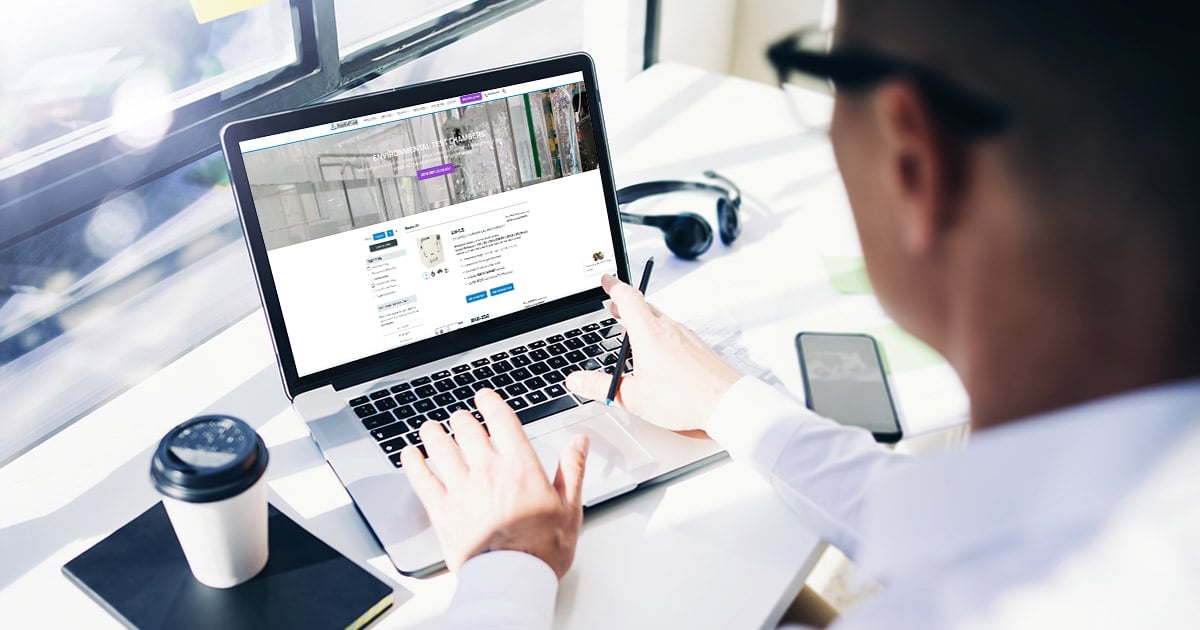 Did you know you could buy an environmental test chamber on eBay? That might come as a surprise given that these important pieces of machinery come in a range of performances, sizes and prices, and can make or break the future of a company. But see for yourself.
Of course, it's not a recommended route unless you really do your homework on the purchase. Instead of finding a bargain test chamber or taking a risk on a pre-owned model, you should focus on getting the best chamber for your budget and testing requirements. That comes from asking the right questions of an experienced manufacturer and sales team.
These are just some of the talking points that should drive your conversations—and if your manufacturer can't answer the questions, perhaps you should go in a different direction.
Do You Understand My Testing Requirements?
This is one question you should ask yourself first. Understand your testing requirements inside and out to determine the type of chamber, any customizations you'll need, performance levels, size, and more. Then bring what you know to your manufacturer. An experienced one will not only address your pain points but offer solutions or an option you may not have thought of.
Does the Chamber Have Appropriate Power for My Testing?
Among the many things you have to consider before purchasing a test chamber is its power. The decision comes down to understanding, and communicating to your manufacturer, the nature of your tests and the characteristics of the devices you intend to test.
For example, if you're working on a flexible timeline and planning to conduct steady-state testing, you can most likely opt for a standard power option. If you're conducting cycling on a strict deadline, prioritizing fast change rates to maximize your time, you'll need power capable of accomplishing that.
Then there are the materials you're testing. Substances absorb heat at different rates: a dense, heavy, metal product will take longer to condition than a light-weight plastic. All to say, don't assume a chamber's horsepower is appropriate for your testing without first considering every aspect of your testing, a conversation where an experienced manufacturer can make all the difference—and save you money.
What Does the Performance Range Really Mean?
Have you ever driven a standard sedan? What did the speedometer say? There's a good chance its maximum speed reached more than 100 miles per hour. Of course, these commuter cars are not designed to be driven at those speeds, and doing so for any extended period of time stresses the smaller engine. The same is true for test chambers. Standard chambers may be capable of reaching low or high temperatures, but they're not intended to run at those extremes. In other words, the advertised range doesn't necessarily account for the type of testing you require. You may need more power than you think or customizations (like boost cooling to reach low temperatures quickly) to get your desired performance.
Will This Fit My Lab Space?
Lab space available is just one characteristic you'll need to take into account when purchasing a chamber. For example, is your lab temperature controlled? If it's not, you may not be able to reach extremely low temperatures and specified relative humidity levels. Test chambers require specific ambient conditions to function properly: a temperature of around 23℃ (70℉) and clearance of 18-36 inches in all directions. Both give you exacting control over the internal workspace of your chamber and need to be assessed during the buying process.
Beyond that, ensure you have access to proper power sources and external water supply if needed for a salt spray or humidity chamber.
Then there's optimizing space. Maybe you could fit a larger chamber in your lab, but it might be better to invest in rack-and-stack or benchtop models. These enable efficient testing in a smaller footprint.
Finally, if you do purchase a large chamber, make sure you have a way of getting it into your lab. Believe it or not, companies have made this mistake before.
Do I Even Need to Purchase a Test Chamber?
Although it's an obvious question, it's one you need to seriously consider. If you make the wrong decision, you'll regret spending thousands of dollars on a piece of equipment you don't ultimately need. So how do you determine if purchasing a chamber is right for you? You may think renting is a more cost-effective option, but that's only true in very specific circumstances: renting for three months—in rate and maintenance costs—is roughly equal to the price of a new chamber. If you expect to test often or want as much control over your testing as possible, then buying is the way to go.
Some other considerations:
If you're looking to replace an existing chamber, ask if a retrofit or repair might extend its operational life.
Ask if a portable conditioning unit (PCU) is right for you—you can effectively turn any properly contained space into a test, and you don't need safety features (this is particularly popular for companies that need to test large or bulky products that don't necessarily fit in traditional chamber workspaces).
If none of these scenarios apply to you then you can safely assume you should purchase a chamber.
What Service Options Do You Offer?
The best way to make a purchase last, regardless of what it is but especially if it's an investment of thousands of dollars, is to properly care for it throughout its operational life. That's certainly true of test chambers. By completing repairs when they're needed, finding replacement parts, and conducting preventative maintenance, your chamber can last 10 years or more (Associated Environmental Systems, for example, still offers troubleshooting, service, and parts for chambers that are 30-plus years old).
You'll need an experienced partner to help make that happen. So ask the question before you sign off on the purchase: What service do you offer? The best options will prioritize efficient, effective solutions, while offering troubleshooting tips and support from afar.
That sort of relationship and customer service will pay dividends for your company. You'll find it when you work with Associated Environmental Systems.
Not only does AES go the extra mile to address all of your pain points and get you a test chamber that's appropriate for your needs (even if it means a lesser sale), but they can also perform service on all chambers—regardless of manufacturer. They even offer training on chambers (at an additional cost) and free start-up support from a specialist.
AES simply believes in doing right by the customer. There's no question too small or too big to ask. They'll be with you every step of the way.