What Makes for an Effective Battery Testing Fixture?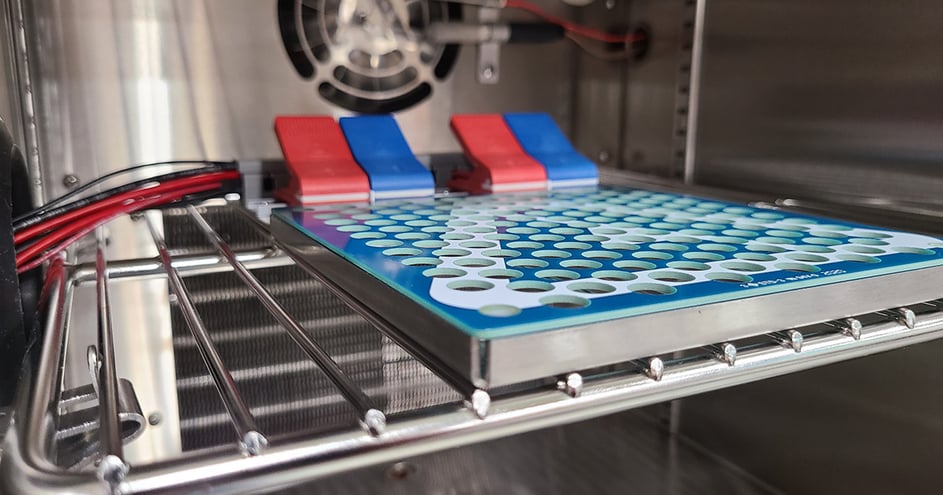 Given the potential batteries have for leaking, igniting, or even exploding, you want to be diligent in evaluating their performance. You have to be able to guarantee consumers your products are safe, assured to perform as expected.
Battery testing, with either a fixture or chamber, provides vital assurance, but what makes them effective? Which path is right for your company?
Battery Testing Basics
Batteries power many of our beloved devices and tools: the smartphone that has become a practical appendage for many people; medical equipment that saves lives; electric vehicles that provide more sustainable alternatives to gas-powered transportation.
Every single battery in these technologies must be tested before it ends up in the hands, homes, or hospitals of the general public. Otherwise, due to the potentially dangerous materials comprising batteries, people could be at risk of injury or, in extreme cases, fatality.
Testing has evolved through the years, developing alongside innovations in battery technology. To meet the high-performance demands placed on batteries, companies run a collection of tests.
Although some industries may put a random sampling of their products through testing, alternatively, every single battery undergoes rigorous testing, given their potential volatility.
Fixtures make battery testing possible by enabling batteries to be connected and charged within an environmental test chamber throughout various diagnostics. In addition to fixtures, chambers can also be built specifically for battery testing.
From here, there are a few routes to take when it comes to battery testing.
Build, Outsource, or Buy a Battery Testing Fixture?
While building your own fixture or outsourcing battery testing are possibilities, each comes with downsides.
Constructing one yourself takes can take considerable time, money, and effort. And although outsourcing may free up time to focus on other operational duties, it also makes your company open to more liability, given you retain responsibility for your batteries functioning properly, not your outsourced battery testers.
Considering these downsides, purchasing a battery testing chamber or fixture is the appropriate choice in many instances. Now, if your company needs effective and efficient battery testing, what can you expect from a battery testing fixture?
An Effective Battery Testing Fixture
A battery testing fixture has the upfront advantage in adaptability—the capacity to be added to an existing test chamber. This enables you to accommodate multiple configurations, set quantities, cell types, and connectors without having to purchase an entirely new chamber.
Purchasing a new chamber can be expensive or, at least, beyond your budget, which is why utilizing a fixture within an already purchased chamber might be ideal.
With an industry-leading fixture such as the ATPFLEX, you can test pouch, prismatic, cylindrical, and coin batteries reliably and consistently. Several cells can be screened per fixture, relying on gold contacts to ensure a strong charge and discharge remain throughout testing. The ATPFLEX cleanly organizes wires to minimize frustrating cord entanglements, and is constructed with an epoxy laminate for a non-conductive surface with even airflow for dependable battery testing.
ATPFLEX fixtures can be added to small benchtop chambers in addition to larger floor models.
Contingent to your company's situation and products, a fixture might not be quite as efficient as a chamber designed for battery testing.
In fact, it's not uncommon for companies to start with a battery testing fixture and later purchase a chamber to meet a growing need to test more batteries synchronously.
Furthermore, a battery fixture on its own doesn't come with explicit safety features. Instead, it relies on the safety components built into whichever chamber is serving as its testing environment, not to mention user behavior. The benefit of safety features is another reason some prefer to go for an all-in-one battery testing chamber.
In such instances, the ATPPRIME is a chamber designed specifically for battery testing. Not only does it utilize a universal power pole connector adaptable to all major battery types, but it contains multiple full-extension shelves capable of testing up to 48 different cells across four shelves. This means more batteries can be screened simultaneously, speeding up the time it takes to get them to market. Furthermore, these shelves can easily slide in and out (extending outside the chamber, so you don't have to reach in), facilitating safe and easy access to each connector.
Lastly, a built-in battery interface board (BIB) enables you to manage testing data, including discharge and charge metrics, for consistent results.
Whether a battery testing fixture or full chamber is right for you, an experienced environmental test chamber manufacturer should be able to help you figure it out, together. Ultimately, you want a cost-effective solution that provides reliable testing conditions and screening so your products can get into customers' hands as quickly and safely as possible.
Associated Environmental Systems has the expertise to help you determine the most robust battery testing solution for your situation.

Contact us today

to receive a quote or learn more about how our testing fixtures and chambers can help your business succeed.