Your Test Chamber Was Delivered: What's Next?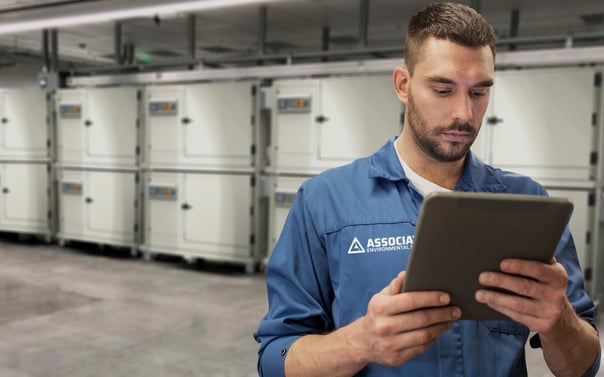 Congratulations! Whether this is your first time buying a chamber from Associated Environmental Systems (AES) or this is your third time, we are thrilled that you chose AES to build your test chamber. With an environmental chamber from AES, your ambitions are one step closer to flight.
While you may be excited to start testing products right away in your new temperature and humidity chamber benchtop or flood model environmental test chamber, you might be concerned about how even to begin operating your chamber. No worries. We know first-hand that setting up a test chamber can come with its difficulties. Oftentimes, manufacturers provide only a quick test chamber installation tutorial, which can cause frustration and confusion. At AES, though, we do things differently. We provide each buyer with a QR code that prompts you to an in-depth, detailed guide to test chambers with a step-by-step process to successfully set up a test chamber.
Essential Next Steps for Setting Up an AES Testing Chamber
Effective Chamber Placement
Mindful placement will protect the longevity of your chamber. As an initial first step, it's essential to place your chamber in an area with a minimum of 18" clearance in front and rear of the chamber for ventilation. This information is printed on each chamber, so in case you forget, you can easily reference the label.
Water Input
Critical for humidity chambers, it is important to always supply water to the humidity system before turning your chamber on. Avoid double-distilled, triple-distilled, and deionized water. If you are using a water recycling system, distilled water is the correct water type to avoid damage. If you only have access to tap/city water, be sure to convert that water to demineralized water using your water demineralizer system. Refer to our water supply requirements to learn more.
Powering Up Your Chamber
Once your chamber is supplied with proper distilled water and placed appropriately, you're ready to power up the chamber! Follow these three steps:

Check power requirements: Before connecting power to your chamber, look over specific power requirements listed on the serial tag on the rear.
Find an ethernet connection: Identify an ethernet connection located on the front or back of your chamber. It will be labeled "Chamber." Plug in the ethernet cable before powering up.
Turn on the chamber: Press the power button to turn on your chamber! It may take a couple of minutes to turn on, so don't worry if it doesn't power up immediately.
---
Connecting to Your Chamber
If you made it this far, your chamber is powered on—congrats! Once you have power, your controller—AESONE CONSOLE—will already be configured to operate the chamber to your specifications. AESONE CONSOLE is an innovative software that allows users to monitor the chamber's environmental testing anytime and anywhere. Its innovative technology provides you with 100% autonomy to view and operate your chamber on a desktop, tablet, or laptop. View real-time readings, control your chamber's temperature and humidity, see historical data, and stop your testing at any time.
To get started with AESONE CONSOLE, we recommend that you first find your Chambers IP Address; you will find this number on your F4T controller. After clicking the down arrow on your F4T at the top of the screen, select the "Message" Tab, and your chamber's IP Address will be shown. Should you run into any technical issues, please reference our AESONE CONSOLE user manual for further assistance.
To begin monitoring tests away from your chamber, you'll want to navigate to your AESONE CONSOLE dashboard. This is done by typing your IP address into your navigation bar using any suitable browser. Once your dashboard appears, the personalization begins! Click on "Profile Control," followed by the "+" button to create a new profile. Create a name and guaranteed soak rates if applicable for the profile. To finish and save, you'll need to delete the first step in your test. This is automatically created by the CONSOLE profile. Once you are happy with the test profile, you're now ready to get started!
Contact Us Today!
AES services all manufacturer chambers. Make sure to schedule preventative maintenance and make sure to add on a chamber controller calibration. We recommend getting a calibration every six months to a year—depending on chamber usage. We have a wide variety of resources and guides that we encourage you to explore as well. Whether you're curious about our battery test chambers, test chamber standards, or ongoing testing chamber services, read to learn more.
If you run into any mechanical problems or have additional questions, we'll have a solution to meet your needs. Reach out to a real-time customer support operator at 978-772-0022 to answer your questions today. We make chamber testing easy.