About Environmental Test Chambers
How do electronics companies know that their devices will survive a drop into the ocean or remain operational as temperatures dip toward zero? How does a car manufacturer construct its warranties? How do you know your phone battery won't overheat and combust when it's left in the sun?
Companies in all industries—but especially those that produce electronics, medical devices, automobiles, and anything that operates with a lithium-ion battery—put their products and components that make up those products through rigorous environmental tests. These diagnostics simulate conditions to identify weaknesses in designs and set expectations (hence those warranties) for customers.
This is completed with the use of environmental test chambers. Here's everything you need to know about test chambers: the different types of models, how they work, use cases, and more.
What Are Environmental Test Chambers?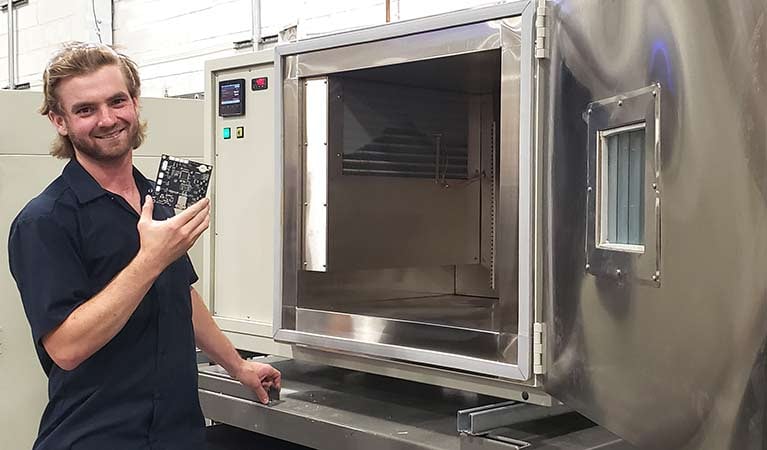 An environmental test chamber, also known as an environmental chamber or climatic chamber, is a system that enables users to manipulate the environmental conditions of an enclosed space to run controlled tests on a subject. Researchers, engineers, scientists, and manufacturers utilize these conditions to push innovation and ensure whatever products they produce are safe for use.
Environmental test chambers can range in size from half-a-cubic-foot benchtop models all the way up to 12,000-cubic-foot, drive-in rooms.
There are also multiple environmental conditions that test chambers can recreate: temperature and humidity conditions, temperature only conditions, and corrosive conditions through the use of salt spray.
If properly maintained, test chambers can remain operational for 10 years or more.
The type of test chamber you need depends on a number of factors, namely the lab space available to you, the products or components you're testing, and the standards (see Testing Standards section) to which you're testing. (For more information on how to determine what test chamber to purchase, read our Test Chamber Buyer's Guide).
Below are common types of test chambers, categorized by physical style and performance.
Test Chamber Styles
Benchtop

Benchtop test chambers range in volume from 1.5 to 8 cubic feet. They're designed to sit on workbenches so the test chamber operators can easily place and remove the devices they're testing. Benchtop models are primarily temperature and humidity chambers, ideal for steady-state or temperature cycling testing.
Floor

Floor models are set directly on a lab's floor. They can range in size from 1.5 to 264 cubic feet or more of volume.
Stackable

Smaller test chambers can be stacked on top of each other without sacrificing performance. They're popular size options for companies who own multiple test chambers and limited lab space. With stackable models, you can also run independent tests concurrently.
Walk-In & Drive-In

As the names suggest, these test chambers (either built with panels or as one structure) are big enough for engineers to walk in, either to test large (perhaps oddly shaped) products or a large number of products at once. Drive-in test chambers enable engineers to test all sorts of vehicles and even smaller aircraft.
Temperature Only
Temperature and Humidity

Controlling the temperature and humidity of a test chamber enables users to recreate real-world, extreme conditions their products might end up in—a cell phone, for example, needs to operate the same in the freezing cold as it does along the coast in the muggy heat. You can also simulate the life span of products through HALT (highly accelerated life testing) testing.
Salt Spray

These chambers allow users to test how quickly their products hold up to corrosion. AES offers salt spray chambers that are transparent, allowing engineers to clearly observe their products while the test is ongoing.
Thermal Shock

Thermal shock test chambers feature two or three separate zones, with two of those zones operating at opposite, extreme temperatures. Devices under test (DUT) are transferred between them quickly with the third zone serving to add ambient temperature exposure.
Battery Fixtures

Some manufacturers build test chambers specifically with battery testing purposes in mind. AES's ATPPRIME series is one such example.

AES also offers an ATPFLEX battery fixture that enables users to efficiently and safely test batteries in any manufacturer's chamber. The fixture can be added to existing test chambers and set-up for different types of cells: pouch, coin, cylindrical, prismatic, and pack. The ATPHEAVY battery fixture enables testing batteries up to 1000 amps.
Laboratory & Liquid Cooled Ovens

Laboratory ovens, ranging in volume from less than a cubic foot to more than 60 cubic feet, are ideal for creating highly stable, controlled, hot air circulation. They're capable of reaching temperatures greater than 200°C, and are often used for aging, baking, curing, drying, sterilizing, and more.

Liquid-cooled ovens can bring hot ovens down to ambient conditions and as low as -73°C (-100°F) with much faster pull-down rates than traditional test chamber mechanical refrigeration. With LN2 or CO2 boosts, liquid cooled ovens can reach cryogenic levels, as low as -185°C.
Specialty Chambers

A selection of chambers fall outside traditional performance requirements. AES's HM-436 model is a steady-state test chamber designed specifically for hydrogen maser atomic clocks. Portable conditioning modules (PCM) enable users to condition the air in the workspace. AGREE chambers have space allocated to add vibration test systems. There are more specialty chambers you may require based on industry, standards you're testing to, and the devices you're testing.
Custom-Built Test Chambers

Each manufacturer's needs are different from the next. That's why AES is proud to offer fully-customizable environmental test chambers made to meet your requirements.

You'll work with a dedicated sales manager and AES engineers that love to tweak the old and redesign the new. AES engineers regularly modify existing standard test chambers with custom options specified and configured by your ideas or can design utterly custom test chambers to fit perfectly within your test parameters.
Associated Environmental Systems has customized test chambers for companies in many different industries. We're ready to answer your questions. Please call us at 978-486-5079 or send us a message.
How Do Test Chambers Work?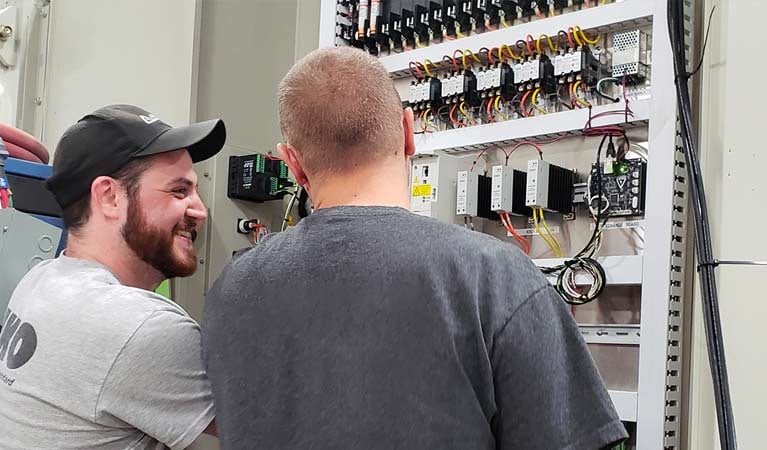 Depending on their purpose, test chambers have different systems that go into creating and maintaining the environmental conditions. We'll briefly go over air circulation, cooling, heating, humidity, and salt spray since they're common.
It's important to learn and understand the specifications of your particular test chamber and to keep the manufacturer in close contact. If you're in need of service, know that AES repairs, maintains, and troubleshoots all test chambers, regardless of manufacturer.
Air Circulation
Air circulation is crucial for environmental testing as the conditions in the lab and inside the test chamber both factor in delivering accurate results. AES's test chambers feature a baffle and fan combination to optimize temperature and humidity conditions within the workspace.
Cooling & Refrigeration
Test chambers can reach extremely low temperatures (think -70 degrees Celsius) and quickly: The refrigeration systems on AES chambers have various pulldown rates, averaging between 2.5 and 10 degrees Celsius per minute. It's a compact, sealed mechanical system for easy maintenance. When supplemented with boost cooling in the form of liquid carbon dioxide or liquid nitrogen temperatures can fall even lower and faster which may be necessary for rapid cooling during stress tests.
Heating
Modern test chambers feature electric heating systems where air passes over independent, fast-response nichrome heaters with ceramic cores to deliver accurate, controllable results. Standard models can reach temperatures 120 degrees Celsius and well above, with precision to within +/-0.5 degrees.
With heating and cooling, it's important to keep in mind that the intended performance level of your test chambers. Although standard models can reach high and low temperatures, they may not be able to maintain temperature extremes or change rates without compromising the smaller compressors. Always consider the heat absorption rate of your product being tested as that will also affect performance expectations.
Humidity
To create humidity, vapor steam generators are custom-fit and attached to test chambers. They rely on a properly conditioned water source to produce humidity ranges from 20 to 95% relative humidity (RH). With special devices humidity can be controlled within 10 to 98% RH. To remove unwanted humidity, a mechanical dehumidifying system is often used to speed up the pulldown process. Some test chambers are made to keep humidity tightly controlled when temperature is going up or down. Users who need to reach humidity levels as low as 5% RH add desiccant air dryers to their test chambers.
Salt Spray
To create the salt spray, a salt solution is prepared and stored in a tank, then compressed air is used to force the solution and conditioned water through a nozzle and create a fine mist in the test chamber. AES's MX Series chambers are a unique style of salt spray chamber. Its clear walls allow for total product visibility during testing.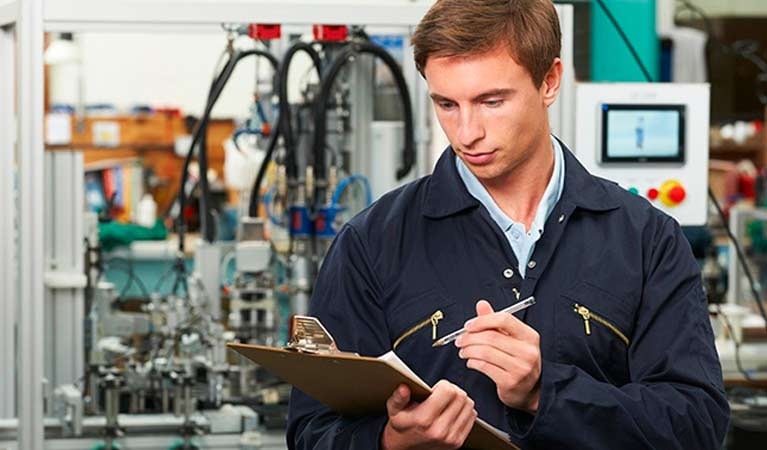 Companies conduct environmental testing at different phases of product development. For newer companies, it's an important part of prototyping and proof of concept. For experienced ones, testing confirms their latest innovations and helps them beat competitors to market.
Different phases require different test profiles, although it's important to note that you should spend more time identifying potential weak points during research and development (R&D). They are much more costly to address—including in time lost—after or during production.
Research
Research is essential for the technology and engineering activities required to advance the design and development of products. Companies in almost every industry rely on research and development (R&D) to plan, design, and deliver new, innovative products.
Environmental test chambers accommodate various aspects of R&D. Some are designed for laboratory research, testing in search for or evaluation of product alternatives, construction, and testing of pre-production prototypes.
The most common tests run are for product shelf-life. Companies simulate the lifespan of a product (e.g, a change of five degrees in the test chamber is equivalent to two years in a real-world environment) through what's known as highly accelerated life testing (HALT). The goal is to identify the so-called 'failure point' of products, so companies can set expectations or, if need be, focus on a different design that proves more durable.
The more time, resources, and energy you put into R&D testing, the more confident you'll feel advancing to production.
Production
Companies approach production testing differently depending on the products themselves and the industry. For example, producers of defibrillators test every device that comes off the line with highly accelerated stress screening (HASS). (The goal of HASS testing is to prove that the product reaches the failure point identified during HALT testing without malfunctioning). Each serves a life-saving purpose, so it's imperative they all work as intended without defects.
In fact, individual product testing is a requirement in certain industries. Companies often test products off-the-line, too, as a matter of practice. Others, however, will test batches of products at once in an effort to save time and resources.
No matter the method, the thought remains the same. You need to confirm the quality and reliability of your products before they reach the public. The testing also legitimizes the time and money that went into R&D.
Quality Testing
Does the product work as intended? That's what you seek to determine in quality testing. Quality assurance and quality control ensure the excellence of a product. Many products, components, and parts in different industries have specific environmental quality requirements. These requirements may be regulatory through government or industry bodies, or maybe an important aspect of the company's design or manufacturing specifications.
Reliability Testing
Here's where the environmental conditions really come into play. Electronics manufacturers, in particular, test to ensure their products perform in a wide range of settings, from extreme temperatures to high and low humidity levels. The results inform the expectations and directions they set for consumers. Reliability testing also helps reduce the risk of unexpected and costly product failures after the product has been released. If you can identify points of failure in HALT testing, and ensure that products coming out of production reach those limits reliably, you can confidently go to market.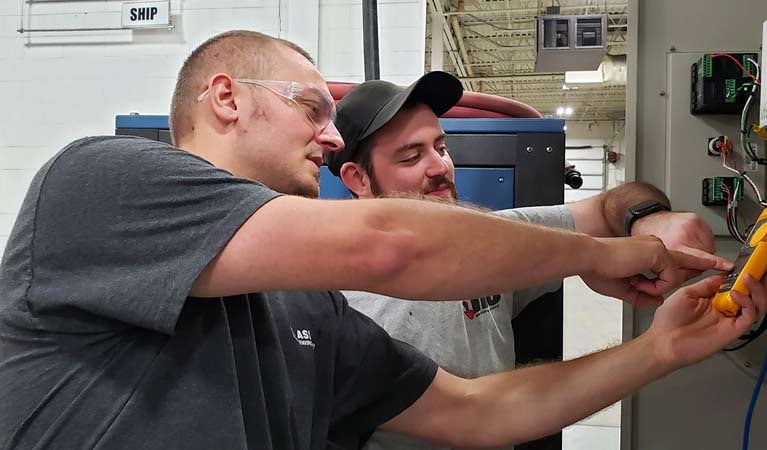 Environmental test standards establish criteria for a product's, material's, or component's ability to withstand different environmental conditions for a period of time or over a projected lifetime.
Standards vary according to the industry, the type of item being tested, and its intended use. Examples of environmental or climatic conditions to which standard testing parameters apply include:
Extremely high and low temperatures
Rapid variations in temperature
Humidity variations
Salt spray and salt fog
Vibrations
High and low pressures
Environmental test standards apply to a wide variety of industry sectors, and some standards apply to more than one industry. These are some examples of specifications organized in alphabetical order:
AECTP 100

North Atlantic Treaty Organization (NATO) provides guidance in the Allied Environmental Conditions and Test Publication (AECTP) 100, Environmental Guidelines for Defence Material. Test criteria include temperature, humidity, and salt variations.
ASTM

The American Society for Testing and Materials establishes standards for a number of industries including aerospace, automotive, building and construction, chemicals, consumer products, food processing, medical devices, IT, telecommunication, manufacturing, pulp & paper, safety and security.
FDA

The Food and Drug Administration is in charge of promoting and protecting public health. FDA standards ensure products meet specific requirements for identity, strength, quality and purity under the influence of a variety of environmental factors.
IEC
IEEE
ISO

The International Standards Organization is an independent, non-governmental membership organization and the world's largest developer of voluntary international standards best known for its ISO 9000 Quality management standards.
JEDEC No. 22-A104D

The Joint Electron Device Engineering Council enforces global standards for the microelectronics industry, with a provision for temperature cycling addressing component and solder interconnection testing. It specifies temperature ranges.
MIL-STD

United States Department of Defense Military Standards, also referred to as MIL-SPEC or MilSpecs, are defense standards issued by the United States Department of Defense to support standardization objectives.
RTCA
SAE
SR-332 (Telcordia)

These standards contain recommended methods for predicting device and unit hardware reliability, specifically for electronic equipment. These include test methods in a range of operating temperatures with the purpose of predicting failure rates.
UL

Underwriters Laboratories is an American global safety consulting and certification organization providing safety-related certification, validation, testing, inspection, auditing, advising, and training services.
UN/DOT 38.3

Enforced by the United States Department of Transportation, UN Manual of Tests and Criteria 4th Revised Edition Lithium Battery Testing.
Associated Environmental Systems has customized test chambers for companies in many different industries. We're ready to answer your questions. Please call us at 978-486-5079 or send us a message.