AES at the 2022 International Battery Seminar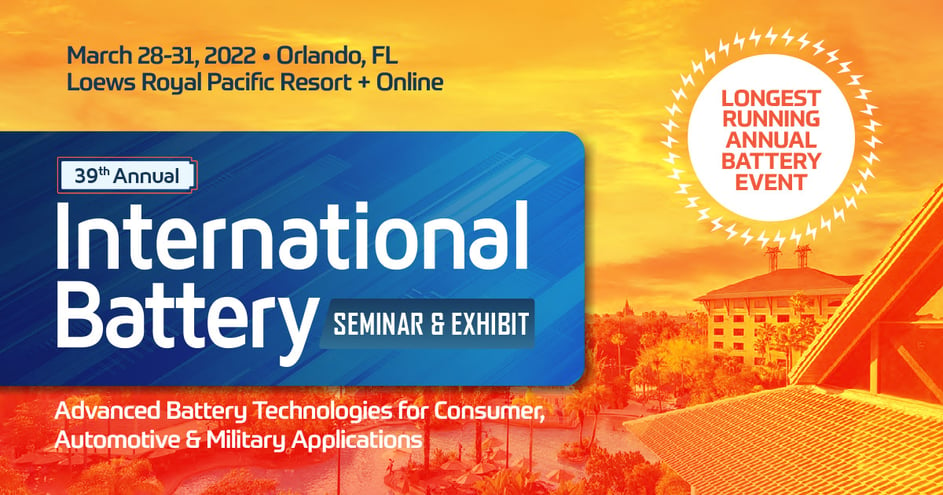 There's a good chance the first solution you consider for a problem won't be the one that ultimately solves it. Addressing challenges is an interactive process that requires collaboration.
Associated Environmental Systems has found over the years that great conversations lead to innovation. In fact, the company's patent-pending All Test Platform series of battery test chambers and fixtures stem, in part, from long discussions, both internally and with customers. Only when viewing problems from different perspectives can you optimize your products and services.
That's why AES values trade shows. The company had the pleasure of attending the 39th Annual International Battery Seminar & Exhibit on March 28-31 in Orlando, Florida. AES team members Aaron Robinson (Vice President of Sales and Service), Robert Laudisi (Applications & Mechanical Engineer), and Greg Deer (Sales Development Manager) represented the company.
The longest-running annual battery event, the International Battery Seminar & Exhibit has "established itself as the premier event showcasing the state of the art of worldwide energy storage technology developments for consumer, automotive, military, and industrial applications." Thought leaders gather to share insights and advancements in all things battery research, development, applications, and manufacturing.
In Orlando, AES displayed its chamber optimized for ATPPRIME and ATPFLEX fixtures that can be fitted for any chamber, and Laudisi presented Increasing Success & Safety: Applying Lean Methodologies to Battery Testing.
More importantly, the company exchanged ideas with attendees at the forefront of battery research. This education will support AES' future initiatives as the company continually seeks to make your products stronger, faster, safer, and longer-lasting.
The Patent-Pending All Test Platform on Display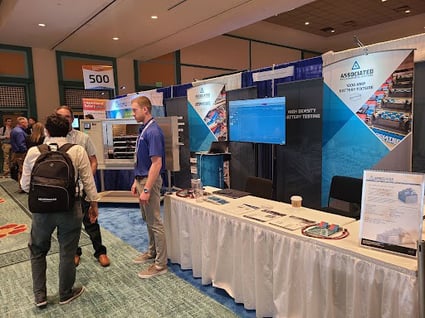 ATP is defined by flexibility, safety, and efficiency. ATPPRIME is a battery test chamber that can be configured for pouch, prismatic, cylindrical, coin, and pack cells. ATPFLEX can be added to existing test chambers. ATPHEAVY enables you to test up to 1000 amps per channel, ideal for EV batteries.
All were designed with lean manufacturing (see below) in mind, maximizing user experience and safety. In addition, AES offers customizations to build the battery testing system that's right for you.
Read more: ATPPRIME Vs. ATPFLEX Vs. ATPHEAVY
Lean Manufacturing, Safety, and Battery Testing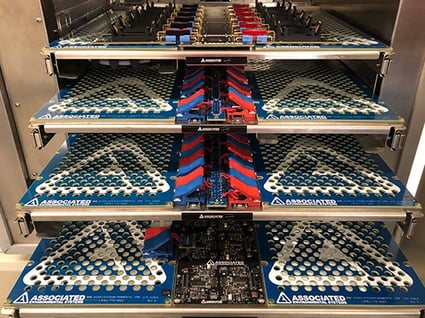 When you work with AES, you'll see the results of lean and 5S methodology but not necessarily the steps that go into product development.
Robert Laudisi peeled back the curtain a bit in Orlando. He presented Increasing Success & Safety: Applying Lean Methodologies to Battery Testing. The presentation outlined AES's approach to battery testing designs. ATP chambers and fixtures enable more efficient, effective, and safer testing by reducing non-lean work such as idle time, excess movements, and handling.
Read more: Lean & Safe Battery Testing from AES
We'll See You Next Year
Thank you to everyone who stopped by the AES booth or Bob's presentation in Orlando. We hope you learned from us just as we learned from you.
Let's continue the conversation throughout the year. There's a good chance when we return for the 40th Annual International Battery Seminar & Exhibit in 2023 we'll have something new to show you. We hope you will too.
No matter your battery testing needs, AES has the expertise and resources to deliver the solution that's right for you. Our team assists with lab layout and customizations, and offers safety features to help drive innovation in your industry. Contact us today to get started.