International Battery Seminar: Lean & Safe Battery Testing from AES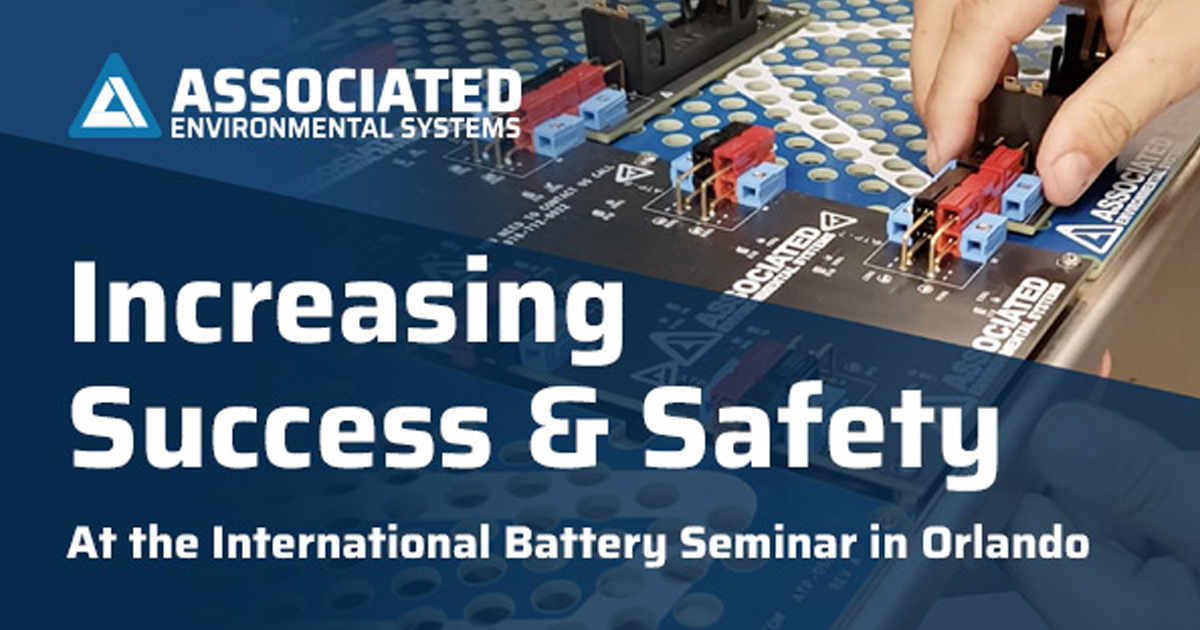 Lean manufacturing and 5S principles have grown in popularity across global industries. These methods prioritize optimization, efficiency, and safety—vital characteristics for effective battery testing, research, and development.
Associated Environmental Systems has taken into account lean manufacturing and 5S, with an added sixth "s" for safety, in designing its patent-pending All Test Platforms (ATP) series of fixtures.
We can't wait to share ATPPRIME, ATPFLEX, and ATPHEAVY with you at the International Battery Seminar in Orlando, Florida, March 28-31. Not only will we have these battery testing options on display at Booth 502, but Robert Laudisi, Applications & Mechanical Engineer at AES, will present Increasing Success & Safety: Applying Lean Methodologies to Battery Testing.
You'll gain a better understanding of the importance of lean methodologies to have safe and efficient battery testing. We hope to see you there. Here's a preview of what you'll learn.
What Is Lean Manufacturing?
Aimed to maximize all of your resources, lean manufacturing focuses on removing waste as defined by these seven categories:
Overproduction (stocking too much product)
Motion (bodily movement of workers or machines)
Inventory (unprocessed products)
Defects (products deviating from design standards)
Overprocessing (manufacturing unnecessary components)
Waiting (wasted time, slowed or halted processes)
Transportation (moving materials from one position to another)
By continually seeking to improve processes, lean manufacturing helps businesses become more efficient and competitive in the marketplace. This learning is achieved through five key steps.
Value
By listening to your customers, they'll tell you exactly what they want. Consider their feedback, and reduce features they don't deem valuable.
Value Stream Mapping
By visualizing every step of the manufacturing process, and mapping out every step of the process from beginning to end, managers can identify waste and areas for improvement.
Create Flow
By improving each step in the production process, you enable easier energy flows and expedite production times.
Pull System
Referred to as just-in-time production, a pull system introduces new work only when customers demonstrate demand. This makes it much easier to deliver the product on time to your customer as changes can be made before the product is built.
Continuous Improvement
Lean manufacturers will constantly keep an eye on their processes and continue to make improvements to reduce waste and add value. Constant vigilance is essential.
To apply lean principles to your manufacturing process, you will need tools to help you identify waste. One methodology that pairs well with lean manufacturing, especially for battery testing, is 5S.
Enhancing Lean Manufacturing With 5S
Used as a tool to help with lean manufacturing, 5S practitioners aspire to establish more efficient manufacturing operations. 5S is a way of making a workspace safer, uncluttered, organized, and maximized for productivity.
This methodology of continued improvement centers around five activities:
Sort (remove that which isn't needed)
Set in Order (organize what remains)
Shine (inspect and clean the work area)
Standardize (record standards for 5S)
Sustain (consistently apply 5S standards)
Labs will often add "safe" to this list, making it 6S.
While lean manufacturing tends to look at the overall production process, 5S focuses a bit more on making a workspace cleaner and more efficient. Both methodologies center around maximizing productivity.
So how can they benefit battery testing?
Battery Testing: Safe and Lean
A portion of lab activity could be considered 'non-value add' work, or 'non-lean.' These are activities or processes customers wouldn't identify as adding value.
For battery testing, non-lean work is often defined by idle time, excess movements, and handling. This could include:
Spending time connecting channels from your battery testing equipment to your cells, modules, or packs inside a chamber.
Establishing communication between your battery testing equipment and environmental test chambers without proper technology.
Physically moving and tracking batteries.
Building test profiles and configurations to match your battery tester.
Attempting to collect useful data, and analyze it.
Non-lean approaches are not only inefficient but potentially dangerous for battery testing.
That's why AES has incorporated lean manufacturing and 6S principles into its patent-pending ATP series. For instance, it's not uncommon for a lab's connecting wires to resemble a messy bowl of spaghetti. Even clearly color-coded and labeled wires produce motion waste—you have to spend more time ensuring they're in the right place and connected to your cells.
Alternatively, lean battery testing involves a cable management system where it's impossible for cords to tangle or obstruct testing procedures.
AES's battery chambers do not have any cables visible to the users. The cables are neatly routed within the igus track underneath the shelf and out of the way, eliminating the chance for motion waste.
This design feature creates more flow and optimizes battery testing by reducing the amount of energy that goes into switching battery cells in and out of a test chamber.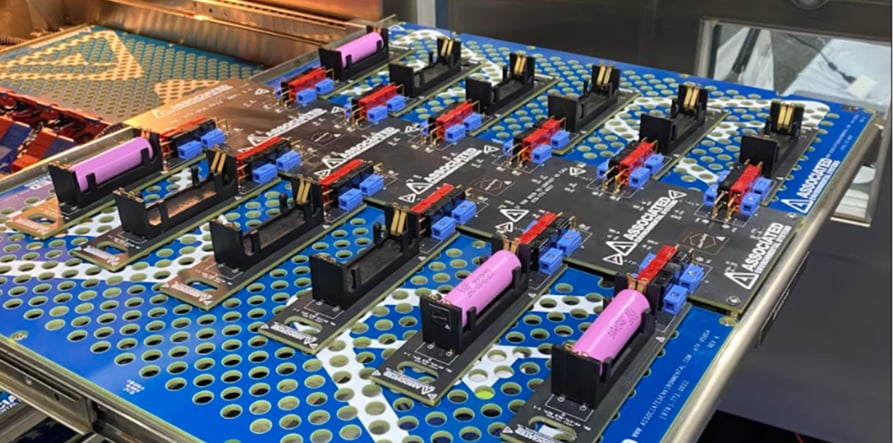 AES's lean battery fixtures feature sliding shelves for easy and safe access.
Then there's the collection of data and communication. The AESONE combination of software and hardware enables users to control the chamber and collect real-time data from their laptop or tablet—regardless of location. This monitoring adds a level of safety to your operations, not to mention makes for easy coordination among team members.
AES has a couple of standard options for its battery testing solutions, but is always expanding. ATPHEAVY is a battery testing fixture designed to test batteries up to 1000 amps per channel. ATPPRIME is a test chamber specifically configured for testing nearly all battery cell types, and ATPFLEX is a battery testing fixture that can be added to existing chambers, regardless of the manufacturer.
These testing options are lean and safe. Don't just take our word for it, though. Stop by Booth 502 at the International Battery Seminar, attend Robert Laudisi's presentation, or contact us to find out how you can bring an ATP battery fixture to your lab.