ATPHEAVY ADAPTABLE: Paving the Way for Innovation!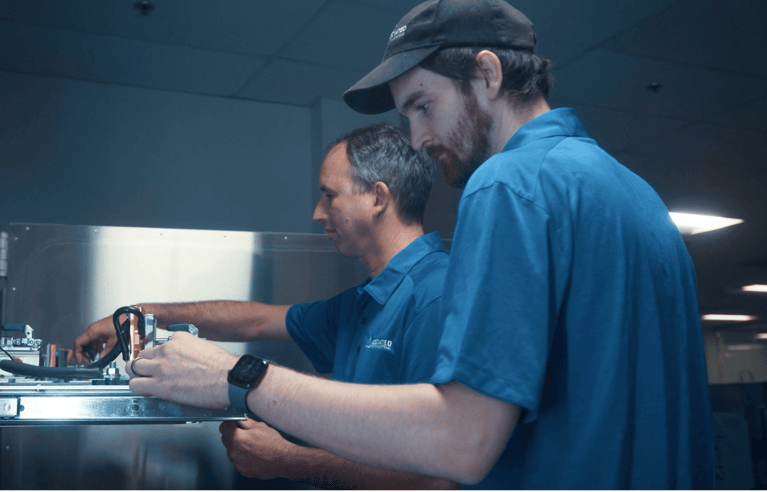 Companies need a manufacturer who truly understands the unique challenges that a battery testing lab encounters. At Associated Environmental Systems (AES), we get labs. We understand the pain points and work to find solutions that meet the demanding changes that lie within the battery testing industry. AES continues to shape the future of battery testing through innovative and agile products. As battery technology continues to evolve, we design and produce a range of patented and patent-pending products and solutions that can ensure performance, safety, and reliability. Join AES, the pioneer in the industry, in spotlighting our latest groundbreaking battery testing solution: ATPHEAVY ADAPTABLE.
What is ATPHEAVY ADAPTABLE?
ATPHEAVY ADAPTABLE is designed for easy modification and built to support the changing landscape of the battery testing industry. Engineered for all battery formats and sizes, patent-pending ATPHEAVY ADAPTABLE can be adjusted to accommodate different high amperage testing requirements. The flexible test surface is set up so it allows for multiple different plates on each shelf to be interchanged to allow any type of cell format or size to fit while allowing for the current requirements requested.

The Reason for ATPHEAVY ADAPTABLE
Industries continue to innovate. With customers longing for a faster charging, more efficient battery, industries such as the EV industry are challenged to design cars that can drive longer and drive further per battery charge than ever before. "There's a big shift going on right now with climate change and converting internal combustion engines to EV cars—electric vehicles," VP of Sales and Service Aaron Robinson reflects. Acknowledging shifts across industries, AES team members asked themselves, "How can we build a product that applies to a larger amount of customers?" ATPHEAVY ADAPTABLE is the solution.
Battery Testing Solutions
ATPHEAVY ADAPTABLE can easily accommodate larger capacity batteries, multiple geometries of pouch, and prismatic and cylindrical cells. The universal terminals on both sides of the fixture provide an adaptable process for customers to switch battery holders for different current requirement effortlessly and when testing requirements shift. For example, you can combine two 250 amp channels to get a 500 amp channel. Our ATP® series is seamlessly engineered to fit into our battery test chambers equipped with safety features. ATPHEAVY ADAPTABLE's shelves (up to four) slide out of the chamber to give safe, easy access to each cell. The optimization of the test surface enables the holders to be adjusted for varying battery sizes and cell types, bringing them closer or farther apart. As a result, a single battery testing chamber with a flexible fixture can accommodate high-amperage testing requirements.
Although ATPHEAVY ADAPTABLE provides exceptional solutions for EV, our ATP® solutions are used for a variety of other applications. Examples would be, include testing for consumer electronics, medical device batteries, military, defense, energy grid storage and many more industries. Browse our battery fixtures to find the perfect match for products and needs.
---
Innovation Together: Collaboration with AES
Innovation is an uncompromising boss. When customers purchase a product from AES, we form a long-standing relationship with them to fully understand their needs and goals. We think of every detail with the customer, from the order to delivery and every point in between. Our in-house capabilities and full-service staff with 10+ years of experience in the field maintain our seamless and effective process, allowing us to cut development time down significantly. Once the product is delivered, our team will always be within reach. Should repairs or maintenance services need to be completed, we support ongoing needs.
As CTO Brockton Kenyon emphasizes, AES is in the business of "providing different options to customers." We pride ourselves in being in step with our customers and advancing technology in tandem to create battery-testing solutions that speak to each customer. Speak with a sales engineer today to discover how ATPHEAVY ADAPTABLE provides the next level of battery testing equipment. Let's dream up the next big thing together.