Why Humidity Chambers are Vital for Testing in Leading Industries!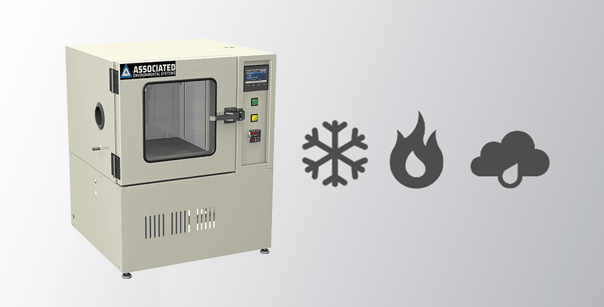 Humidity plays a critical role in our world. From the Sahara desert to the Taiheiyo rainforests in Japan and the subtropical climate in Florida, temperature, and humidity create unique environments that affect our products, materials, and components. Many leading industries find themselves in need of an environmental testing chamber with controlled conditions that can effectively help them understand how their product works and its failure points.
Whether you're in search of a humidity chamber to test solar panels or electronics equipment, Associated Environmental Systems (AES) provides expert chambers, from small benchtop units to large walk-in chambers, that are designed, manufactured, and produced to align with your testing needs. Depending on the standards your industry strives to reach, our humidity chambers help prove the quality of the product before going to market. As you finalize your chamber purchase, we encourage you to review the benefits of a humidity chamber for top-leading industries such as packaging, medical and pharma, and military and defense, and consider our wide variety of chambers.
How Humidity Chambers Support Leading Industries
Packaging
Because consumer packaging is so competitive, companies need to ensure that products don't arrive to a customer in damaged condition. Safe and intact packaging is imperative for every product, from the consumer packaging industry to even shipping for vaccines. To predict how packaging will respond and perform in various climates once it leaves the factory floor, humidity testing is essential.
The International Safe Transit Association (ISTA) has developed standards for the packaging industry to minimize product damage throughout the distribution process. These standards require General Simulation Performance Tests to Enhanced Simulation Performance Tests. To complete a variety of these tests, AES' humidity chambers are capable of shifting between conditions to accurately test the resiliency and durability of packaging materials. Packaging companies who partner with AES to produce humidity chambers discover new and established insight into which materials are best and which shipping and storage boxes will protect the contents over time.
Environmental Test Chambers for the Medical and Pharmaceutical Industry
The medical and pharmaceutical industry requires environmental test chambers to assist with product research and development, as well as in manufacturing. To effectively develop, produce, and market medical equipment, drugs, or licensed pharmaceuticals, a humidity chamber plays a vital role in helping to predict temperatures and humidity variations that may arise.
The International Standardization Organization (ISO) has numerous published standards that provide a variety of requirements to ensure that medical equipment flawlessly meets pharmaceutical preparations and that medical containers are designed to withstand environmental changes in humidity. For example, a big pharma company may require a humidity chamber to test a screw-neck glass bottle medical device, which is applicable to primary packs used in direct contact with a drug. Pharmaceutical companies who collaborate with AES are enabled to test the design and mechanisms of a product, guaranteeing that their solid or liquid product will withstand humidity.
Military and Defense
The U.S. Department of Defense and its military staff cover international territory, which requires their materials and products to withstand a wide range of temperatures. A department within this industry benefits from a humidity chamber when tailoring a material item's environmental design and test limits to conditions that the specific material will experience throughout its service life.
To ensure that the military could identify any weaknesses in equipment, the U.S. Department of Defense created the MIL-STD-810 standard. To help military engineers achieve this regulation, AES offers humidity chambers that replicate the effects of environments on materials, making it efficient and convenient for the military to test the life cycle of a material that's necessary for a foreign environment.
---
What Types of Humidity Chambers Does AES Offer?
At AES, we build humidity chambers differently. Knowing that there's no one-size-fits-all solution, we manufacture custom test chambers to fit your specifications.
The Value of an AES Humidity Chamber
Our humidity system has exceptional capabilities. If you're curious how temperature and humidity chambers exactly work, we use a vapor generator system that gives each customer precise control over the humidity conditions of their chamber workspace. This system yields a standard relative humidity (RH) range between 10% and 95%, providing flexibility during testing. Optional features include dry nitrogen purges and recirculating desiccant air dryers, to reach an even higher humidity range.
If you're concerned about routine maintenance and fees, know that with AES you're in good hands. AES has service techs around the U.S. ready to assist and help your chamber retain its performance. We'll ensure everything from your demineralizing cartridges to your humidity sensors is in tip-top condition.
Complete Your Purchase
Revolutionary products can't wait. Show off your cutting-edge technology to consumers around the globe. With an AES humidity chamber, the impossible gets closer to becoming possible. Talk to one of our expert sales engineers today to finalize your purchase for a humidity control chamber. Take your test to the next level.