The Future of EV Batteries And Battery Testing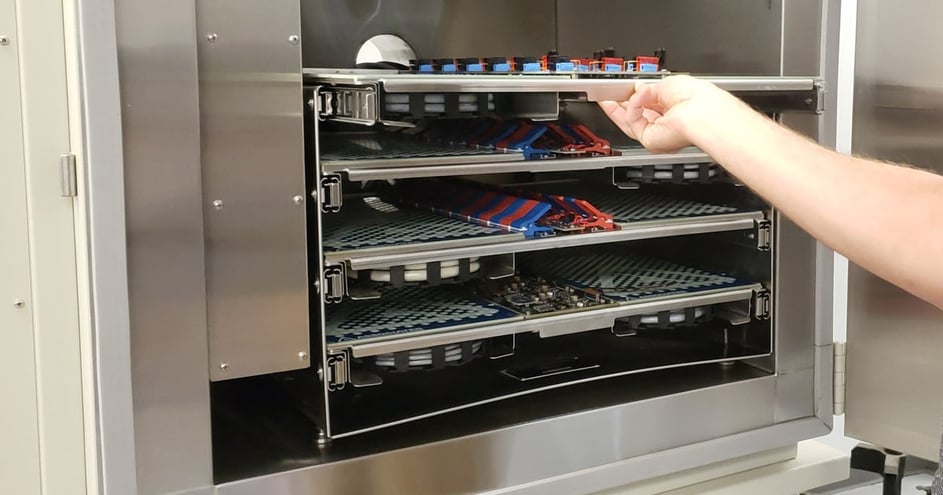 As electronics continue to develop and batteries start being used in more significant ways, AES has worked hard to engineer our battery testing solutions to stay ahead of the industry's needs.
AES created the ATPPRIME system, a fully equipped battery test chamber with ideal airflow and 1-4 fully extending shelves so you can easily access your pouch, prismatic, coin, cylindrical, and pack cells. The ATPPRIME system paved the way for ATPFLEX, a fixture that can be added to an existing chamber in your lab. ATPFLEX accommodates a variety of battery styles and enables testing of multiple configurations within 2-6 channels in an organized fashion.
These patent-pending solutions have been fully designed and engineered in-house and continue to develop, offering safe testing for academics, startups, and corporate research and development (R&D).
The systems needed to test batteries require constant evaluation because the industry itself evolves so often. The future of batteries is in a battery that is quick-charging and can last for a longer period of time. QuantumScape Corp., a company that's kept quiet for the most part, emerged last year with remarkable claims: They'd developed a battery that can extend the electric car range by 50% and charge in just 15 minutes.
One of the biggest obstacles of the battery industry is how much the batteries have changed over time. QuantumScape says they've totally swapped out two of the four main materials in lithium-ion batteries with long-lasting results. "It's not impossible to visualize another few decades with this chemistry," says Jagdeep Singh, founder of QuantumScape.
This battery revolution could not have come at a better time. With governments pushing to cut emissions and automakers off to make the best electric vehicles, it's no question that EV is our future.
That's why Associated Environmental Systems is dedicated to providing safe, cutting-edge testing equipment that'll save time, energy, and money in the long run to find the newest battery solutions.