What's the Difference Between UL and ETL Certification Marks?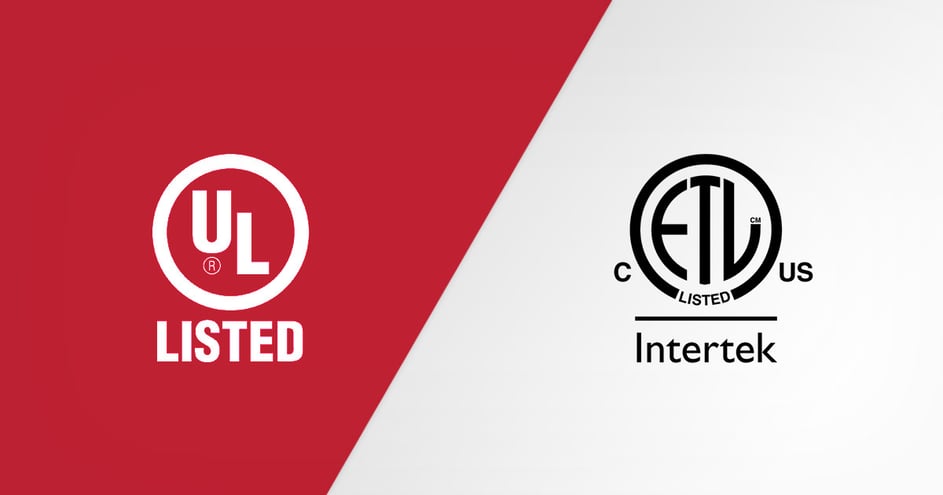 Environmental testing comes with risks. You'll be monitoring products in extreme conditions, relying on massive amounts of energy, and testing over extended periods of time. Sometimes the materials themselves—such as lithium-ion batteries—are inherently dangerous. You need to implement safety measures to protect your employees and lab space.
That starts with working with test chambers that are third-party certified. The Underwriters Laboratories (UL) certification mark and Electrical Testing Labs (ETL/Intertek) certification mark ensure that products have met specific safety standards. More than that, they confirm the quality of a manufacturers' operations from design to development.
These certifications are requirements for many products including electrical cables, medical equipment, industrial components, consumer goods that present potential safety risks, and more. There's little difference between UL and ETL marks. The most important thing to note is that they're both qualified by the OSHA-certified, Nationally Recognized Testing Laboratories (NRTL).
When researching new test chambers, be sure to choose a manufacturer whose products are certified to meet UL or ETL standards. Here's what you need to know about the certifications.
UL Vs. ETL/Intertek
Although the UL and ETL marks signify safety standards, they indirectly confirm innovation. The labs work to ensure new products and devices are ready for the public.
That spirit stems from the organizations' origins. You can trace both to the late 19th century, during a period of invention and growth. ETL has connections to Milton Hershey and Thomas Edison's work while the UL emerged from the 1893 World's Fair in Chicago. UL's founder, William Merrill, Jr., was charged with assessing the fire risks associated with the construction of exhibits. Merrill, in turn, recognized the need for protecting consumers into the 1900s with the advent of new technologies,
The legacy continues to this day as standards evolve alongside industries (think of the transition from the first automobiles to modern electric vehicles, bi-planes to drones).
As mentioned above, there's little that separates the two certifications. UL creates its standards; ETL doesn't, although they test to the same criteria. In practice, UL certification tends to be a little more expensive but also more thorough and, according to critics of ETL, stringent.
In order to have a UL or ETL mark, an independent third party travels onsite to evaluate the product and its components. They conduct a verbal review of their findings that's followed by a written report of 'PASS' or 'FAIL.' They'll also produce a list of fixes before the product can be certified for safe use in North America and Europe.
It's important to understand, too, that there are subsets to the certifications depending on the products:
Who are they intended for?
What's their intended use, and will they be exposed to extreme temperatures or other environmental conditions?
What components go into the products?
Do they pose a safety risk in any way?
Does your market expect them to have a certification?
What are your industry standards?
Note, too, that these certifications are time-consuming and expensive, and if the product changes even slightly after review, you need to restart the process. Therefore, manufacturers invest heavily in their processes leading up to certification. They conduct extensive research, optimize design, and streamline development to meet internal standards before rigorous, third-party review.
In doing so, manufacturers deliver peace of mind to their customers. It's simply best practice. You can promote your own best practices by working exclusively with a manufacturer that produces test chambers that meet UL or ETL standards. It's an important question to ask during the buying process.
Associated Environmental Systems carries the widest range of test chambers with different performances, customizations, and sizes that have been certified to meet UL standards . Explore our inventory or contact us. We're happy to advise you on all your testing needs.