CAREERS AT ASSOCIATED ENVIRONMENTAL SYSTEMS
AES looks for driven individuals to join its team in fields like mechanical and software engineering, manufacturing, customer service, and more.
See Openings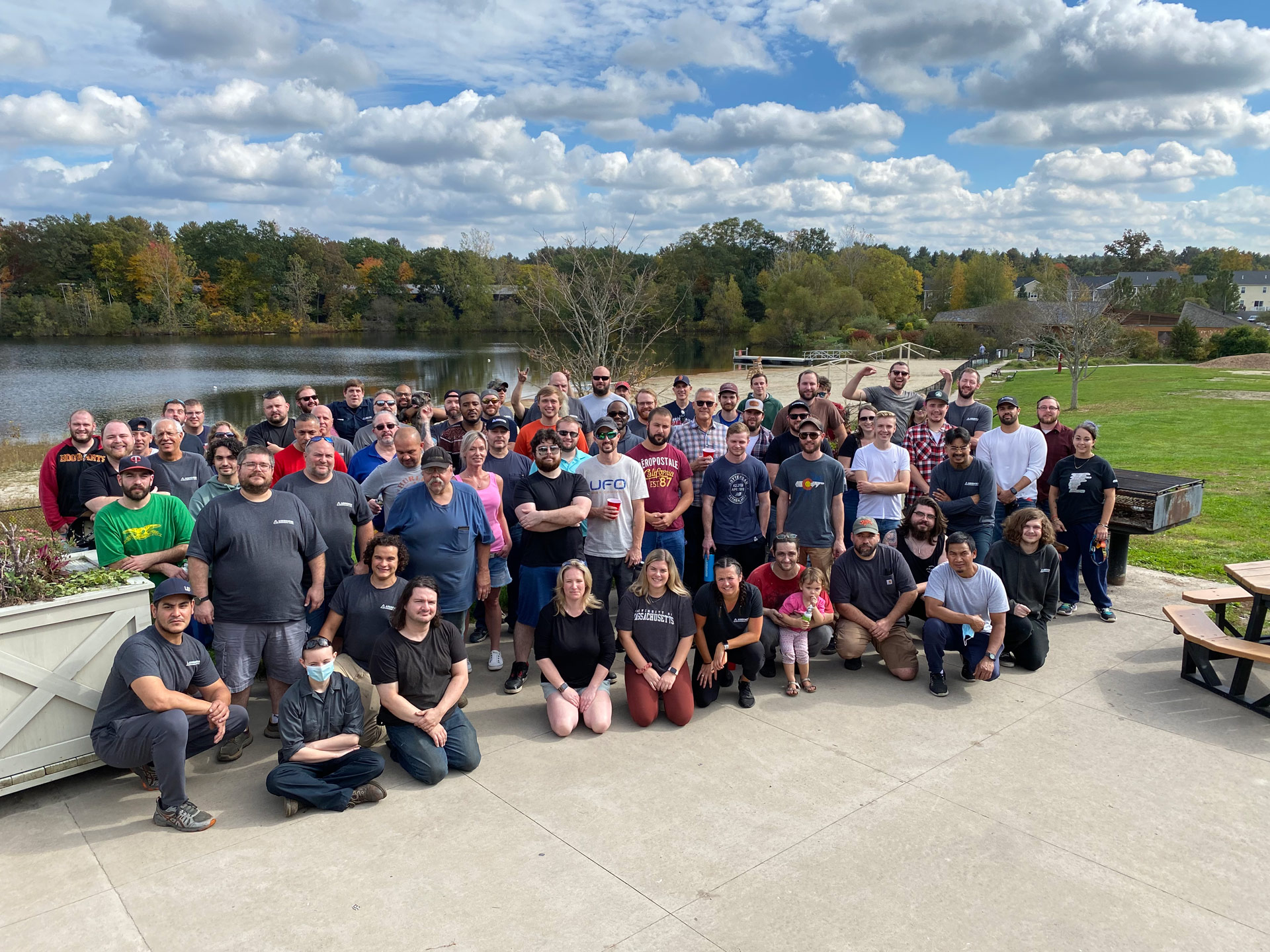 CAREERS AT ASSOCIATED ENVIRONMENTAL SYSTEMS
AES looks for driven individuals to join its team in fields like mechanical and software engineering, manufacturing, customer service, and more.
See Openings
Powered by emerging technologies and lean manufacturing methodologies, Associated Environmental Systems is a leader in the environmental test chamber industry.
Our test chambers enable innovative companies to create specified conditions in a controlled and confined space. Test chambers are critically important to research and development and the manufacturing of products used daily.
In addition to engineering next-generation technology and providing service to keep chambers running for 10 years or more, AES will always have a strong commitment to customer service. When you contact us, you'll always reach a person. We're focused on doing right by the customer.
If you want to join this creative, fast-paced environment and contribute to world-changing innovations in a welcoming, friendly atmosphere apply today.
OUR PURPOSE
At AES, we strive to help our customers make their products stronger, faster, safer, and longer-lasting. Our employees and clients alike count on us for the following:
Creativity
Each department at AES approaches challenges with a creative mindset. We seek to find solutions that exceed expectations and push the company forward. Collaboration with each other and our customers is key to driving this creativity.
Dependability
The AES logo represents all of the hard work that goes into our services. When you see it, know the entire team is behind the project to support its success.
Efficiency
We optimize our operations to create a safe work environment and reduce lead times for test chamber orders.
Integrity
Integrity is at the forefront of AES's operation. We respect and guard all customer-desired confidentiality. AES policies assure our customers that both quality and social standards are met and maintained.
LIFE AT AES
Headquartered in the woods of Acton, MA, AES has two strategically located offices in Michigan and California's Bay Area.
We're deliberate in fostering a culture where we look forward to coming to work every day. Our main location offers hiking trails, a basketball court, and a gated dog park—yes, we're dog-friendly.
AES blends this warm and friendly environment with an electric dedication to our craft. Our skill sets are as wide-ranging as our team members' diverse backgrounds, empowering an inventive culture made possible by the productive tensions between cooperation and divergent viewpoints. This approach has forged AES into the industry leader it is today.
Matt
R&D/ Systems Engineer
I love coming to work every day where everybody takes their work seriously but not themselves too seriously. AES is a great place to work because it's a close-knit engineering company with a focus on collaborations and innovation. I am challenged every day with every task at hand.
Peter Rea
Western Region Service Manager
During my seven years working with AES, I have participated in the growth and development of our manufacturing and service teams. Collaboratively, we are an unstoppable force in the chamber industry. It has been a fulfilling experience, and I look forward to the continued success of the company.
Rachael
Sustaining Engineering Manager
Working at AES has been both rewarding and exciting. Working alongside highly skilled and experienced engineering and manufacturing floor teammates has helped me grow as an engineer and as a manager. Everyone brings a unique perspective and approach to the table which helps to achieve our goals in making the most powerful chambers on the market. The perk of being able to bring my dog to work and socialize with other dogs has been awesome as well!
John
Vice President
I started in the 1980s with an internship, and now I have been with AES for more than three decades. I have seen the transition from analog to digital test chambers, the development of remote testing, and what has driven changes in environmental testing. As Vice President, I have a hand in almost everything. Every day is always challenging and fun!
Benefits
401K Plan
Paid Vacation
Paid Sick Time
Paid Holidays
Tuition

Reimbursement
Leadership Development Program
Intern Program
Medical Care
Medical IPO or HMO
Dental
Eye Care
ST Disability
LT Disability
Life Insurance
Travel Assistance Program
Accident Insurance

Perks at Work
Dog friendly with a dog park on-site
Casual dress code
EV charging station
Social events

On-site barber brought in once a month

Biweekly Free Lunch Fridays
Basketball
We have an opportunity for an ambitious, self motivated person to join our forward thinking team as a Refrigeration design Engineer. In this role you will be the primary point of contact between Refrigeration and engineering; assisting both our standard production line and our custom manufacturing team, where needed. Your contribution will be pivotal in ensuring projects hit all timing and fiscal benchmarks. You will be expected to develop designs, propose solutions, and generate BOM's, accurately and efficiently. In this role you will have the opportunity to work on some very interesting projects for industry leading clients. This will all be accomplished with the latest technology and the full support of engineering, manufacturing, and service.
Who we are
We are an innovative manufacturing company that focuses on growth and technology and enjoys having fun along the way. We have built an extensive and loyal customer base spanning aerospace, electronics, and automotive with significant involvement in the global expansion of the battery industry. We work with many of the major tech companies as well as brands such as Tesla, Rivian, Lucid, Meta, Google, and Harley Davidson.
Primary Responsibilities
Perform calculations related to single stage and cascade refrigeration designs (Enthalpy & Entropy)
Appropriately size evaporators, condensers, BPHE's, condensing units, fan blades, and blower wheels
Perform calculation to adequately size open coil & finned sheath heaters
Perform calculation to achieve set humidity points
Hands on evaluation of refrigeration system performance in manufacturing test environment.
Develop solutions aimed at increased efficiency and repeatability.
Iterate on existing refrigeration designs
Create all refrigeration schematics in Solidworks electrical, following all ANSI standards.
Generate and execute engineering change orders.
Generate Bill of Material that satisfies customer specifications and system specifics
Create and maintain work and test validation procedures.
Ensure compliance with all EPA and EU requirements.
Troubleshoot existing designs and develop creative improvements for efficiency and surge capability, along with testing and manufacturing throughput.
Assist in debugging field issues with refrigeration techs.
Review and comment on supplier data as required.
Designing alternative and/or replacement parts for existing equipment.
Working with purchasing for part availability and cost.
Skills
A firm understanding of thermodynamics, required
A four year degree in Mechanical Engineering, preferred.
Five or more years of Refrigeration engineering experience, preferred.
Five or more years of designing schematics for refrigeration circuits, preferred.
Experience designing medium & low temp range systems (R410, R404, R449), preferred.
Knowledge of 2D CAD software is required, SolidWorks Electrical software preferred.
Knowledge of ultra low temperature cascade systems (R508), preferred.
Knowledge of electrical wiring, preferred.
Understanding of controls circuits & PLC's, preferred
Ability to troubleshoot, required.
Great communication skills, required
Good mechanical aptitude and knowledge, required.
Great attention to detail, required
Familiarity with current refrigeration engineering trends.
An innovative mindset and positive attitude.
What do we offer:
A truly collaborative environment with a Senior Management Team that helps to shape the future of the Company.
Competitive salary and benefits.
Tuition reimbursement.
A casual dog friendly work environment with a small company atmosphere! Check out our website and facebook for a look at our company culture and our four legged team members.
*Associated Environmental Systems is proud to be an Equal Opportunity Employer. We celebrate diversity and are committed to creating a welcoming and inclusive environment for all.
*Applicants must have the ability to work permanently in the United States without sponsorship, now and in the future.
Don't see the position that's right for you?
Call us at (978) 772-0022. At AES, we value talent and growth-oriented people. We would love to meet you, and we might be able to work something out.
FAQs
What are the steps of the recruiting process?
We start by posting any open positions on our company website, Indeed, and LinkedIn. Once we have received your application, you will be contacted by the People Operation Lead to get to know you better and give you an overview of the position. Once we feel the role would be a good fit, we invite you to tour our facility and meet the team.
---
How should I dress for my interviews?
We are a pretty casual group. We don't even have an official dress code. Instead, we encourage you to be yourself and wear whatever you're comfortable with. Jeans, dresses, skirts, slacks—whatever you like is fine with us.
---
I don't see a job that's perfect for me right now. How can I share my resume or contact information?
At AES, we value talent and growth-oriented people. Reach out to us. We would love to meet you, and we might be able to work something out.
---
I submitted my application but haven't heard back. What is the status of my application?
Usually, if you are still waiting to hear, the process might have gotten delayed. You can always reach out to us anytime!
---
What are some of the ways AES focuses on team development?
We do a lot to develop our talented individuals into a fully-fledged team. On your first day, you receive a schedule and get to shadow or meet one-on-one with key people you will interact with. Lunch is ordered in on your first day so you and your team can sit down and enjoy a casual conversation to get to know each other. We are proud to offer leadership development programs, and many team members have moved into supervisory and management positions after starting on the manufacturing floor.
CONTACT US
We try to be just as responsive to potential employees as we are to our customers. Please, don't hesitate to reach out if you have any further questions. We're happy to help.
You can call us at 978-707-6721 or leave a message, if outside normal business hours. You can also email us at support@associatedenvironmentalsystems.com.