We Are Now Offering Service!
Associated Environmental Systems will now be offering service in the West, Mid-West, and East.
AES offers our own preventative maintenance to ensure that your test chamber is running reliably and limit the risk of unintended downtime for your test chamber. Our service team is able to work on all types of test chambers. Not only do we do preventive repair, maintenance and calibration to AES chambers, we also perform maintenance on any type of test chamber from any manufacturer.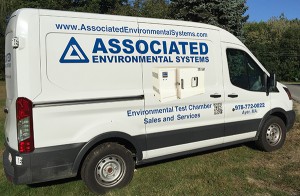 For our customers who want expedited service we also have our Advance Service Advantage Plan (A.S.A.P.). In exchange for an open account with a prepaid balance, A.S.A.P. customers receive a preferred rate on service and purchase of parts and do not incur overtime charges Monday through Friday. A.S.A.P. is a popular option for guaranteed routine maintenance as well as for a rapid response time and availability for any unexpected emergencies. A key benefit of the A.S.A.P. program is that balances may be applied to the purchase of a new chamber.
AES' calibration services ensure that your chamber is operating correctly and will not negate any data through incorrect functioning or invalid calibration. By calibrating environmental chambers that are NIST traceable, we assure ongoing dependability and precision with the chamber's temperature, humidity, controllers, recorders and sensors.
Our locations:
East Coast
978-772-2200
31 Willow Road
Ayer, MA 01432
Mid-West
616-841-0211
N Dexter Street
Ionia, MI 48846


West Coast
408-500-0825
1446 Franklin Street
Santa Clara, CA 95050