Leading the Charge: Battery Show 2023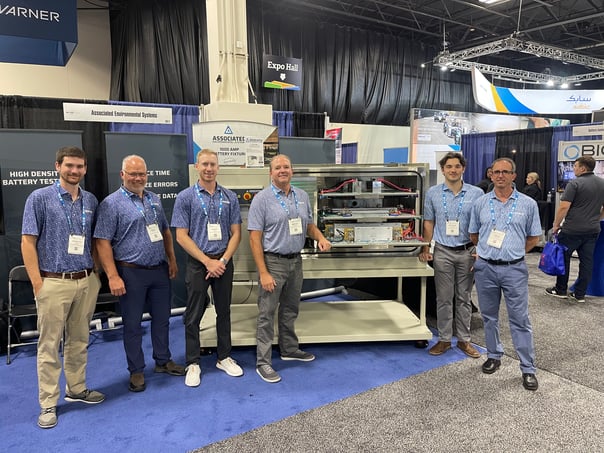 Associated Environmental Systems recently returned to Novi, MI, for The Battery Show North America 2023, September 12-14. Known as the largest event dedicated to the battery and EV sectors, AES joined leading innovators to showcase advances in battery technology for electric vehicles, grid support, and alternative energy enhancement. Developments in raw materials and battery pack systems were displayed, demonstrating improved battery performance, safety, and cost.
"The Battery Show North America was the perfect opportunity for our team to spotlight our latest products that will empower industries worldwide," said Vice President of Sales and Service Aaron Robinson. "Engaging in conversations with fellow industry leaders, gaining insights into their testing needs, and illustrating how AES can support their initiatives is my favorite aspect of attending the show each year." Alongside Aaron, AES was proud to include in attendance Michael Shirley, CEO; Brock Kenyon; Mark Pedley Regional Sales Leader; Bob Laudisi Sales Engineer; and Nick DiCeglie Sales Development Researcher. Our team spotlighted the SC-512-4-SAFE, ATPHEAVY ADAPTABLE, complete with a fully integrated modular board, and ATPPRIME ready on-display. Located at Booth 2817, we spoke with numerous participants and informed them about these innovative products.
SC-512-4-SAFE Benchtop Test Chamber
The "Super 512" is here. The most powerful temperature-only benchtop test chamber in the world, AES enjoyed sharing its benefits at The Battery Show North America.
The SC-512-4-SAFE is specifically designed with AES SAFE battery testing safety features to keep your testing safe up to EUCAR Hazard Level 7. SC-512-4-SAFE has the ability to integrate with our ATP® battery testing fixtures, including the latest ATPHEAVY ADAPTABLE, giving customers the ability to conduct battery testing for different cell formats, sizes, and amperages. Equipped with the necessary safety features to keep labs safe, the SC-512-4-SAFE comes with a burst disk, safety purge, temperature-limited sheath heaters, eight product thermocouples, and more integral features. With the SC-512-4-SAFE being one of our benchtop test chambers, customers can utilize an optional floor stand for one chamber or double the test workspace when stacking two SC test chambers in the same footprint. Say goodbye to lost counter space and hello to optimized testing!

Meet ATPHEAVY ADAPTABLE
As the EV battery testing industry continues to take shape, the AES team realized that a battery test fixture solution was needed to ensure performance, safety, and reliability, but also be versatile with an ever-growing landscape. Thus, the groundbreaking ATPHEAVY ADAPTABLE was created. Designed for easy modification, ATPHEAVY ADAPTABLE is a modular board that can be adjusted to accommodate various high amperage testing requirements and account for larger capacity batteries, multiple geometries of pouch, and prismatic and cylindrical cells. ATPHEAVY ADAPTABLE has vast potential to revolutionize solutions across the EV industry, within the consumer electronics industry, energy storage, and more.
When integrated with the SC-512-4-SAFE, the two become one singular, powerful tool that will empower testing labs across the world to create stronger, more efficient ways of testing batteries. At The Battery Show North America 2023, ATPHEAVY ADAPTABLE and SC-512-4-SAFE were fully integrated and optimized with different setups and battery sizes within the chamber. Attendees discovered how the size and current requirement of the battery determines how many channels can fit on each shelf. Across the EV landscape, customers in need of a faster charging, more efficient battery can rely on ATPHEAVY ADAPTABLE to meet their testing requirements.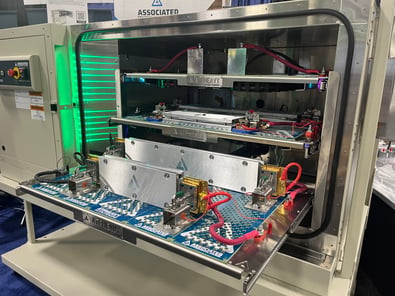 The Patented ATPPRIME Battery Testing Fixture
At The Battery Show North America 2023, attendees got a close-up look at another one of our most innovative fixtures, ATPPRIME, a patented system for the high-density testing of batteries within an environmental test chamber. Positioned outside of a typical residing section, attendees were able to experience in real-time how ATPPRIME is built specifically to accommodate coin, prismatic, and cylindrical cells that power many industries worldwide, combining critical components for battery testing into a configurable, scalable, safe, high-density battery testing platform. This battery testing solution offers a solution for testing multiple cells simultaneously and allowing for rapid changing of cells during tests while taking into account the specific requirements of your battery density.
---
Will We See You Soon? Contact AES Today
The Battery Show North America 2023 was incredible. If you weren't able to join us in Novi, we invite you to join us at the upcoming International Battery Seminar & Exhibit in Orlando, FL March 12-15, 2024, or at The Battery Show North America 2024!
At either tradeshow we'll be attending, you'll have the opportunity to engage with our team and learn more about how we can meet your battery industry goals. Stay tuned for updates. In the meantime, we encourage you to view our leading battery test chambers. Whether you've purchased one with us before or this is your first time, discover the impact an AES battery testing chamber or fixture can have on your lab.