Does My Chamber Need a LN2 or Liquid CO2 Boost?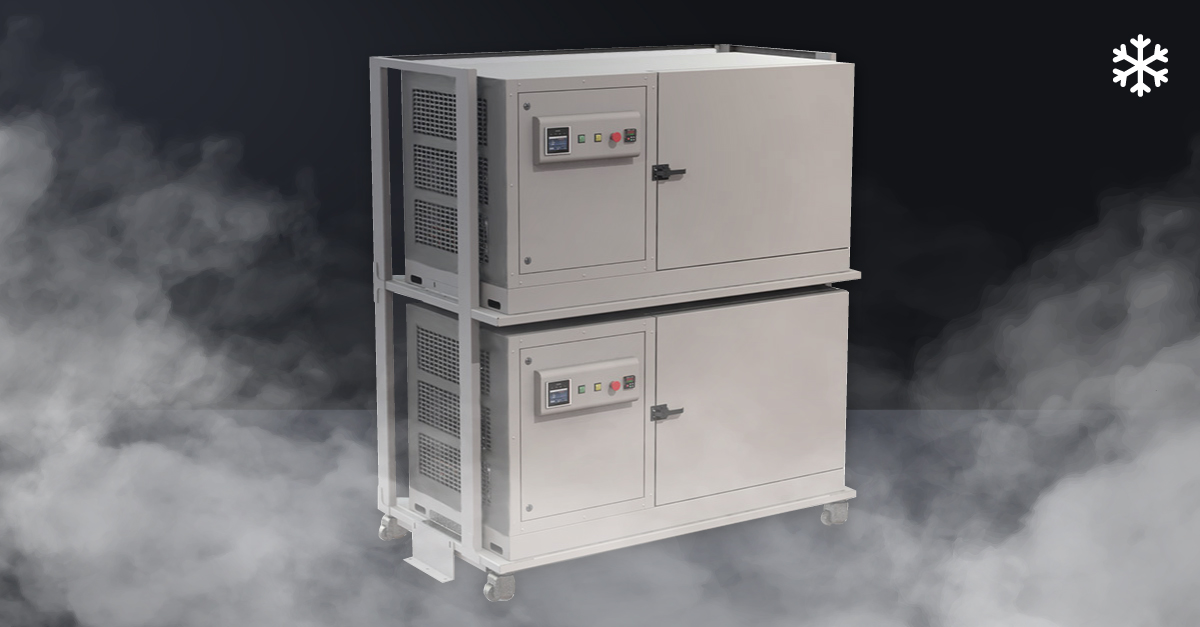 Mechanical cooling systems are what you'll find in your home refrigerator or air conditioner. While effective for their purposes, environmental testing often requires more intense cooling methods.
Most often used in laboratory and liquid-cooled ovens, temperature and humidity chambers, and temperature-only chambers, liquid nitrogen (LN2) and liquid carbon dioxide (CO2) help internal chamber workspaces rapidly cool down. While a standard option in liquid-cooled ovens, LN2 and CO2 are add-ons for most other chamber types.
LN2 and CO2 cooling boosts are optional, powerful additions for achieving rapid pulldown rates ideal for stress testing.
Why Use LN2 and Liquid CO2?
Cascade and single-stage refrigeration remain vital to many types of environmental testing.
For instance, the standard pull-down rate of the SD-508 with its single-stage system can lower temperatures at a rate of 1.24°C/min.
However, if you need more rapid cooling than the standard unit provides, you'll want to implement LN2 or liquid CO2 boosts. Put simply, both LN2 and CO2 are used in environmental testing to reduce the temperature within the workspace dramatically.
LN2 is directly injected into the chamber to both expand achievable temperature ranges and quicken the temperature change rate. CO2 is available to you in bulk systems, stand-alone tanks, or cylindrical setups that store much smaller amounts in multiple attached vessels.
When either coolant is introduced to the chamber, it evaporates, causing the temperatures to drop. Rather than introducing more cold to the chamber, think of it as removing heat from the workspace.
LN2, with a boiling point of -196°C (-320.8°F), is optimal for stress testing and efficient thermal dissipation.
While operating from a similar thermodynamic regularity, a CO2 boost has a boiling point of -57°C (-70.6°F). With this boost, you can almost instantly reach -73°C (-100°F) in the internal chamber.
Consult your chamber manufacturer as you consider which boost cooling method best suits your testing requirements.
Other LN2 and Liquid CO2 Components & Considerations
In addition to either cooling boost option, you'll need these components to get the most out of your environmental testing.
Moisture, dirt, oil, and other contaminants from liquid CO2 boosts can accumulate in a test chamber. A CO2 scrubber cartridge can be utilized as a filtering system to counteract these effects. CO2 scrubber cartridges are compatible with both 300-psi and 1000-psi setups. Ultimately, this feature is designed to keep CO2 clean while moving through valves and other metering orifices, eradicating problems with clogs or unexpected system failures.
If you rely on conducting high-volume testing, bulk systems are available as well. You'll need to provide your facility's delivery pressure information. Associated Environmental Systems will discuss your specifications internally and devise a plan. Some local gas companies supply dewars of LN2 or CO2, which you can store outside your facilities.
LN2 and CO2 boosts are powerful options for achieving greater pull-down rates or colder temperatures than mechanical cooling methods. Your testing requirements will dictate your boost-cooling needs, so be sure to ask about options when you speak with a chamber manufacturer. Keep in mind, too, that LN2 or liquid CO2 can be retrofitted to most pre-existing test chambers.
Associated Environmental Systems has been designing, constructing, and maintaining environmental test chambers for more than 60 years. Reach out to us today to learn more about liquid nitrogen and CO2 boosts, as well as other cooling options.