AES Test Chamber Support: Why We Repair, Maintain, and Retrofit All Brands of Environmental Chambers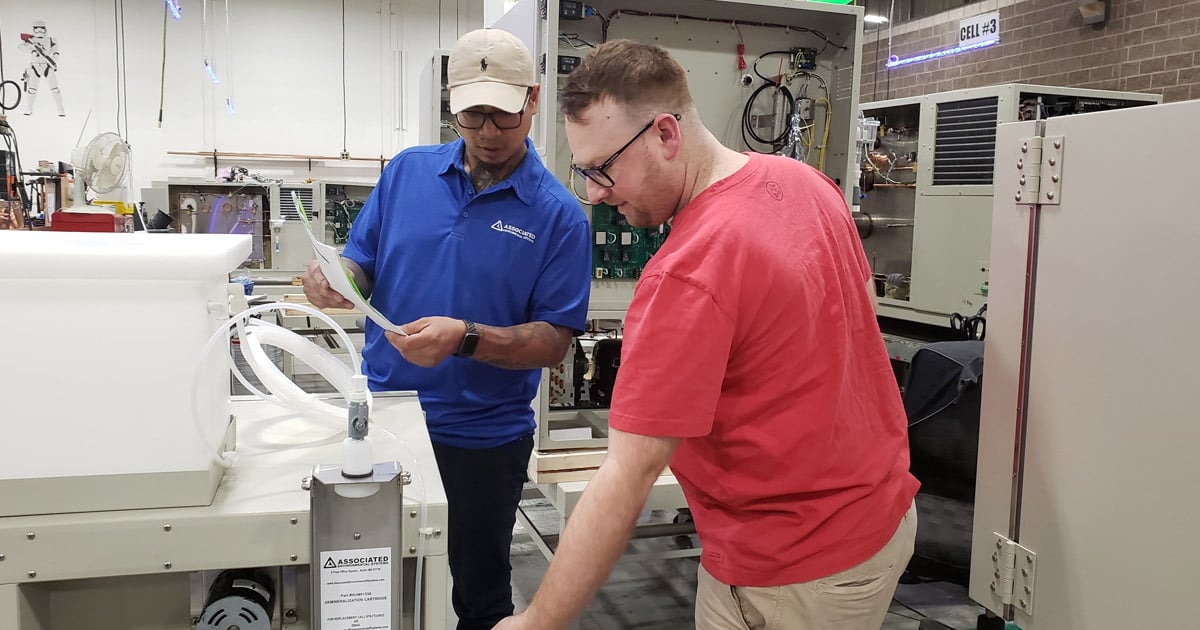 To remain at the top of your industry, you rely on efficient, accurate, and controlled product testing. That's only possible with high-quality environmental test chambers, some of which you may have accrued over the years from different manufacturers.
What happens, then, when your test chambers are in need of maintenance? Do you reach out to the individual manufacturers? Or do you have one company you can turn to for all your test chamber needs, regardless of brand?
It's one of the traits of the best test chamber manufacturers. They pride themselves on servicing their own models as well as their competitors. That might strike you as odd. After all, it's difficult to imagine a Ford mechanic opening the hood of a Corvette. But it's standard for solution-based manufacturers that don't believe in saying no.
When you call them with a problem, they work to address your pain points, and deliver an answer or provide a service that will get you testing as soon as possible. You say, "I wish I could." Your test chamber manufacturer should respond, "Well, you can."
That's AES's philosophy. Here's why they repair, maintain, and retrofit all brands of environmental test chambers.
Technology Changes.
Test chamber manufacturers understand better than most the rate at which technology improves. Their customers are companies at the forefront of innovation, from automobiles and defense to hand-held devices and the pursuit of a long-lasting, safe rechargeable battery.
Test chamber technology changes quickly as well. In fact, a well-maintained test chamber is going to outlive the technology that turns it on and off. Consider remote monitoring and operation, a game-changer that only emerged six years ago. If you have test chambers built before that, should they be considered obsolete? No, otherwise you'd be spending exorbitant amounts of money every few years.
Don't let your manufacturers tell you a broken or old digital controller requires a full test chamber replacement.
Instead, spend time talking to an experienced service team that can recommend retrofits or part replacements. You'll find that you can keep up with technology in a cost-effective manner.
Support Leads to Innovation.
Manufacturers that only service their own test chambers address problems unique to them. That doesn't leave you a lot of options should you require a solution outside their expertise.
On the other hand, service technicians that challenge themselves by solving customers' pain points drive innovation. In some cases, solutions designed for a particular client become standard, state-of-the-art features (AESONE CONNECT is one such example). Those features start from conversations with customers and evolve into industry game-changers.
The same is true for another more recent innovation. One electric vehicle manufacturer asked AES for a test chamber that could accommodate high-amperage batteries. The result was an addition to the ATP Series.
There's also something to be said for learning on the job. Test chambers feature different wiring and refrigeration (among other unique fixtures) depending on the manufacturer. By performing maintenance, calibration, and repairs across models, service technicians expand their skills and improve as a whole.
As a result, they benefit from working with you, just as you benefit from working with them.
It's a Customer-First Approach.
All the advantages of working with test chambers from any manufacturer center on one truth: It's a customer-first approach.
Too often, companies rig up homemade solutions to replace broken or outdated controllers because their manufacturer told them they'd need a new test chamber. Meanwhile, operationally speaking, the test chamber itself still works. In these scenarios, you should be provided solutions that allow you to allocate resources and time to testing rather than short-term fixes.
Think of it in another way. If you own 10 test chambers from three or four manufacturers, working with those companies separately is expensive and unnecessarily time-consuming.
In AES, you have a partner that can service all of your chambers during a single visit.
It's part of the company's greater commitment to service and support. Its team includes account representatives, technicians, and engineers who can help to diagnose and troubleshoot your issues. AES also has a network of factory technicians covering the East Coast, West Coast, and Midwest who are available to travel for onsite repairs. Collectively, the entire team grows its expertise to include factors outside of the chambers themselves: lab layouts, power requirements, supply chain issues, and industry trends.
All information about your test chambers is stored in one database, as well, so you have a complete history of performance. And, with the aid of AES's service team, you can create a maintenance and calibration plan to keep your test chambers at peak operational performance and build a timeline for a replacement that fits your budget.
Whether you have general questions or need assistance for everything from installation to calibration to repairs, AES is always a phone call or email away.