How Fast Can My Chamber Ramp Up or Pull Down?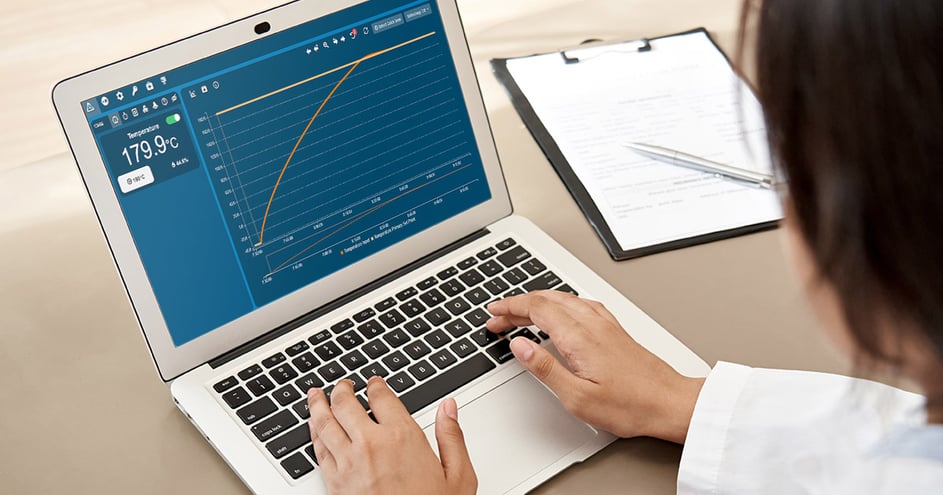 Staying on schedule is a key to successful environmental testing. It enables you to set expectations for your team, stakeholders, and customers. Understanding your chambers' ramp-up and pull-down rates, which vary by manufacturer and the size of the chamber, is an incredibly important part of establishing a testing schedule.
Here's what you need to know about ramp-up and pull-down rates for your environmental test chambers.
Calculating Ramp-Up and Pull-Down Rates
There are two different types of temperature change rates when it comes to environmental testing: ramp-up and pull-down rates.
Ramp rate refers to how quickly test chambers can heat up while pull-down relates to how fast they can cool off.
Keep in mind that actual rates will vary based on devices under testing (DUTs) and lab conditions. These rates are calculated with empty chambers through the following steps:
Adjusting the chamber to the lowest specified temperature and allowing it to stabilize.
Adjusting the chamber to the highest specified temperature and then monitoring the time between the 10% and 90% points of the temperature range.
Allowing the chamber to stabilize at the highest specified temperature.
Adjusting the chamber to the lowest temperature specified temperature and monitoring the time between the 90% and 10% points of the temperature range.
Ultimately, this determines the temperature rates of change for heating and cooling in °C/minute.
Be certain to verify your change rate requirements with a manufacturer before purchasing or retrofitting a test chamber. Ramp and pull-down rates are especially important in the following types of testing:
Product Testing
In simple terms, product testing is about quality, reliability, and durability, and this requires sufficient ramp-up and pull-down rates. These vary from industry to industry and depend on lab conditions and the product you're testing, so review your sector standards before purchasing a chamber.
Thermal Shock Testing
Frequently used to determine the resiliency of electronics, plastics, and mechanical components, thermal shock testing replicates the extreme changes in temperature a product will likely face. Thermal shock testing relies on the fastest change rates in environmental testing.
To enhance the pull-down rate, it's common to employ liquid nitrogen (LN2) or carbon dioxide (CO2) boosts to lower temperatures within the workspace. LN2 and CO2 boosts can immediately reduce chamber temperature to -185°C (-300°F) and -73°C (-100°F), respectively. Manufacturers design chambers specifically for thermal shock testing.
Temperature Cycling
Alternating between hot and cold, temperature cycling also helps determine the durability and breaking points of devices under testing (DUTs).
Ramp & Pull-Down Rates for Specific Test Chambers
As you consider which chambers might best accommodate your change rate needs, it may be helpful to examine some of the variety AES offers.
For example, the FD Series and HD Series feature up to four different performance levels standard in their chambers. This range enables you to get the exact power requirements and performance level you need without waiting for a custom chamber to be built.
Starting with 13-cubic-foot models and expanding up to 96 cubic feet, these chambers can perform at four change rates: Thrust (up to 3.89°C/minute), Impulse (4°C to 6.49°C/minute), Warp (6.5°C to 8.9°C/minute), and Hyperdrive (9°C/minute and higher).
So, if you needed a 16-cubic-foot, temperature-only test chamber that requires a pull-down rate of 6.2°C/minute), you would then likely select a standard FD-518 Impulse. And just like that, you're on your way to testing with a limited wait time.
If you are unsure whether your test chambers are performing properly, you should schedule maintenance service.
Associated Environmental Systems has been designing, building, and servicing test chambers for more than 60 years. Contact us today to learn more about testing solutions and which chamber has the ramp-up or pull-down rate you need.