Environmental Chamber Maintenance Advice From Service Experts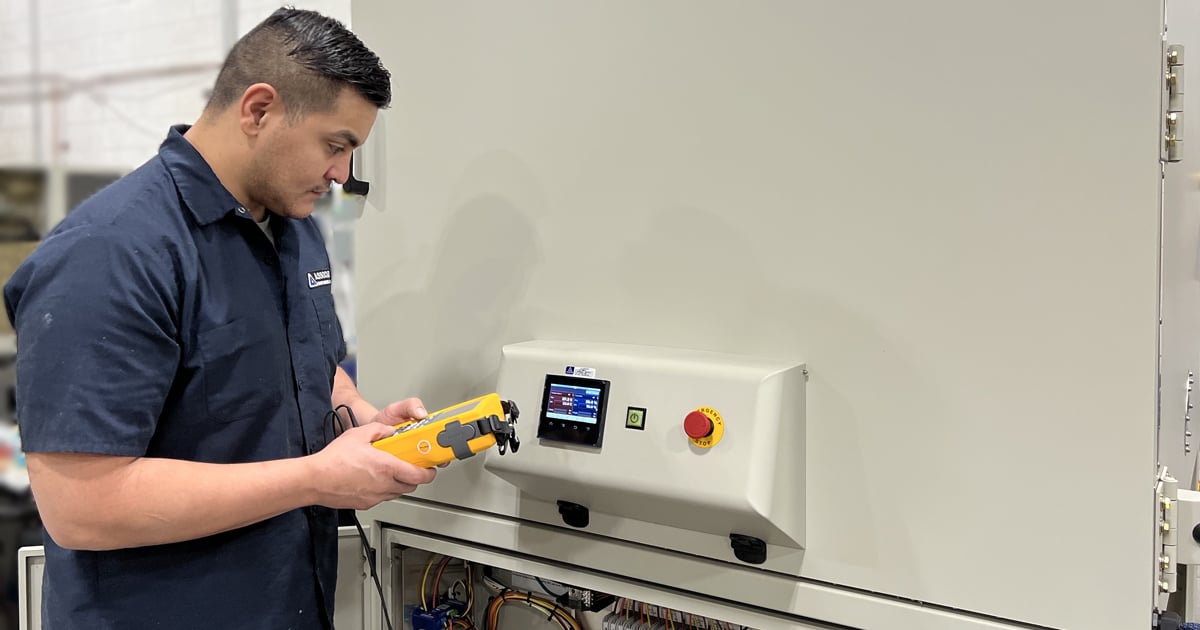 There's a lot to keep track of when it comes to preventative maintenance for environmental chambers. When you don't stay on top of routine service, you undermine test performance and can even shorten the lifespan of your chamber.
Below, experts at Associated Environmental Systems share some common maintenance you should perform on your test chamber, what you can do to optimize your maintenance program to minimize downtime, and a few mistakes to avoid that tend to shorten the life of test chambers.
If you are consistent with maintenance, your environmental chambers can remain operational for 10 years or more.
Optimizing Your Test Chamber Performance
Proper maintenance begins the second the chamber gets into your lab. That starts with making sure installation goes smoothly and identifying issues from shipment. Then it's time to get to know your chamber:
Study the manual, and familiarize yourself with how it sounds, smells, and looks before you begin meaningful testing.
Schedule a preventative maintenance (PM) check-in with your manufacturer right away, and get into the habit of having a yearly PM date on the calendar. Experienced technicians can spot potential problems before they arise.
The better acquainted you can be with your chamber while it's new, the better you'll be able to identify potential problems down the road.
Two Things Labs Do That Shorten the Life of a Test Chamber
An important part of establishing good habits with your chambers is avoiding common mistakes. There are many things labs do that can shorten the life of a chamber, and service technicians encounter them often.
Here are two of the most common mistakes you should avoid:
Placing the chamber so close to the wall that it can't breathe. Without sufficient "breathing room," a chamber performs less efficiently, which makes it work harder at times, adding unnecessary wear on parts. Chambers usually need a certain level of clearance for airflow. Somewhere between 18-36 inches away from the wall is best practice.
Using the wrong water type. Doing this will strip the copper piping down and eventually eat away at various other components. This usually occurs because the water is so pure that it strips the metal of its copper molecules. So be sure to read up on which type of water is appropriate for your test chamber.
Lastly, if you are doing intermittent environmental testing, make sure you run your test chamber before every test just to make sure it is working properly. This will ensure consistent and accurate testing while extending the lifespan of your chamber.
Most Common Maintenance Tasks You Should Perform
There's an extensive list of maintenance tasks you should perform quarterly to extend the life of your chamber, but a few should be done even more regularly. Our service experts recommend the following:
Does the Demineralizer Cartridge Need to Be Replaced?
If your chamber utilizes conditioned water, make sure the demineralizer filter is in good standing. The cartridge will change color through use. When only ¼ of the original pellets retain their color, it's time to replace.
Check for Dust Buildup on Condenser Fins.
This ensures the chamber performs at its highest level. A collection of dust can also hamper condenser performance, if it becomes thick enough.
Inspect the Steam Generator and Recirculation System.
Make sure your steam generator and recirculation system are free of any mineral buildup or any contaminants. This will undermine performance. Be sure to inspect the water bin, as well.
Is the Drain Working Correctly?
Regularly inspect the drain to determine whether it functions properly. It should be cleaned frequently.
Are the Temperature Readings Accurate?
Verify whether your chamber is holding a stable temperature and running well overall. If something seems off, but you're unsure what it is after regular maintenance, don't hesitate to contact your manufacturer for service expertise.
Examine the Condition of Silicone Sealants
Identify any wear and tear and replace sealants as needed to ensure your chamber's performance and users' safety.
Finally, it's especially important to inspect any wires that go into the test area. They should remain sealed and without cracks. There should be no signs of leakage anywhere in your chamber.
Maintenance of the Refrigeration System
When examining the refrigeration system, first look at the site glass/oil level (during operation), oil leaks/build-up around the system, clearance for the condenser, pipe insulation, evaporator fan operation, captures, vibration eliminators, and pipe supports, and any frost buildup.
There are several additional things you should do quarterly for preventative maintenance specific to the refrigeration system:
Clean the condenser coil
Check the evaporator and condenser fins, ensuring they are straight (there is a special fin comb for each kind)
Inspect cascade low-stage static pressures and operating pressures
Assess the discharge, suction, liquid line, and net oil pressures (both stages)
Make sure all pressures are correct and working properly
Inspect high/low-pressure safety checks
Check for leaks on all piping and fittings
Evaluate low-stage expansion tank operation
Check the filter driers
Maintenance of the Electrical System
Before inspecting the electrical system, note that chambers are connected to live voltage. Ensure the chamber is disconnected from power following the appropriate lockout-tagout process before performing any maintenance. Any work on the electrical system should be performed by a professional.
Begin by examining the following electrical components: phasing (for bigger equipment with 3-phrase power), solenoid covers and coils, heater and ground wiring, as well as the wiring harness, sensor clips and compressor connections, and contactors/relays.
You also want to conduct quarterly testing on the overall electrical system. This includes:
Tightening all connections
Checking high voltage reading/outside unit and on the conditioning system
Conduct a control voltage reading, compressor amperage reading, and heat amperage reading
Run a control switch test (power, heat, cool, and light)
Test interior lights
Clean the control panel (vacuum or blow out)
Assess the condenser/evaporator fan amperage
Checking the Accuracy & Reliability of Sensors & Controls
There are also a few things you can do to evaluate the accuracy and reliability of chamber sensors and controls.
The most straightforward method is to compare the main controller to the limit controller temperature read out. If they are off by a significant margin, something is probably wrong.
If you notice this difference—and resulting poorer chamber performance—don't hesitate to reach out to a service technician.
This is part of why routine calibration is so important. Smaller changes are likely to be uncovered during calibration of the chamber.
Don't Hesitate to Call an Environmental Chamber Service Expert
As soon as you notice something awry with your test chamber, reach out to a service expert. This will reduce downtime, saving you money, and prevent further damage to your chamber that comes with leaving issues unaddressed.
If you determine that you have worn-out silicone sponge gaskets, fading demineralizer cartridges, or misshapen ceramic heaters, try to replace them as soon as you can.
The more you stay on top of routine maintenance checks, the better performance you're going to get out of your environmental chambers. Regardless, if you work with a customer-centric manufacturer, they'll be there for you to address issues as they come up and prevent future ones from plaguing your tests.
As an innovator and standard setter in the test chamber industry, Associated Environmental Systems will ensure our chambers help you achieve your most demanding innovations for 10+ years. Contact us today to learn more about preventative maintenance plans.