Optimizing Environmental Testing: The AES Difference (With Free 'Time is Money' White Paper)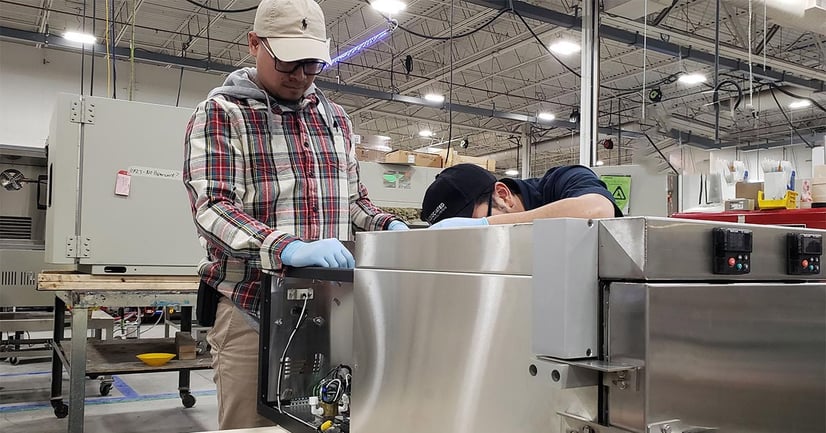 There's a notion that companies who maximize the time allotted to them, by building efficient processes and limiting delays or downtime, tend to be more successful than those that don't. In a phrase, time is money.
Throughout industries, environmental test chambers play a significant role in helping companies fulfill this axiom. They enable these companies to conduct research, experiment with designs, and put products through rigorous tests in hopes of proving their reliability before heading to market. It's a race to get the better of their competitors and, perhaps, alter their industry for the better.
Associated Environmental Systems (AES) understands this well. From constructing high-quality, customizable test chambers with precision to offering faster ramp-up and pulldown rates to providing on-site service and support, the company operates in a way that allows you to test as often and as quickly as you want.
You can't afford costly downtime in your testing schedule—AES will help you avoid it. Read more about how 'time is money' when it comes to test chambers and choosing a test chamber manufacturer by downloading our free white paper (see below). Here's a snippet of what you can expect:
Test Chamber Customization
Test chambers are used in just about every industry, with different industries carrying their own standards and practices. The individual companies then might have their own requirements.
This environment creates a challenge for test chamber manufacturers. They need to offer customizable chambers to accommodate different testing profiles, load sizes, performance standards, and more.
Whether it's a simple customization, such as adding an extra port, or a complex one that calls for re-engineering, AES will communicate with you every step of the way. You'll speak with a direct response sales representative (as opposed to a third-party source, which other manufacturers rely on) and receive quotes from the factory floor.
As soon as you place the order, you can plan a testing schedule, knowing full well you're getting a high-quality test chamber built specifically for you.
Efficient & Effective Manufacturing
Often, the decision to purchase an environmental test chamber must be made quickly to keep up with testing demands. You can't wait several months for a new chamber to be built. On the other side, stock chambers often make for a solid short-term solution but might not be the right fit for extended testing.
To meet these lead time demands, AES has optimized its factory floor, featuring manufacturing technology—such as a robotic welding machine capable of producing welds at 12 times the speed of conventional welders—and a layout that streamlines processes.
Coupled with LEAN training for the employees, the combination of machinery and expertise allows the AES manufacturing team to pull orders through the systems efficiently while staying true to the commitment of producing the highest quality test chambers.
Remote Monitoring With AESONE Connect
Sometimes (as companies learned all too well in 2020) unexpected delays or shutdowns force you to adapt. For test chamber owners, having access to their chambers remotely has proven invaluable. They can limit their company's onsite presence, if need be, without disrupting their testing schedule.
That's possible with AESONE Connect, a combination hardware (AESONE XCHANGE) and software (AESONE CONSOLE) solution. It comes standard with most AES chambers, and enables users to view and operate test chambers from anywhere with a tablet, laptop, or desktop. You can also view current and historic data, and build, duplicate, and edit test profiles.
The result is streamlined communication between your teams as well as opportunities to check in on ongoing tests at any time.
AES Service & Support
Here's a somewhat surprising fact about AES. They repair, maintain, and retrofit all test chambers, regardless of manufacturer.
Why? Because they believe in doing right by the customer. If you have 10 chambers from various brands in your lab, and you want them serviced in anticipation of testing, imagine the time and energy it would take to track down individual technicians for each. Instead, solve this issue by making one call to AES, who has service teams stationed around the country and available to travel internationally as well.
At every step of the testing process, AES is there for you, from the first call to inquire about custom test chambers to support throughout your chambers' lifespans. Test as often and as much as you want with confidence—and support from AES.


FREE DOWNLOAD: TIME IS MONEY
AES designs custom test chambers that will help optimize your testing. Learn more by reading "The AES Test Chamber Difference: Time Is Money."