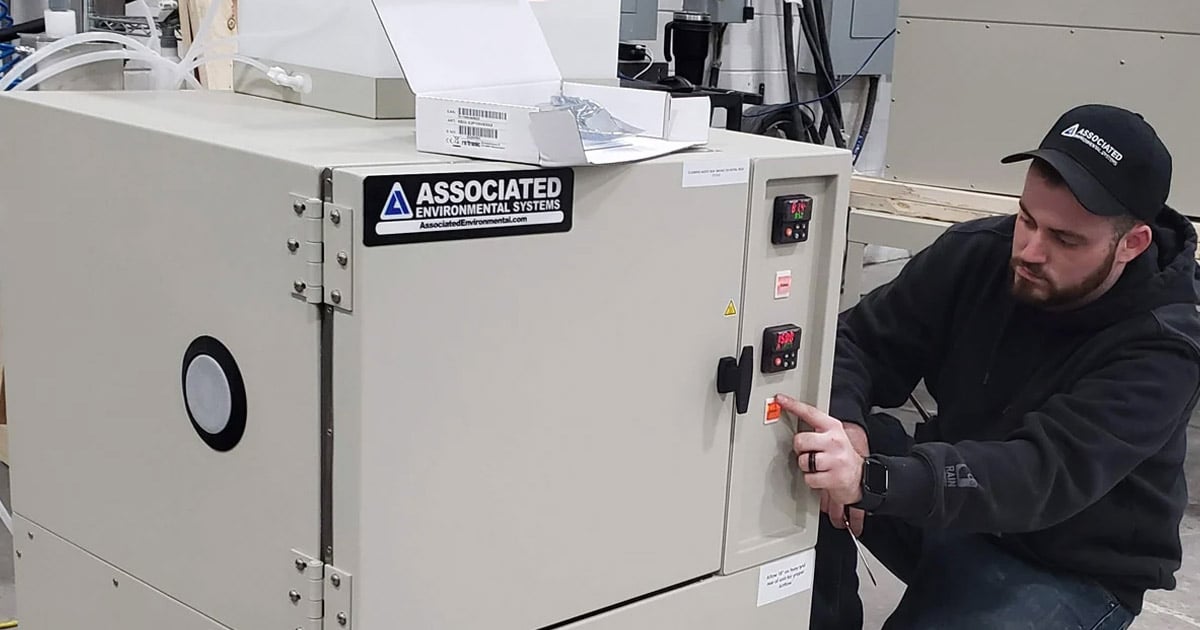 It'd be great if you could set a testing schedule and always have everything go to plan—but that's not the reality. It's understandable that you are under the gun to meet deadlines, so if something seems glitchy, but the test chamber still operates, then maybe you can just push through and get it looked at after you're finished. Just know that all the systems are interwoven to work together. Any rust or corrosion, water leaks, pooling or condensation, or air leaking is a sign of a future larger imminent repair.
Issues arise, and it's important to get ahead of them. You can help maintain your test chambers by accomplishing the following:
Invest in a service plan.
Practice

regular quarterly and annual maintenance

.
Run your test chambers to check performance prior to testing.
Keep manuals and all information associated with your test chambers close by.
Doing so will keep your test chambers operational, and help you identify problems before they become expensive fixes. Below are some of the more common test chamber maintenance checks to conduct so you and a service team (if necessary) can address any issues.
Test Chamber Maintenance
When addressed early, you'll find that most issues require relatively straightforward solutions. That's important for two reasons: One, many of them you can complete on your own—call your service team, and they can walk you through the steps. Two, it sets expectations and provides context so you can assess your repair options. The goal is to address the issues before a domino effect creates larger, more-extensive, repair issues or even a catastrophic problem requiring the purchase of a replacement chamber.
You should conduct the following maintenance regularly to keep your test chambers running properly.
Electrical System: Inspect your electrical systems for pitting and loose connections on relays, contacts, wire harnesses, solenoids, sensor clips and compressor connections. Check that ground wires and phasing is correct. Check your electrical readings at all connections and terminations using a multimeter. Look at the high and control voltage and take the necessary amperage readings. Test that all the control switches and lights are operational.
Refrigeration System: Inspect the oil level, and look for leaks and build-up. Check the various fan operations, captubes, pipe supports, and pipe insulation. There should be no frost build-up anywhere, the air handler should be tight without leakage, and the vibration eliminators should be examined. Clean the coils and straighten any bent fins, check the static and operating pressures and discharge, and suction and liquid line temperatures. Measure the filter drier psi for restrictions. Test expansion tank operation, net oil pressures, and high/low pressure safety checks.
Humidity System: Inspect the float, water tubing and connections, and optional air drier. Drain, clean, and flush the water lines, steam generator, and optional reservoir. Inspect the steam generator heater for pitting and verify water quality and pressure. Inspect dry air purge operation and filters.
Circulation System: Inspect the pump and connecting lines looking for water leaks. The drain tank should only have a small amount to clear sediment. Clean the pump and thoroughly clean the tank.
Control System: This is the most delicate part of the test chamber and may require software updates and bug fixes. Like any technology software and hardware, you may want to upgrade as newer options become available in newer models. Review the alarm logs for any alerts.
Finally, inspect the overall structure of the test chamber: the exterior, workspace and floor panels for punctures, tears, and dents. Check the degradation of all gaskets: door(s), window(s), port(s) and plug(s).
If you have a walk-in with panels, check the seal at each seam. Inspect the integrity of panel locks or latches. Verify that the door operation creates a smooth seal by inspecting the latch and catch and the hinges. Clean the drain and condensate pump. Clean and adjust the airflow registers, and vacuum or blow out the electrical and mechanical machine areas to remove all dust and debris. Replace any missing or damaged safety tags and labels. Return the test chamber to the correct location allowing 12 to 36 inch space to allow for the optimal airflow for best chamber performance.
With regularly scheduled inspections of your test chamber systems, your tests will run pain-free. And the performance will always meet your expectations.
Don't Wait to Call for Test Chamber Service
If your test chamber isn't performing as intended, don't hesitate to reach out to your service team. Although technicians can resolve common issues in short order, more complex performance issues may require in-depth solutions and, possibly, a replacement chamber.
In any case, the time spent waiting to fix problems—or attempting to find your own solutions—is money lost. Stay ahead of the problems by practicing regular maintenance, regularly running your test chambers to the top and to the bottom of the performance standard after a test or weekly even when not in use, and keeping in close contact with your service team.
The more diligent you are, the better chance your test chambers will remain operational for years on end.
Associated Environmental Systems is committed to providing great service and support. Its team includes account representatives, technicians, and engineers who can help to diagnose and troubleshoot your issues. AES also has a network of factory technicians covering the East Coast, West Coast, and Midwest who are available to travel for onsite repairs. Contact us to learn more about our service plans.