How Thermal Chambers Protect Product Safety and Reliability!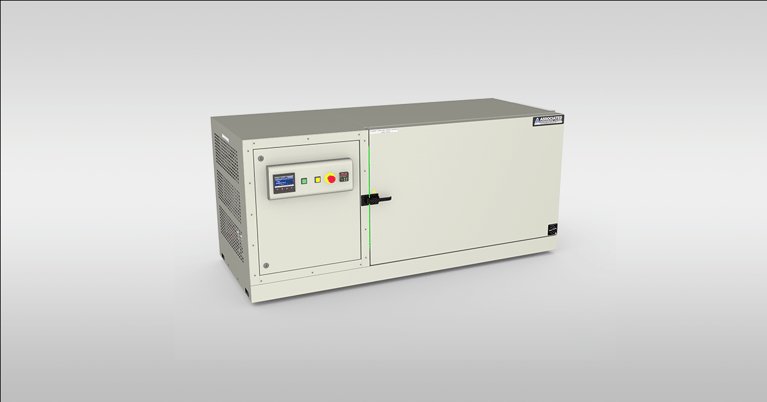 Industries are the compass that directs our world's evolving technological landscape. Their products entertain, stabilize, guide, and bring us from point A to point B. Their advancements in research and development would not be possible without environmental testing. Temperature and humidity chambers, also known as thermal chambers, are essential to this form of testing.
At AES (Associated Environmental Systems), our thermal chambers come in multiple series, from small benchtop thermal test chamber models to large, walk-in, or drive-in rooms. Thermal chamber benefits include optimizing efficiency and maximizing lab space. To ensure reliability, our thermal chambers include heating systems, cooling systems, air circulation, and, most importantly, safety features to protect world-class industries, from aerospace to EV companies to many more industries. As you consider where to purchase your first or even tenth thermal chamber, learn more about AES' top safety features and how we provide testing success for industries like yours.
Thermal Testing Chamber Safety Features
Packaged Safety Features
At AES, every thermal chamber has standard safety features. This includes high/low-temperature control with an over-temperature heat fusing element and refrigeration system over-pressure safety circuit. A high/low-temperature chamber control function allows customers to adjust the temperature not to exceed a limit above or below what is set for the device under testing (DUT). These packaged safety features help protect your product throughout the testing process.
Numerous industries benefit from standard safety features, including the aerospace industry. For example, a U.S.-based commercial aircraft company may be looking to test an aircraft part to ensure it can withstand atmospheric conditions. With the necessity to conform to tight standards and specifications, a thermal chamber from AES would be a perfect choice. Our standard safety features would help guarantee that during testing, the company would not go over their temperature limit or exceed an appropriate level of pressure.
Radio Frequency Shielding
The Federal Communications Commission (FCC), the U.S. government, strictly enforces safety restrictions on radio frequencies. To meet this demand, AES builds FDR test chambers with RF shielding that can test frequency-generating devices within a shielded environment, effectively shielding frequencies from entering and escaping the test chamber workspace. These thermal test chambers rely on high-grade steel, specialized door gaskets, and other mesh enclosures that protect ports and air circulation paths.
Apart from the nationwide mandate, some industries, such as electronics, particularly need a thermal chamber that blocks radio signals to test their products effectively. For example, a consumer electronics company may be looking to provide evidence that their new devices emit a signal that falls within an appropriate frequency range. To prove this, they would benefit from having a chamber from AES since we create test chambers with RF shielding. The chamber would effectively isolate the DUT and prevent outside signals from interfering with the results.

Battery Safety Features
The need for batteries is bigger than ever, and with this high demand has come overwhelming pressure for companies to create the most long-lasting, fast-charging battery. To rise above the competition, a safe and reliable test chamber is critical. At AES, our battery test chambers protect products and our customers by including a door lock, safety purge, temperature-limited sheath heater, and more.
With a test chamber from AES, an EV company can rest assured in case of a mistake or emergency. For example, if a cell undergoes a thermal event, the chamber would detect the event and auto-lock the door. Our electronic rotary cam fail-safe door will lock the chamber, shutting down its power and locking the door until the event is contained and it is safe to open the chamber door.
Continued Benefits of Partnering with AES
AES' safety features would not be possible without strong technology. Partnering with AES gives customers unparalleled access to innovative engineering that drives testing success. Both our software, AESONE CONSOLE, and our hardware, AESONE XCHANGE, work together to make remote testing possible. Customers can view and operate their test chamber from anywhere at any time—from the office to the airport. Through the support of AESONE XCHANGE, AES' hardware, customers can view setpoints, and edit or pause tests in real-time in a customizable large-format graph. It gives you the opportunity to view all safety alarms and log all activity from your chamber.
Customers with older test chamber models or another manufacturer's chamber with a digital controller can upgrade with AESONE RETROFIT. This technological benefit puts AESONE XCHANGE in any thermal chamber for testing, allowing customers to communicate with all test chambers. Our service team at AES is readily available to install AESONE RETROFIT, after an in-depth consultation.
Purchase Your Ideal Thermal Chamber Today!
Don't wait to finalize your next thermal test chamber purchase. Chat with an AES sales engineer to discover our offerings that will provide safety and reliability. We will walk you through the thermal test chamber procedure and even design a new product to exceed your goals. Let's move forward together.