How to Monitor Your Environmental Chambers Remotely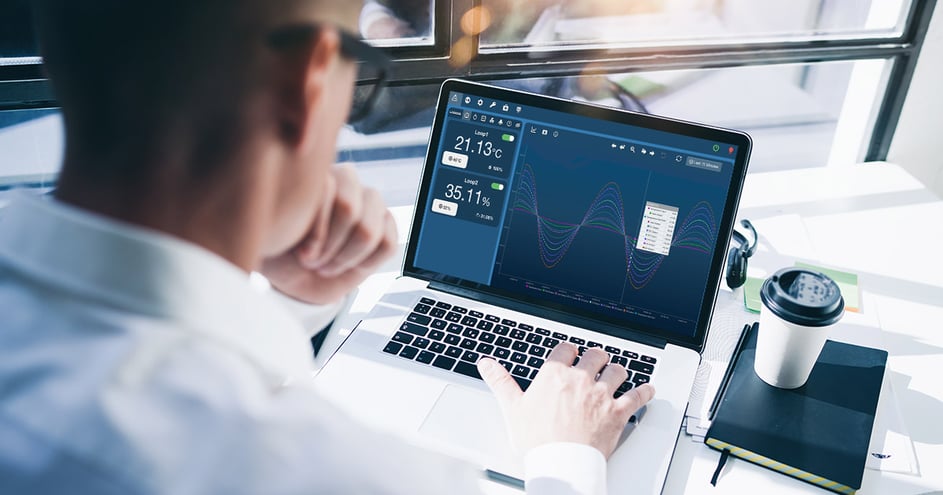 As more companies shift toward remote work, some industries struggle to remain equally as effective with distributed teams.
This poses a unique challenge for organizations conducting rigorous tests in environmental chambers. For instance, some companies still record testing data by hand, requiring in-person engineers to stand next to chambers throughout the entire testing process—maintaining an inefficient and costly process.
Remote monitoring enables us to put this manual approach behind us. Organizations that use Associated Environmental Systems (AES) chambers have a ready-built solution for monitoring tests from anywhere: AESONE CONNECT, a family of products with hardware and software offerings.
Indispensable, AESONE CONNECT is a game-changing hardware and software combination that makes remote testing possible, cost-effective, and incredibly efficient.
Why Is Remote Environmental Chamber Monitoring Important?
The benefits of remote monitoring can best be contextualized by examining traditional methods for monitoring ongoing tests.
Consider this typical testing and reporting process:
Users enter their test profile with all their desired steps and parameters on each individual chamber—typically on a small screen with a software system that may not have been built with user experience in mind.
They start the test. If they wish to monitor progress or change parameters during the test, they remain on the premises and check in on each individual chamber.
To examine results, they first have to export data sets for each separate test chamber, before collating and manually distributing a report to team members.
All this is only if the chambers are all in the same place: It becomes exponentially harder and more time consuming to manage with each additional location.
Remote monitoring, on the other hand, gives you greater control and limits the amount of manual work that's required to follow tests. Think of the steps eliminated just by accessing and organizing real-time data—especially if you're one of the labs that still record by hand.
Now, imagine you run tests that go on for days. You'd hope everything goes to plan, but sometimes errors happen. With remote monitoring, you can catch them early and avoid costly downtime.
Build & Monitor Tests from Anywhere With AESONE CONNECT
Beyond the direct benefit to testing itself, remote monitoring, enabled by AESONE CONNECT, promotes collaboration.
Companies can communicate effectively through apps like Slack and microsoft teams while tracking projects. Organizations that regularly work with environmental test chambers need the same capabilities.
This is particularly true for companies with multiple labs. You can check in on a test on the East Coast while visiting your West Coast location.
Here's how AESONE CONNECT works. AESONE XCHANGE hardware is installed inside the test chamber's electrical panel while the F4T interface screen is accessible from the chamber front panel. Once the chamber is connected to your network via an ethernet cord, the chamber is linked with an IP address to provide secure access to the AESONE CONSOLE software.
With AESONE CONNECT, you can accomplish the following:
Set up your test profile steps on a full-screen monitor, laptop, or tablet, wherever you happen to be.
Build profiles simply with sidebar visibility and pop-up dialogue window functionality so you won't miss any parameters.
Optimize profile organization with the ability to clone, edit, save, and move between profiles and between test chambers. You can also export data in real-time, as well.
Approved dashboard viewers monitor the tests while they're in progress, while administrators and editors can adjust factors such as temperature and humidity, from any location.
Store up to eight years of historical data on AESONE XCHANGE hardware, and view it at any time from within the AESONE CONSOLE dashboard, making manual data collation, storage, and dissemination a thing of the past.
Administrators set different levels of access for specific users and teams, from read-only up to an administrator, including locking down test chambers right from the dashboard whenever needed.
Lock down test chambers whenever needed, right from the dashboard, to prevent users from altering the test.
Get multilevel security to protect data: The administrator controls three authentication methods and six permission levels. This all sits on your company's network, so your information is protected with your own firewall.
Manage up to 10 profiles within your chamber dashboard.
AESONE CONNECT provides real-time data collection throughout the duration of testing, enabling you to stop it as soon as an error is observed. This capability pays huge dividends when your scheduled test profiles may last for a week or more.
All the features of AESONE CONNECT were beneficial prior to the major shift toward working remotely, but they've taken on added importance ever since. You need complete control of your test chambers, even when you're not on-site.
Now, you have it.
AESONE CONNECT comes standard with most AES chambers. It can also be retrofitted easily to most older models made by any manufacturer. That means you can keep up with the latest technology while avoiding the unnecessary costs of having to replace entire test chambers every few years—enabling companies to adapt to current conditions without purchasing a brand new chamber.
Associated Environmental Systems has the remote chamber monitoring you need to continue improving your critical testing, whether your team is distributed or not. And if you need to monitor multiple chambers in one place, AES has a new solution for that, as well. Contact us today to receive a quote or learn more about how our AESONE CONNECT products can help your business succeed without interruptions or delays.