Buying A Test Chamber From AES: Before, During, And After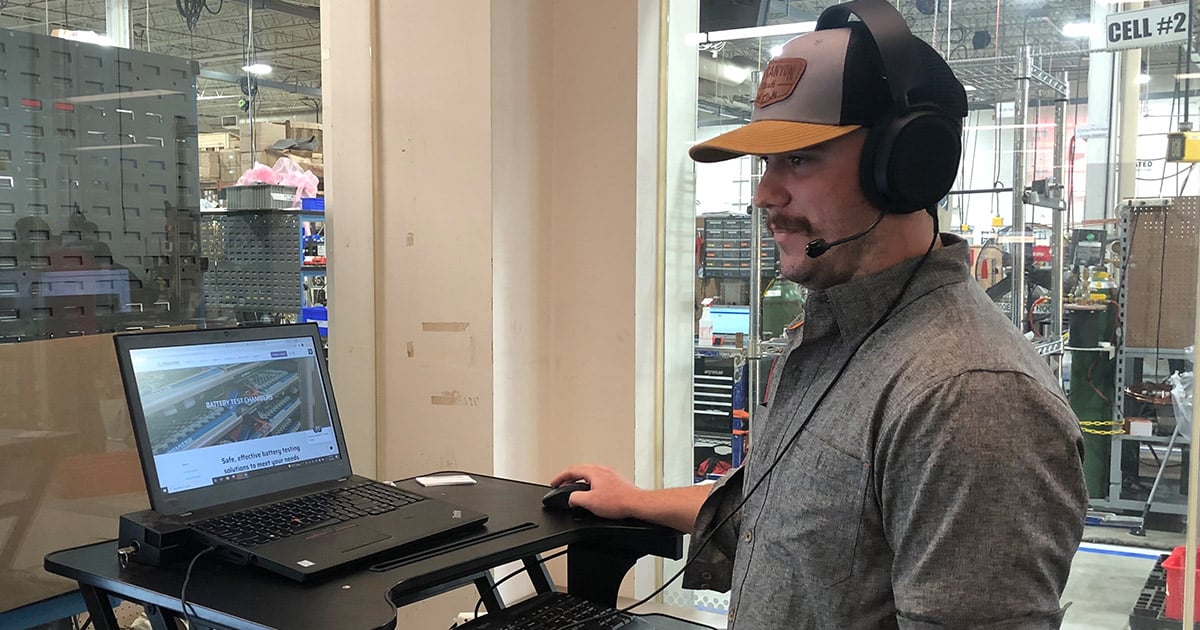 Customers in various industries have found success working with Associated Environmental Systems. AES believes strongly that time is money and has applied that mantra to all aspects of its services, from designing industry-leading test chambers to ensuring customers get the most out of them. This includes conversations at every stage, customer support, and guidance to keep chambers running for 10 years or more.
If you're curious about AES's test chamber buying process, look no further. Here's a breakdown of some of the things the sales team will cover to get you the chamber you need.
Finding the Right Environmental Chamber
AES's goal is to deliver a solution that's right for you. The sales team will ask basic questions about your testing needs:
What will you be testing, and do the devices under test (DUTs) give off heat?
What quantity will you test at a time?
What is your desired temperature range?
Do you require humidity?
What size chamber do you envision?
Let's consider the last question for a moment to highlight the importance of these conversations. The specifics of your testing will determine the appropriate volume for your chamber. For instance, you don't want to fill more than 70% of the chambers' workspace. Doing so compromises the air circulation and overloading can also strain the refrigeration system–especially if the DUTs give off heat.
Therefore, AES will help you identify the proper size, even if it's not what you initially envisioned. It may be a larger chamber, or they could advise you to purchase multiple chambers to accommodate smaller batches (In fact, companies, especially with batteries, have found this method to yield greater efficiency).
Ultimately, AES believes in doing right by the customer. They'll offer you a standard model if it fits your needs—often, for steady-state or stability testing. For custom builds, they'll ensure the chambers will meet your current requirements and ask if your testing needs will change to set you up for short- and long-term success. AES even consults on lab design to help you plan for expansion.
Once you've settled on your chamber, expect constant communication throughout the building process.
Chamber Building And Installation
There are few things more frustrating for customers than delays in getting a chamber and a lack of clarity on updates. AES has internal and external processes to keep everyone informed of a project's timeline.
With the volatility of the current marketplace and supply chain issues, AES meets weekly with the production and manufacturing teams. They discuss any supply chain issues as they come up and update customers accordingly.
Nearly every industry experiences these challenges at some point, so AES remains proactive with communication as timelines can change daily.
As completion of the build nears, get prepared for delivery and installation.
Most of AES's standard chambers are considered plug and play–meaning the company provides you with the building requirements prior to the chambers' arrival. You should have access to power, water, compressed air, and an ethernet cable (for the controller) in place near where the chamber resides. These requirements depend on the chamber. For instance, not all chambers require a water source, compressed air, or LN2 or CO2.
After inspecting the chamber to make sure there's no apparent damage from shipping, you can connect the chamber to power, read through your manual, and get up and running.
Should you seek additional support, AES offers installation services for standard chambers and requires it for battery safety chambers, which have parts that must be installed by AES techs.
The customer support team is available from the factory in Acton, Massachusetts, as well. More often than not, troubleshooting issues can be resolved with a phone call.
Maintaining Your Test Chambers
AES not only wants to get you the chambers you need in due time–they want to help them last. In fact, AES has customers with chambers that were built in the 1960s. That's the power of proper maintenance: you can maximize the return on investment.
Maintenance starts as soon as the chamber arrives. AES offers one-year parts and 90-day labor warranties to ensure you get off to a good start. From there, you can invest in an Advanced Service Advantage Plan (A.S.A.P.) to expedite service and stay ahead of issues.
You can also practice preventative maintenance on your own:
Run your chambers from time to time between use.
Clean them regularly.
Inspect the electrical, humidity, refrigeration, and circulation systems, looking for small issues that need attention.
Check the exterior, workspace, and floor panels for punctures, tears, and dents.
Check the degradation of all gaskets: door(s), window(s), port(s), wiring, and plug(s).
You should also have your chambers calibrated once every six months to a year to ensure accuracy.
If you find anything that requires an expert's eye, give AES a call. They have service teams stationed around the country, not to mention a support staff ready to field your requests.
AES is available around the clock from the first conversation and throughout your testing process to ensure success and deliver peace of mind.
Associated Environmental Systems has been designing, building, retrofitting, and servicing test chambers for more than 60 years. Reach out today to get started on finding the environmental chamber that's right for you.