What Goes Into Environmental Chamber Design?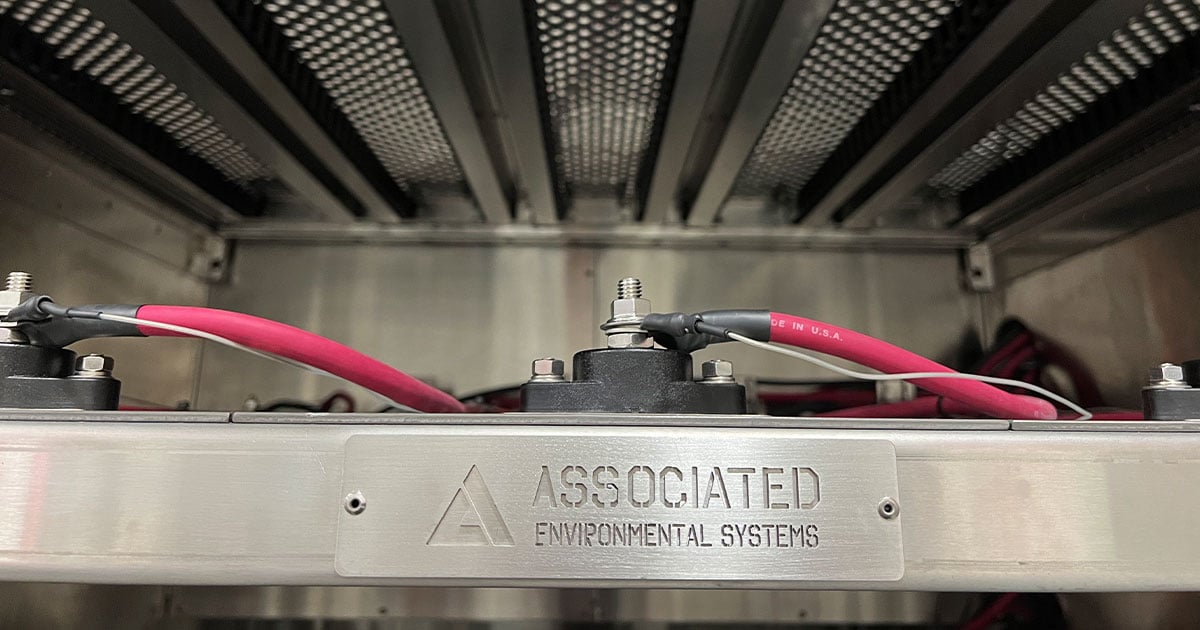 On the surface, environmental chambers have similar physical design characteristics. Manufacturers maintain consistent coatings and often use the same reliable materials to construct different models. Even if one chamber is significantly larger than another, you can identify the brand by things like controller placement, color, and door functionality.
Of course, testing requirements vary from one use case to the next. Customizations, even if they aren't apparent, are common. Sometimes these are small. Other times, customers reach out with requests that require a completely new chamber design.
No matter the complexity of the customization, AES follows the same proven design process, from initial request to final approval.
A recently built AES chamber highlights this design process. The request included the following:
A chamber capable of accommodating a battery testing fixture
Heavy-gauge cables to test large, high-amperage batteries
The ability to test 15 cells at a time across three shelves
Shelves that could support at least 300 pounds of products each with proper airflow and spacing for battery testing
We connected with Benjamin St. Hilaire, a Sr. Mechanical Engineer and DFMA lead at AES who specializes in large chambers and customization, to discover more about how AES turned this request into a reality.
AES's Custom Chamber Design Process
Before we get into the custom build, let's outline AES's design process.
Chamber customizations range from altering standard models to building a model completely from scratch. On the easier side of modifying standard chambers lie things such as port modifications or, in the case of battery testing, using a reinforced, windowless door for enhanced safety. AES also builds provisions into their designs: for instance, users often want to add an air dryer after purchasing a chamber, so the chamber is configured to make the addition easier.
The more difficult side of the customization spectrum includes truly unique chambers. These often originate from conversations between the sales engineer and customers. The entire AES team leverages the same methodology to turn the ideas that stem from these discussions into reality: Sales, ask, research, imagine, design, build, test, and service.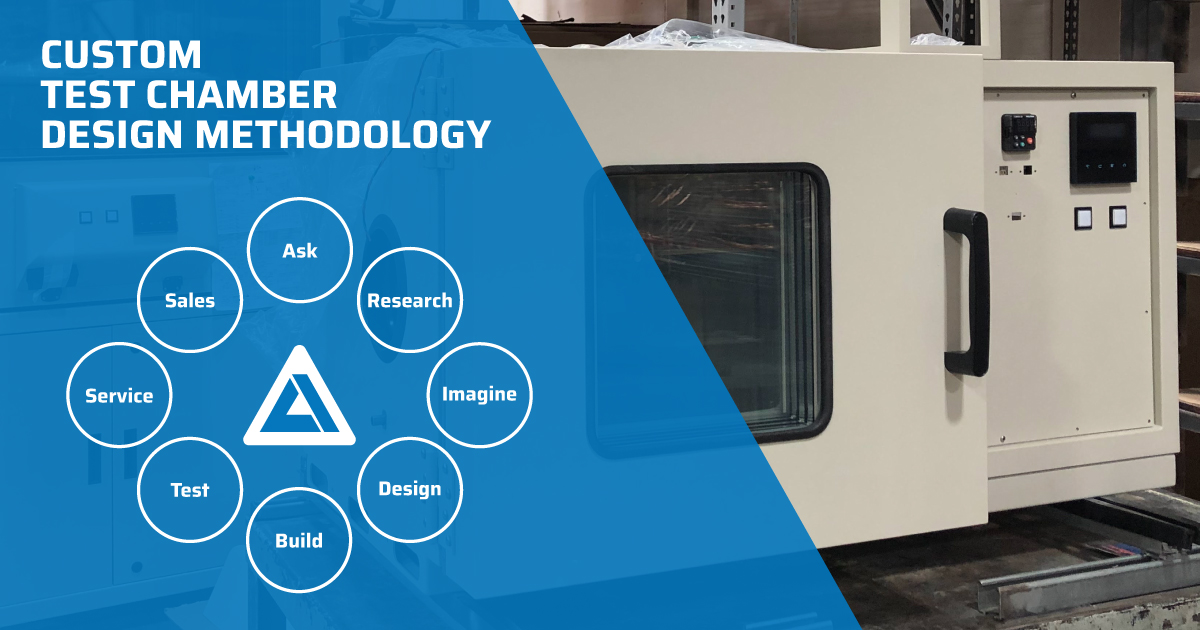 Sales: The sales team captures the specifications and standards of the chamber request.
Ask: A dedicated engineer reviews the specifications and standards.
Research: AES's engineering team conducts research to understand the complexity of the customization.
Imagine: Mechanical, refrigeration, and electrical engineers imagine a potential solution.
Design: Custom components are carefully planned, designed, and then developed in-house for the customer's approval.
Build: Once the customer approves the design, the engineers work with production to build the chamber.
Test: AES rigorously tests every standard configuration and custom setting before the chamber leaves the manufacturing floor.
Service: The service team is available to install, troubleshoot, and recalibrate the chamber for years down the road.
The methodology thrives on a hands-on approach, both internally and externally. The customers' needs and input are considered at every stage to ensure success.
Designing a Custom Chamber and 'Making Dreams Come True'
St. Hilaire jokes that applying AES's custom design methodology sometimes is like 'making dreams come true.' The sales team passes him requests, like the one for high-amperage battery testing in a chamber that features heavy-duty shelves, and he turns them into realities.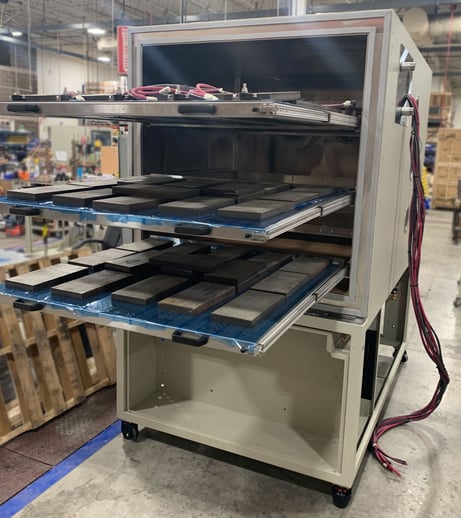 Although the request in question was new, St. Hilaire had a strong base to build on. A 64-cubic-foot temperature chamber could accommodate the shelves–it was just a matter of finding a sliding shelf design that fit the request.
He relied on his expertise and experience to fulfill the customer's requirements. He based these new shelves on previous heavy-duty models. St. Hilaire provided detailed drawings to the sales team who then passed them on to the customer. They discussed revisions, as requested, which St. Hilaire then addressed on the drawings.
Once the customer approved the drawings, St. Hilaire developed prototype shelves to give them a better understanding of the design. One important modification involved perforated plates. St. Hilaire optimized the design of the plates by implementing 100 enlarged holes per shelf to ensure proper airflow during testing.
As the chamber approached production, the engineers prepared a 'builder view' to inform employees on the manufacturing floor about the project. St. Hilaire developed a print package that included instructions, views, and screenshots, a regular practice with custom builds.
Once the chamber was built, AES completed the final quality assurance tests. This chamber in particular had a very high weight requirement. St. Hilaire placed blocks of stainless steel on his custom shelves. He pulled out the shelves to their maximum distance to confirm their ease of use and ability to withstand the immense weight. Then it was time to show the finished product to the customer. In this case, they visited the manufacturing floor to get a close-up tour of their chamber, an option available to all customers.
When Customizations Become Standard Options
AES enjoys the challenge of approaching custom builds. They serve as a series of problems to solve, with each decision impacting the next. The sales, engineering, and manufacturing teams take pride in the final working product and appreciate opportunities to develop the next test chamber innovation.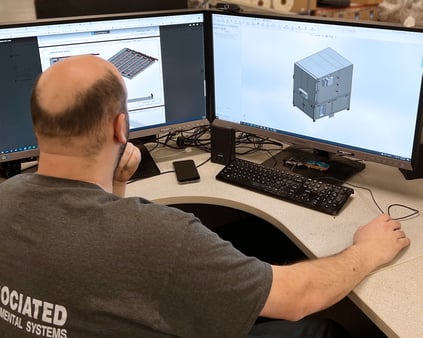 There's a practical component as well. Each request is an opportunity to learn and iterate. The company has a design philosophy to try to use as few parts as possible. As projects get more complex, they document each step to keep customers informed and ensure repeatability. Indeed, customers grow and expand their testing capabilities. A custom order of one chamber may become a request for four, five, or 10 more in the future.
As AES recognizes the success of a particular design, they standardize it. Such was the case with the SC-512, and AES SAFE models. Existing and future customers benefit from these optimized chambers.
"All customizations are repeatable, and the lessons you learn from them apply to the next design," St. Hilaire says. "Whatever I build, I'm hoping there's going to be repeat business from it, because we put a lot of time and effort into it."
Associated Environmental Systems is a leading manufacturer of environmental test chambers and battery testing fixtures. Explore their products or request a quote to get started on a custom build.