The Battery Show North America 2022: Introducing AES's SC-512-SAFE & ATPHEAVY ADAPTABLE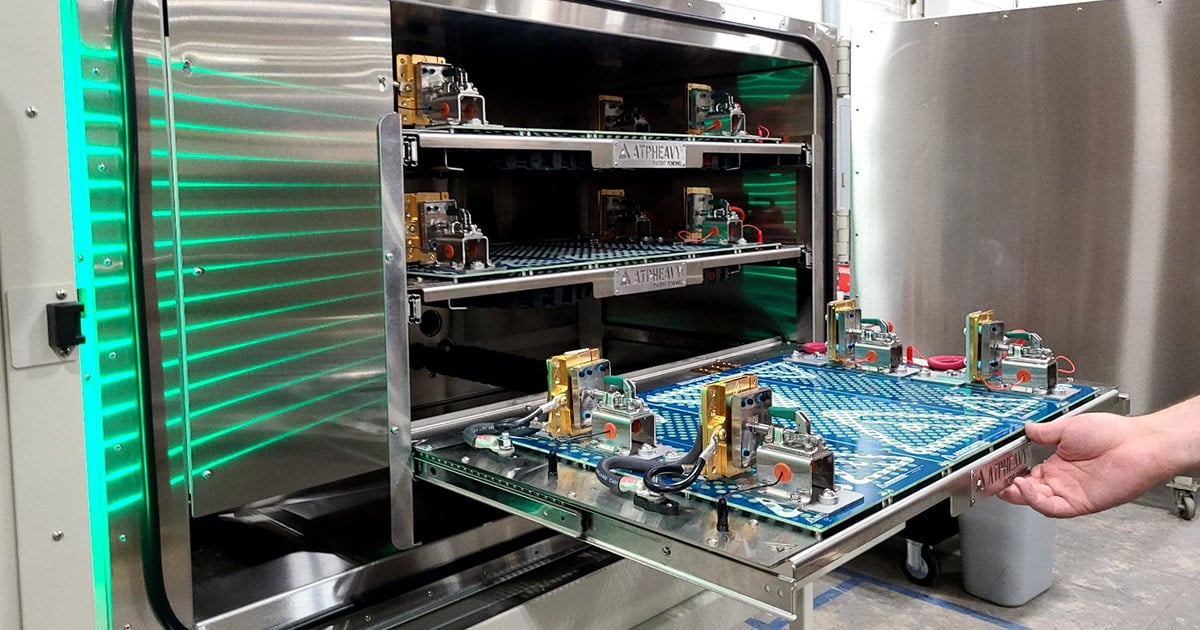 The Battery Show North America remains a highlight of the calendar. As the largest battery and electric vehicle technologies event in North America, the event attracts the brightest minds and latest innovations in the industry.
Associated Environmental Systems looks forward to heading to Novi, Michigan, September 13-15, to converse with attendees and exhibitors about their battery testing goals. AES hopes to add to the excitement by displaying its latest development: The SC-512-SAFE, a benchtop chamber designed specifically to optimize large cell testing, with included battery safety features.
"The Battery Show North America is one of our favorite events of the year because we learn so much about how industry leaders are innovating," says Aaron Robinson, Vice President of Sales and Service at AES. "It's an opportunity to collaborate on how to maximize safety and efficiency in battery testing. We can't wait to display the SC-512-SAFE and our new ATPHEAVY ADAPTABLE battery testing fixture and exchange ideas to help us continue improving our battery testing solutions going forward."
AES will have both the SC-512-SAFE and the new ATPHEAVY large pouch battery fixture, ATPHEAVY ADAPTABLE. We encourage you to stop by Booth 2727 to see first-hand the chamber and the fixture.
What Is the SC-512-SAFE?
The SC-512-SAFE is a stackable, benchtop temperature chamber designed to accommodate high-capacity cells. The SC-512-SAFE is essentially the 'big brother' to the Super 508.
Benefits of the SC-512-SAFE
As the push for longer-lasting, faster-charging batteries continues—especially for companies in the electric vehicle industry—battery testing must keep pace with trends.
The development of the Super 508 and, now, the SC-512-SAFE coincides with the shift from cylindrical cells in EV battery designs to prismatic and large pouch formats. These latter formats have a higher energy density, charge faster, are lighter, and offer greater flexibility to customize for different models.
When fitted with an ATPHEAVY ADAPTABLE fixture (see the section below), the SC-512-SAFE enables efficient and safe testing of large format cells—particularly large pouch and high-capacity cells. The benefits of this industry-leading benchtop chamber are the following:
You can maximize your lab space by stacking multiple chambers. This also gives you the ability to efficiently test small or large batches. Read more about how AES factors lean manufacturing principles into its battery chamber designs.
The sliding shelves from the fixture reduce risk by enabling users to change out cells outside the chamber.
A proprietary baffle and fan design enhance air movement throughout the chamber.
Additionally, as with any AES test chamber, the SC-512-SAFE can be equipped with remote testing and monitoring made possible by AESONE CONNECT. This sophisticated technology provides access from anywhere in the world, with controls accessible via web interface on a desktop, tablet, or laptop.
Battery Testing Capabilities With ATPHEAVY ADAPTABLE
The SC-512-SAFE is ideal for AES's ATPHEAVY high amperage battery fixtures, including the first of its kind ATPHEAVY ADAPTABLE. This fixture comes with sliding shelves and can be adjusted to accommodate different setups and battery formats.
In bringing the SC-512-SAFE with ATPHEAVY ADAPTABLE to your lab, you gain a powerful tool to take your battery testing to the next level—and a supportive ally as well.
AES customizes chambers based on its vast experience in the field and offers expert advice as your testing needs change. We can collaborate to help you design your battery lab or plan for expansion.
It's all part of AES's commitment to you. We understand your goals are essential. The next great innovation is only possible with support and service from a trusted partner. When you work with AES, that support is always a click, chat, or phone call away.
Associated Environmental Systems will be at the Battery Show North America, Booth 2727, September 13-15. Stop by to check out the SC-512-SAFE in person, or, if you can't make it, contact us today to learn how you can bring one to your lab.