What's Behind a Custom Test Chamber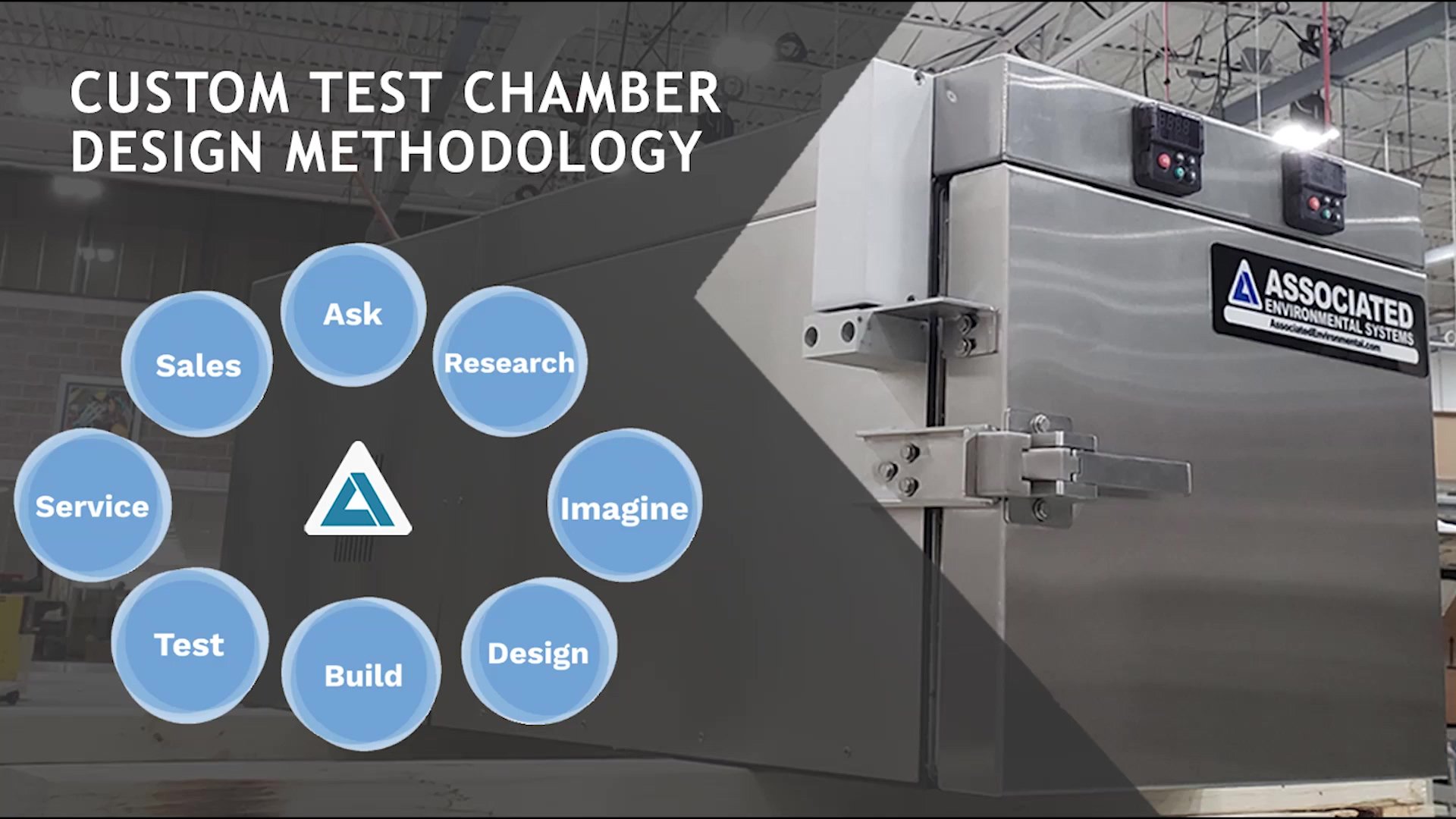 Your goals are important, and you shouldn't have to sacrifice the specifications you need to perform your reliability and quality testing. At Associated Environmental Systems, we specialize in custom test chambers that fit your specific needs.
"While your test requirements may be simple or complex, it's my job, in sales, to recognize your goals and get you a customized chamber solution that will meet your strictest requirements," states Tyler Bradley.
In the video, we highlight a biotechnology company with specific needs, like custom airflow movement, guaranteed uninterrupted testing, and a bacteria-free environment.
Because you, as the customer, are a vital part of the design and build process and drawing approvals, we always encourage customer walkthroughs and check-ins.
Building a complex custom test chamber is an easy process from the beginning. The engineering team ⸺ mechanical, refrigeration, electrical, and software engineers ⸺ works together to meet all requirements that will create your custom chamber.
"Using the design engineering process is definitely something we studied in school, but AES takes it a step further by incorporating sales and customer support, which makes the design and creation process seamless," Rachael Ramos, Mechanical Engineer, at AES.
We recognize you have hundreds of environmental test chambers across multiple manufacturers to choose from, so how do you choose a company you can trust?
Associated Environmental Systems has the flexibility and engineering know-how, combined with decades of manufacturing custom and standard test chambers. And our proven design methodology will result in you getting the test chamber you need.
What does the design methodology look like?
When you contact our sales team to discuss your needs, your dedicated AES team member will capture the specifications and standards required to build your chamber. Together you'll consider whether the requirements are met with a standard, modified, or custom test chamber.
When you are then assigned an engineer, with experience particular to your chamber needs, to ask questions and outline all the constraints. This will include proper research to understand the complexity of any modifications and customizations.
Mechanical, refrigeration, electrical, and software engineers join together to imagine a potential solution. Led by the director of mechanical engineering, the team comes together to imagine all the possible ideas and custom components. Only then will your dedicated engineer carefully plan, design, and develop the ideas for your approval.
Your requirements, along with outside factors, are always kept in mind; it's about how every condition might influence the performance of the specimen under test.
"So that's where I come in as a mechanical engineer and dedicated team member, I research, imagine, and design custom-fitted solutions for every requirement," says Rachael Ramos.
Once you approve the drawing, engineering has meetings with each production department to introduce the chamber concept and review the plans. It's the team members on the shop floor that have the years and many decades of experience, so they have a complete understanding of building your chamber.
Your hands-on experience working with sales and engineering to understand your application and requirements goes a step further. Before your test chamber leaves AES, it goes through extensive testing based on every standard configuration, as well as every custom setting required.
Once the test chamber is delivered to your facility, our service team can help set-up, troubleshoot, and recalibrate your chamber for years down the road. AES' customer support team is an email, a phone call, and chat away when you need help.
Using an established design methodology that includes everyone ensures better communication, and the best product is delivered.
At AES, we understand that your goals are essential. With an outstanding sales and service team that is only a click, call, or chat away.