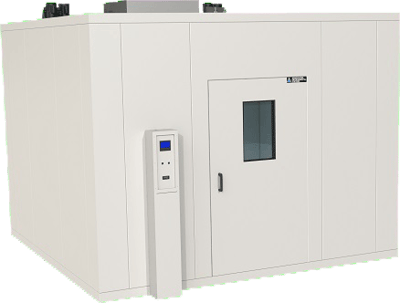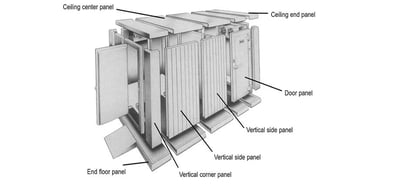 WRH-PERFORMANCE CYCLING
Floor
Walk-In
Performance cycle test chambers can come in many shapes and forms. With panel or solid-structure construction the extent of your test parameters will drive your decision to choose one or the other.
STRUCTURE. You gain most flexibility with self-supported, panel-construction, walk-in chambers as they allow for free-standing, self-supporting units that are cost-effective and efficient. Panelized construction allows the installation to fit through most doorways as it is assembled on-site. Panel thickness, flooring, and door size are interchangeable to meet your environmental testing needs; and there are several options that allow you to get the ports and viewing-windows, and accessibility you are looking for.
Likewise, AES' long experience with structural test chambers allows you to build what you need based on an existing design model or our engineering team can work with you to create a new performance workspace design combination that will meet all your needs.
PERFORMANCE. To optimize temperature conditions within the workspace, specially designed plenums are designed so air is conditioned immediately within the workspace or in a separate plenum depending on how your product fits into the test chamber workspace.
Airflow for products under test is fed by stainless steel blower wheels at the back wall or from the top, specially designed baffles discharge conditioned air in the direction that most thoroughly conditions all of the air around your product at the same rate. As air enters workspace intake fans directing the flow through a plenum area where the air is conditioned to the correct temperature. Before the air reaches the product it flows through registers with baffles that direct the air to move uniformly around your product.
Access ports can be placed where you need them along the walls. Most commonly are placed on the left and right side walls and are centered front to back and spread equidistance top to bottom. Viewing windows are commonly placed on the door and additional windows can be placed on the side walls.
HEATING SYSTEM. Walk-in chambers are equipped with a combination of ceramic-core and nichrome rod heaters spread across plenum for reliable and accurate temperature control within ±0.5°C.
HUMIDITY SYSTEM. The humidity system has a standard range between 10% and 95%. To extend your humidity range, see the optional features section. View RH Chart.
COOLING SYSTEM. The cooling system consists of a self-contained mechanical refrigeration system with a single-stage or cascade configuration, using an air-cooled or water-cooled condenser depending on your test needs and incorporating your facility restrictions.
Add boost cooling with liquid LN2 or CO2 for even faster pull-down rates. It's a great option for stress tests that require rapid cooling. Even without boost cooling, AES' standard cascade refrigeration systems have the fastest standard change rates of any environmental test chamber manufacturer.
INSTRUMENTATION. All walk-in test chambers have incorporated AESONE CONNECT creating a robust connected device for a standard and uniform interface making monitoring and operating your test chamber easier.
Contact us for quote

Applications
Standard Features
Instrumentation
Safety Features
Optional Features
Applications
PERFORMANCE, CYCLING WALK-IN TEST CHAMBERS
Performance test chambers are used for iterative testing where conditions fluctuate.
Chambers are available in more than two dozen sizes and can be combined with many power packages. Below is a small sampling of our most common chamber sizes with associated power packages to help you understand the performance options available to you. The matrix allows you to choose by size or by performance needs.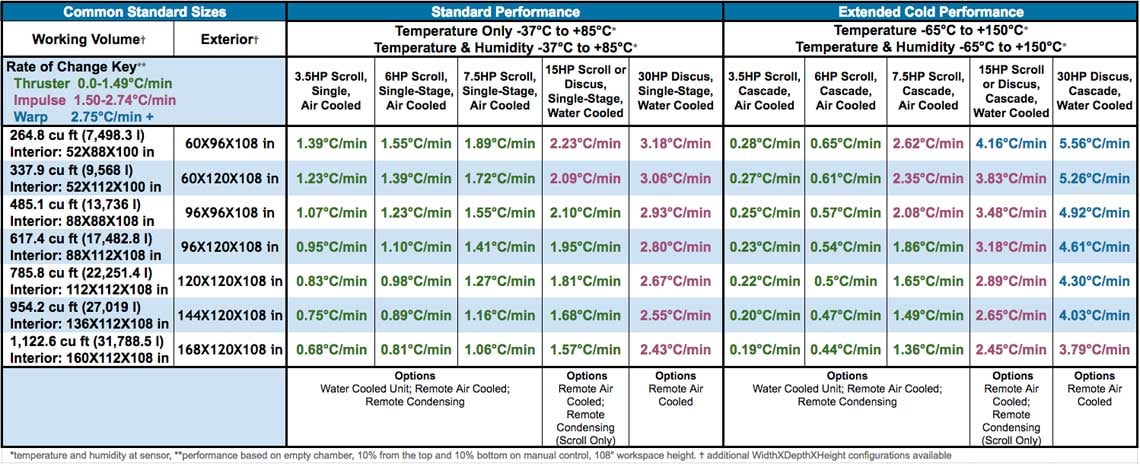 Standard Features
Interior Cabinet: Stainless Steel, Type 304
Exterior Cabinet: Cold Rolled Steel, Heavy-Gauge, Powder Coat finish, Color: Bone
Port Configuration, 2 back panel, stainless steel ports, config. for ATP, with 4in (101.6mm) Diameter
Internal Light with External Switch Full Opening Bi-parting Doors, Manual Door Latch,
2 Multi-Pane Viewing Window
Forced Air Circulation
Instrumentation
STANDARD INSTRUMENTATION
CONTROLLER
Walk-in Series Test Chambers have incorporated AESONE CONNECT creating a robust connected device for a standard and uniform interface making test chamber operation easier.
AESONE XCHANGE increases your functionality
connects the test chamber controller to your network for increased accessibility
on-board multi-year data logging
AESONE SOFTWARE gives you the power to
remote chamber operation and monitoring,
web-based test profile creation,
viewing current data and historical data visually
secure multi-level user access
ADDITIONAL ONBOARD INSTRUMENTATION
WATLOW F4T PROGRAMMABLE CONTROLLER. Features a 4.3" capacitive touchscreen minimizing the chance for error. Ethernet communication supported by AESONE HARDWARE. View more controller options
SENSORS.
for temperature, 100 OHM platinum RTD is highly-accurate sensor made from platinum components for increased sensitivity
for humidity, solid-state sensor for 10-95% relative humidity
OPTIONAL DATA LOGGERS. View additional data loggers
Safety Features
STANDARD SAFETY FEATURES
HIGH/LOW TEMPERATURE CONTROL. an adjustable temperature limit controller allows you to program the highest and lowest temperature of the device under test, protecting products from compromising temperature exposure.
Internal high-temperature limit safety
Refrigeration system over-pressure safety circuit
TUV Rheinland Certified Meeting UL 508A, US, C, E
Optional Features
LN2 Boost Cool
CO2 Boost Cool
Adjustable Saftey with Alarm
Honeywell Chart Recorder
Honeywell Digital Chart Recorder
Change Port Size/Access Point
Desiccant Air Dryer to ensure conditions as low as 5% RH
Dry Nitrogen Purge to keep condensation and frost from accumulating on DUT surfaces at cold temperatures and to prevent oxidation of metals surfaces at high temperatures
Dehumidifier
Water-Cooled Condenser
Noise Reduction Package
Alternative Power Requirements
Other Options Available on Request