Battery Test Chambers
Associated Environmental Systems is Innovating Battery Testing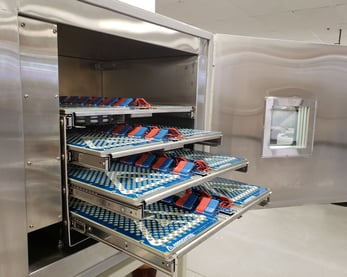 An All Test Platform drastically changes the way you will test batteries. Companies that have adopted our patent-pending fixtures have recognized reduced man-hours and increased test efficiency, and streamlined data collection.
Combined, our Key technology customers that use the ATP platform have over 100,000 channels currently in use in the USA and Asia.
---
What would your workday be like if you could,
• Reduce time required to set up battery testing?
• Test up to 7 times more in one cycle?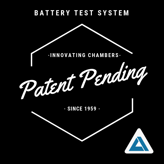 • Have fewer errors in channel connections?
• Have all your data recorded in one location?
Associated Environmental Systems continues to bring innovation to environmental test chambers, making battery testing easier. Reach out to learn about how AES can help solve your battery testing needs.
---
Test Flexibility
High-density testing with interchangeable components
The patent-pending, modular, fixture creates a system that is easy to set up and modify for different types of batteries and testing.
Different Battery Interface Boards (BIB) are available for coin, pouch, prismatic, cylindrical, and pack cell types. The ATP system can be easily changed from one style to another or support multiple styles within one fixture.

---
Test More
High-density battery testing with more redundancy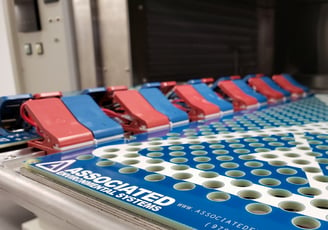 Carefully selected materials and configuration are so unique that the combination is patent pending. The system allows for more batteries under test while maintaining safety and increased uniformity. A custom engineered epoxy shelf allows for a flat surface, distributed airflow, and optimum configuration in the case of an event or complete failure. The mix of materials and configuration used often eliminates or significantly reduces propagation during an event. With more than 100,000 channels in test chambers, we have seen few batteries fail while under test.
Typically, labs have improvised processes to connect batteries under test to cyclers and climate control the workspaces. Consider eight cubic feet of workspace, you might find only six devices being tested due to the need to access the product, stability required, and wiring/cabling connections. In the same amount of workspace, the ATP system fits four shelves holding 48 channels secured to the shelf surface and attached to power-pole connectors for wiring.
ATP removes all of your wiring and cabling headaches with a unique cable management system that collects, organizes, and tucks all the wires and cables neatly under each shelf keeping them safely hidden and out of the way.
---
Set-up Quicker
High-density battery testing done more efficiently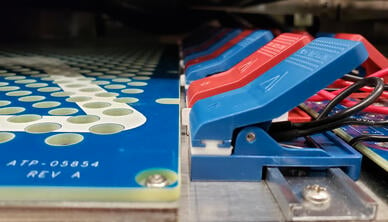 ATP drastically reduces the time required to set up test environments. The platform allows for easy-access sliding shelves, simplified plug-and-play wiring connections that are clearly labeled for tracking the channels from the device under test through your environmental test chamber to your battery cycling equipment. So you no longer need to sort through massive entanglements to ensure you're collecting the correct channel data.
---
Analyze Data
High-density battery testing with system integration
The biggest question we get when the photo below is shown is, "How do I make sure the environmental test chamber data matches the battery cycling data?" AES has that solution too. Middleware has been developed to integrate the data collection between both AES chambers and battery cyclers. It is easy to pair with MACCOR test equipment. And other customers have been able to similarly connect other branded battery cyclers to achieve similar results.
The result being, customers deploying ATP fixtures have improved their test methods and reduced the overall cost of battery testing from the efficiencies gained in labor hours, shorter test cycles, correlated data collection, and fewer set-up mistakes. You'll test more in less space and with fewer errors.