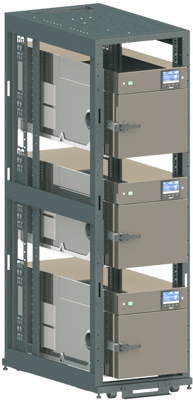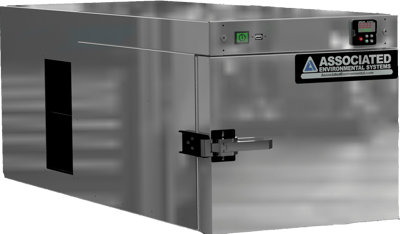 SD-501-3RS
Benchtop
Rack and Stack
The SD-501-3RS Series is a unique benchtop environmental test chamber. The slim design, across the face, takes up less space than any other chamber, on the market today. It fits perfectly in a standard 19" rack. Specifically designed to hold smaller test units, it's perfect for running temperature tests on lithium-ion batteries, small electronic devices, and growing organ cells for biotechnology companies.
Featuring polished, heavy-gauge, stainless steel construction, inside and out, makes the SD-501-3RS Series Test Chambers ideal for dust-free, sterilized environments. Between the internal and external layers, is highly-efficient, low K factor, thermal insulation This test chamber is built to withstand constant use and efficiency.
The slim stackable design of this test chamber allows for highly controlled test samples or small batch testing with nine channels spread over three shelves within each workspace, 27 concurrent tests.
Air circulation is crucial for environmental testing. The SD-501-3RS Test Chamber has a proprietary factory-adjustable baffle and fan design combination to optimize circulation conditions and temperature within the test workspace.
Featuring industry-leading heating systems, SD-501-3RS Series Test Chambers are equipped with multiple low-watt density, ceramic core, nichrome heaters for accurate temperatures within ±0.5°C, as measured at the sensor. The arrangement of the heater gives you ultimate temperature precision. If your testing requires conditions drier than the surrounding ambient air, add an optional dry air purge or dry nitrogen purge system.
This benchtop test chamber is ideal for longer steady-state testing. Its unique slim style allows the chamber to be stacked one on top of the other in a server rack system allowing three independent tests to operate in the footprint of one test chamber.
Buy $45,127 (base price)
Rental $5,600/month
Specifications
Standard Features
Instrumentation
Safety Features
Optional Features
Downloads
Specifications
SD Series
---
---
Interior:
13.0W x 13.6D x 9.9H (in)
330.2W x 345.4D x 251.4H (mm)
Exterior:
23.7W x 46.7D x 78.1H (in)
602W x 1186.2D x 1983.8H (mm)
Volume:
1.01 cubic ft
28.59 liters
Temperature:
-37°C to

180°C (

-34.6°F to 356°F)
Rise Rate*:
2.8°C/min
Pull Down Rate*:
3°C/min
Electrical Supply:
120 VAC, 1 PH, 60 HZ
Full Load Amps:
13 A
Power Requirement:
NEMA L5-15
Refrigeration System:
Single stage
Mobility:
Will fit through 32 in doorway
Approximate Product Weight:
952.0 lbs (432 kg) without added options
Approximate Shipping Weight:
1062.0 lbs (482 kg) without added options
*Rise and pull-down rates calculated using IEC 60068-3-5 standard. Custom options available.
Standard Features
STANDARD FEATURES
Temperature range -37°C to +180°C (-34.6°F to +356°F)
Three SD-501s
19" server rack
3 custom-design server shelves to accommodate test chambers
External and internal cabinet construction consists of 304 stainless steel
Full opening door with adjustable manual latch
Interior light with exterior switch on cabinet face and operable on AESONE CONNECT
Port configuration: left and right wall access port and plug with 3in (76.2mm) diameter
Fully adjustable shelf, 1 wire-grid shelf, stainless steel
Forced air circulation
Cable Leader, 10ft, 14 AWG, IEC-320-C13 to NEMA 5-15P
Instrumentation
STANDARD INSTRUMENTATION
CONTROLLER
SD-501 Series Test Chambers have upgraded to include AESONE CONNECT creating a robust connected device for a standard and uniform interface making test chamber operation easier.
AESONE XCHANGE is hardware internal to the chamber that increases your functionality
Connects the test chamber controller to your network for increased accessibility
On-board multi-year data logging
AESONE SOFTWARE gives you the power to
Remote chamber operation and monitoring,
Web-based test profile creation,
Viewing current data and historical data visually
Secure multi-level user access
ADDITIONAL ONBOARD INSTRUMENTATION
WATLOW F4T PROGRAMMABLE CONTROLLER. Features a 4.3" capacitive touchscreen minimizing the chance for error. Ethernet communication supported by AESONE HARDWARE. View more controller options
SENSORS.
TEMPERATURE SENSOR. Measured at the point of airflow entering the workspace. Class A, 3-wire, 100 Ohm Platinum RTD sensor
OPTIONAL DATA LOGGERS. View additional data loggers
Safety Features
STANDARD SAFETY FEATURES
HIGH/LOW TEMPERATURE CONTROL. An adjustable temperature limit controller allows you to program the highest and lowest temperature of the device under test, protecting products from compromising temperature exposure.
Refrigeration system over-pressure safety circuit
TUV Rheinland certified meeting UL 61010-1, US, C, E
Optional Features
Port Size/Access Point
Additional Shelving
Dry Nitrogen Purge
Alternative Power Requirements
Other Options Including Communication and Access Ports are Available on Request
Downloads