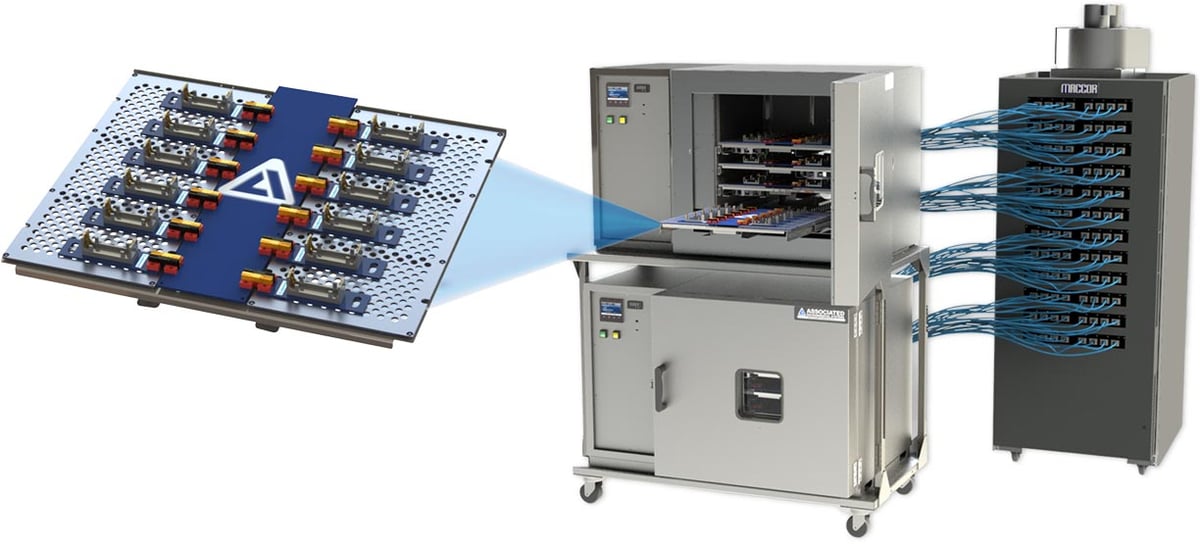 An All Test Platform available for coin, pouch, prismatic, cylindrical, and pack cells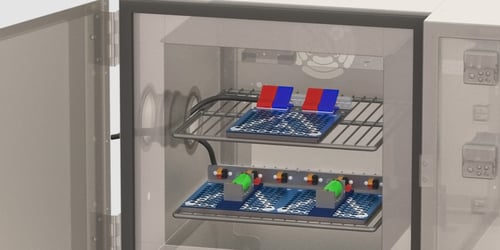 Flexible battery testing fixtures for your existing test chamber
Drastically Change the Way You Test Batteries
ATPSOLUTIONS makes your battery testing easy to set-up and modify for different types of cells and testing. The universal connectors are available in Kelvin clips and power pole for quick insertion, removal, and switching between cell types. You can test virtually any cell type: coin, cylindrical, prismatic, pouch, and pack cells.
Test Multiple Cell Types with the Same Fixture
With ATPSOLUTIONS, you can easily change from one style holder to another or support multiple styles within one chamber.
ATPPRIME is a self-contained fixture that holds 48 cells organized over four shelves that fit into an environmental test chamber specially designed to maximize airflow and constant temperature conditions.
Easy Access
Because everything is preset and permanently wired, ATPPRIME drastically reduces the time required to set-up test environments. The fixture features four sliding shelves that fully-extend at least two inches beyond the enclosed workspace. The easy-access sliding shelves, keep you safe from exposure to high heat and dangerous chemicals.
Wiring remains safe as shelves move in and out as they easily extend and retract through an IGUS track allowing connections to remain intact.
Accurate Readings
ATPPRIME fixtures have integrated Battery Interface Boards (BIB) to ensure that precise, strong charge and discharge data signals are transmitted from each cell to your battery cycler.
Every battery cell connects to a clearly labeled channel, and the labeling continues through wiring and to the battery cycler, making it next to impossible to make an error in data collection. With the IGUS track and consistent labeling, you can say good-bye to spaghetti cable headaches.
Specialized Test Surface
A custom engineered epoxy shelf ensures a flat surface, distributed airflow, and optimum configuration to minimize events or complete failure. The mix of materials used and the cell configuration often eliminates or significantly reduces propagation during an event.
Full Solution
From your batteries to cell holders to fixtures and wiring to your specific battery cycler, AES will be with you every step of the way, including set-up and testing every cell connection to ensure success.
Pack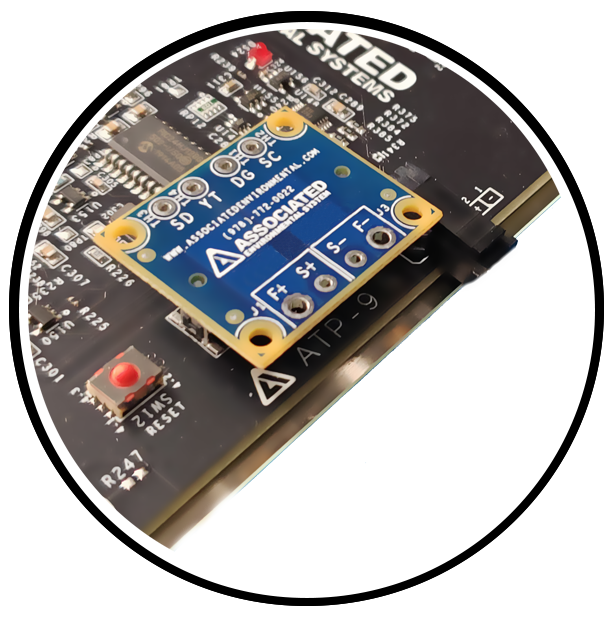 Coin Cell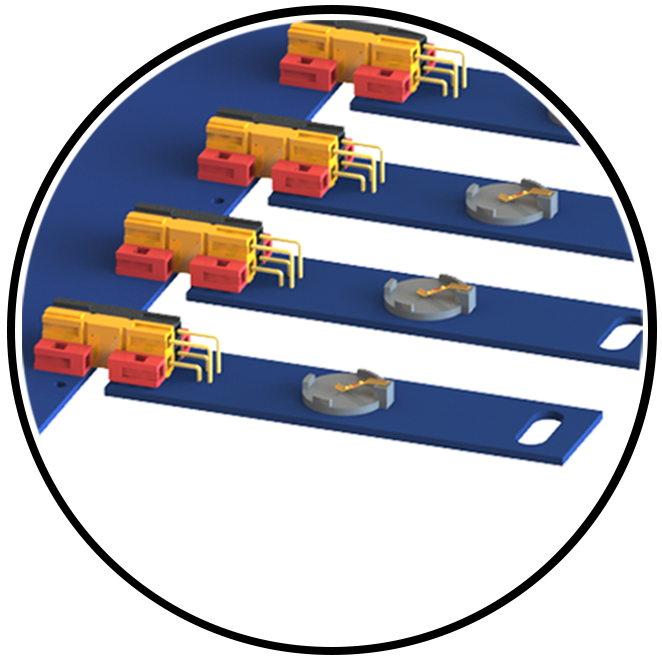 Cylindrical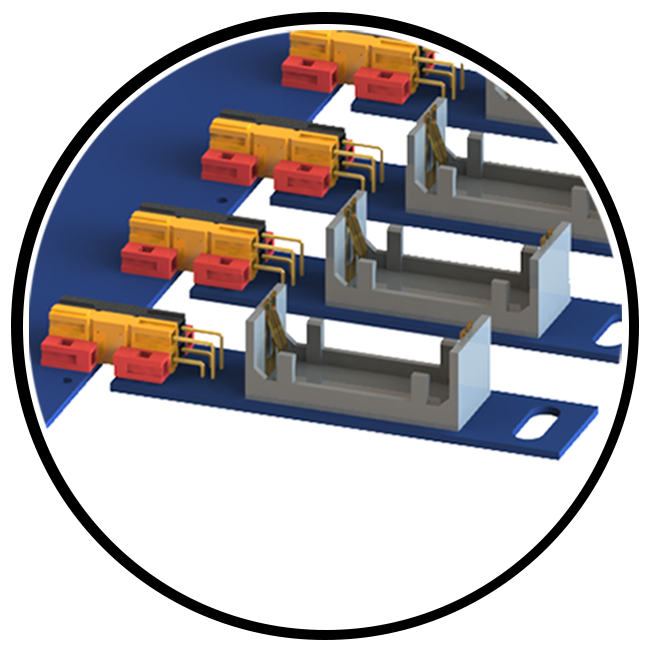 High Current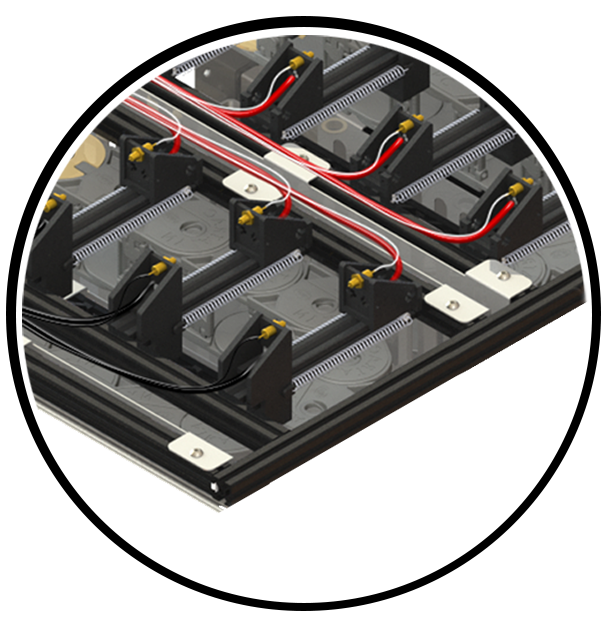 Prismatic Cell/Pouch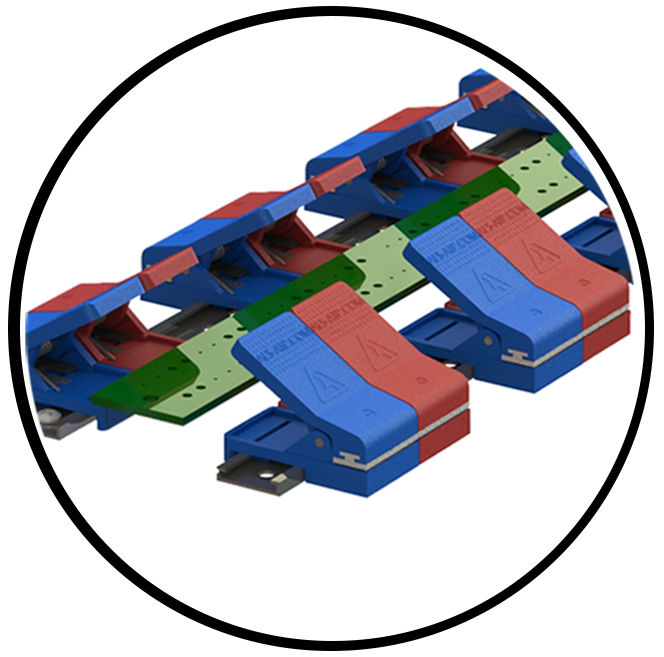 Get a Fully Equipped ATP For Optimized Battery Testing,
Carefully selected materials and configuration are unique and patent pending. The system allows for more batteries under test while maintaining safety and increased uniformity.
Multi-sensing gas detectionInterchangeable gas cartridges sense
SO₂, SO₄,H₂,O₂,CO

Over-pressure vent
Charcoal burst disk & pressure release valve
vents with constant positive pressure draw
Nitrogen Purge
Creates an inert environmental inside chamber

Inert gas pressure vent
Quickly removes unwanted gases

Dry air purge
Quickly adds oxygen inside chamber and removes humidity

Ventilation blower
Quickly adds clean air

Alerts
Controller has additional temperature measure rate of change visual & sound warnings at chamber & remotely through AESONE Console

Spark resistant & containment features


•

Stainless steel workspace
•Limited-temperature internal sheath heaters with external electrical connections
•Circulation, aluminum fan blade/blower wheel
•Internal light safety sealed

•Heavy-duty door latch & hinges
•Electromagnetic deadbolt secure lock
•Solenoid door interlock
•Reinforced door blank

EUCAR - European Council for Automotive R&D
| | | |
| --- | --- | --- |
| Severity Level | Description | Effects |
| 0 | No effect | No effect. No loss of functionality |
| 1 | Reversible Loss of Function | No defect; no leakage; no venting; fire, or flame; no rupture; no explosion; no exothermic reaction or thermal runaway. Cell reversibility damaged. Repair of protection device needed |
| 2 | Irreversible Defect/Damage | No leakage; no venting, fire, or flame; no rupture; no explosion; no exothermic reaction or thermal runaway. Cell irreversibly damaged. Repair needed |
| 3 | Leakage Δ mass <50% | No venting, fire, or flame*; no rupture; no explosion. Weight loss <50% of electrolyte weight (electrolyte = solvent + salt) |
| 4 | Venting Δ mass >=50% | No fire or flame*; no rupture; no explosion. Weight loss ≥50% of electrolyte weight (electrolyte = solvent + salt) |
| 5 | Fire or Flame | No rupture; no explosion (i.e., no flying parts) |
| 6 | Rupture | No explosion, but flying parts of the active mass |
| 7 | Explosion | Explosion (i.e., disintegration of the cell) |

Battery Testing Flexibility, For Your Existing Test Chamber
•

Safely test multiple configurations within two to six channels

•Effectively organize cables

•Securely connect your battery cells to your battery cycler

•Custom-engineered epoxy laminate for a non-conductive surface and even air-flow
| | |
| --- | --- |
| Standard | Application |
| IEC 60086-4: | Primary Batteries, Safety of Lithium Batteries |
| IEC 61960: | Secondary Lithium Cells and Batteries for portable applications |
| IEC 62133: | Secondary Cells & Batteries Containing Alkaline or Other Non-Acid Electrolytes – Safety Requirements for Portable Sealed Secondary Cells, & for Batteries Made from them, for Use in Portable Applications |
| IEC 62281: | Safety of Primary and Secondary Lithium Cells and Batteries during Transport |
| IEC 62660-2: | Reliability & Abuse Testing for Lithium-Ion Cells in Electric Vehicles |
| RTCA DO-311: | Minimum Operational Performance Standards for Rechargeable Lithium Battery Systems |
| SAE J2464: | EV & HEV Rechargeable Energy Storage System Safety & Abuse Testing |
| SAE J2929: | Safety Standard for Electric and Hybrid Vehicle Propulsion Battery Systems Utilizing Lithium-Based Rechargeable Cells |
| UL 1642: | Standard for Lithium Batteries |
| UL 2580: | Batteries for use in Electric Vehicles |
| UN/DOT 38.3: | UN Lithium Battery Testing Requirements |