Boldly Going Where No Chambers Have Gone Before: Hyperdriving the FD & HD Series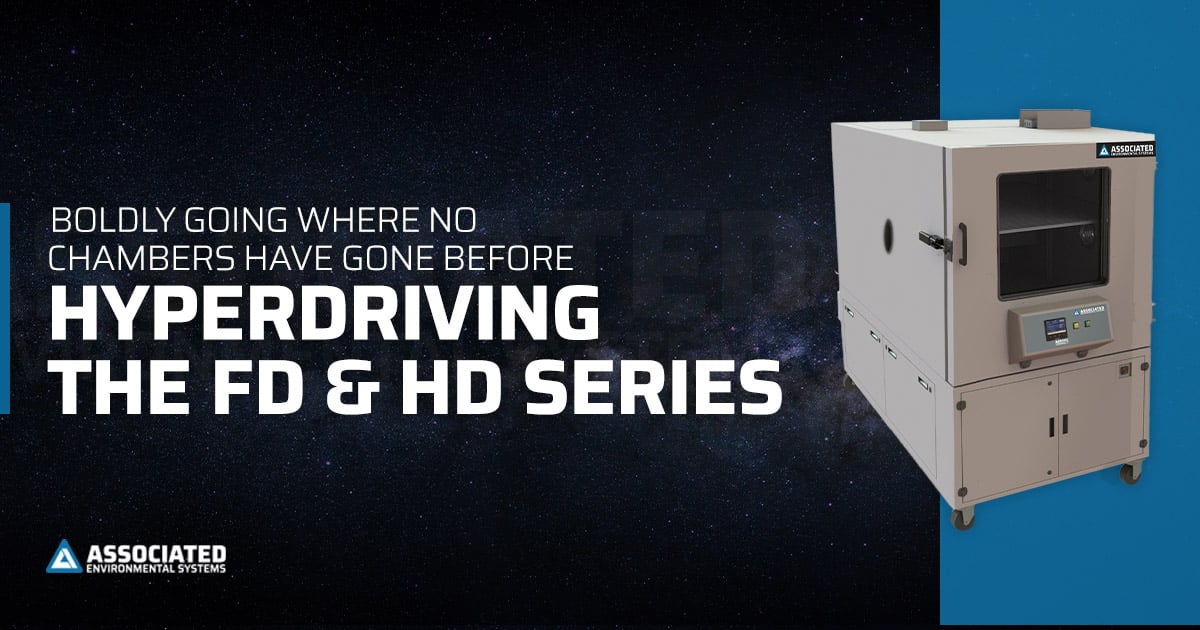 After many months of work, Associated Environmental Systems (AES) has developed new standard performance options in large temperature-only and temperature and humidity test chambers. Customers communicated their hopes and needs—and AES's engineers have responded.
The large FD and HD Series will now feature up to four different performance levels available to you.
Think of it like a menu when it comes time to purchase a test chamber. You'll be able to select the performance rate (Thrust, Impulse, Warp, and Hyperdrive) and power requirements without waiting for a custom chamber.
This development represents the latest in mechanical and electrical engineering and fluid dynamics. Your R&D and production teams now have the opportunity to optimize their environmental testing.
The Performance You Need, When You Need It
When time is money, you can't afford any delays to your testing. Finding a temperature test chamber that meets your precise power level, size dimensions, and change rate can often be difficult, leading to the need for customization. Custom chambers require more time to be built and shipped adding precious days to your product release timeline.
Now, the new standard performance options enable you to order a standard chamber with the performance levels you need already built in.
You can determine your exact power level and change-rate requirements and easily purchase a just-right standard chamber—No customization necessary.
Keep up with your testing schedule, and welcome an optimized AES chamber to your facility
The variety of performance ranges that are available in AES's FD Series and HD Series, encompass models 13 cubic feet up to 96 cubic feet, give you the opportunity to employ one of four escalating pull-down rates.
Four Performance Levels:
Thrust - Up to 3.89°C/minute
Impulse - 4°C to 6.49°C/minute
Warp - 6.5°C to 8.9°C/minute
Hyperdrive - 9°C/minute and higher
Four Power Levels:
Let's say you've talked to your various teams and decided an 18-cubic-foot, temperature-only chamber fits your testing requirements. To maximize your testing schedule, you'd like a pull-down rate of at least 6°C/minute.
By working with AES, you'd find that exact chamber in the form of a standard FD-518 Impulse. So, you'll be testing in no time.
The AES Difference in the FD & HD Series of Chambers
The new standard performance options give you the rise and pull-down rates you need. These upgraded designs make for more efficient operations, more economical use of physical space, and superior power input and output.
The range of available change rates represent AES's commitment to reliability. Every aspect of these chambers has been considered to maximize testing performance and ensure quality.
In addition to choosing your performance level, the FD and HD series come with all of these standard features:
A temperature range of -40°C to 180°C or -70°C to 180°C, depending on the model
Exterior structure made from engineered sheet metal frame, precision laser-cut and formed with powder coat bone color and matte finish
Type 304 stainless steel interior cabinet
Interior light with exterior switch on cabinet face and AESONE CONNECT
Door mount controls
Easily accessible electrical component cabinet
Exceptionally small clearance (around the chamber for ventilation) requirements (12 inches in back and 8 inches on both sides)
Forced air circulation with variable-speed airflow control, allowing airflow adjustment to meet test requirements and reduce noise
Finned independent nichrome sheath heaters for even heating of conditioned air in the plenum and fast-change heating and cooling rates
Powerful, custom-designed stainless steel blower wheels
Fully adjustable, one wire-grid, stainless steel shelf
Full-opening door and manual door latch
Swivel brake casters for mobility
A Multipane 24-in x 36-in heated viewing window
All features are controlled at the chamber or using AESONE CONNECT's remote monitoring capabilities on your desktop, laptop, tablet, or smartphone.
Not only will you get effective temperature (or temperature and humidity) testing with a shorter turnaround, but you'll receive excellent support and service from AES.
It's reassuring to know you have a quality service partner on your side. AES's service team is available to travel onsite to provide guidance, regular maintenance, and repairs as needed. AES can even build out a plan for you that works toward purchasing a replacement chamber.
To learn more about this exciting addition, contact AES today.