Compare Environmental Chambers Using AES's Product Filter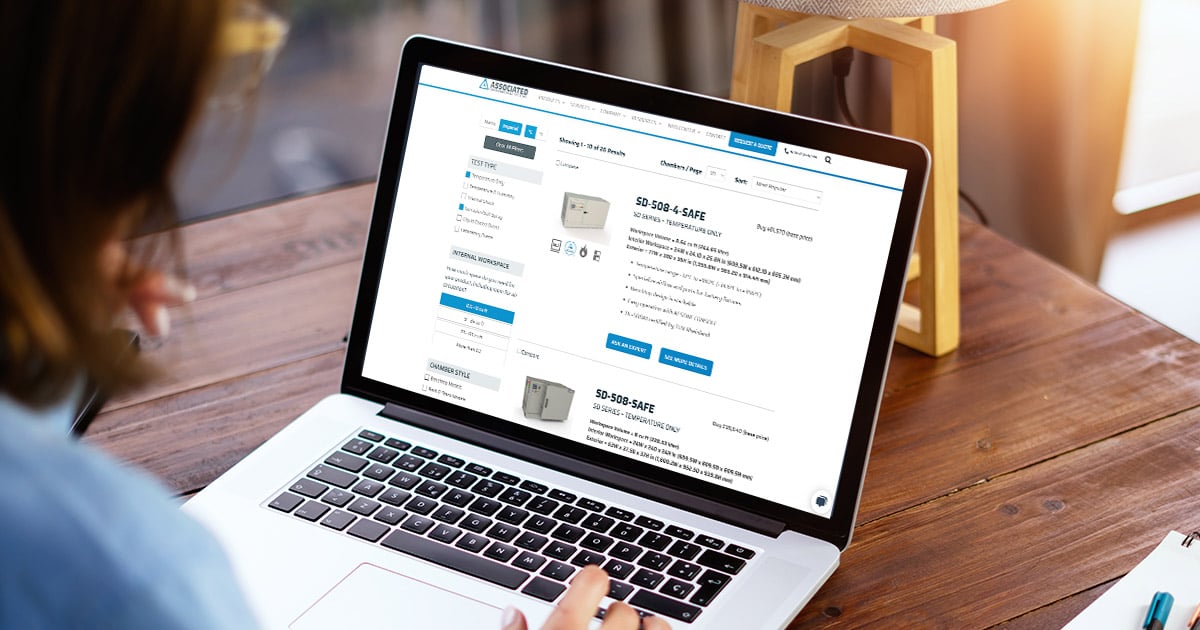 Given how sophisticated environmental test chamber are, it can be difficult to determine which one will meet your testing needs. Frustratingly, some manufacturers' websites are not the most intuitive for potential clients looking to purchase a chamber.
To give you all the tools you need to research this hefty purchase, Associated Environmental Systems (AES) regularly consults clients to ensure the user experience is smooth and informative. As with our test chambers, we're continually making improvements to your experience.

We've created this product filter so you can compare chambers, on your own time, before speaking with one of our seasoned experts. This handy guide to our Product Filter Page should further assist you throughout the purchasing process, as well.
Considerations Before Buying an Environmental Chamber
You have numerous factors to consider when purchasing a test chamber, including temperature requirements, facility power requirements, chamber size, humidity needs, and more.
Temperature Requirements
It's vital to understand temperature requirements and which compressor system you may need. For instance, in temperature chambers, a single-stage refrigeration compressor system can usually reach temperatures as low as -37ºC while a cascade refrigeration compressor system can achieve temperatures as low as -75 to -80ºC (-103 to -112°F).

Change rate will factor into this equation, as well. Does the chamber ramp up or pull down quickly enough to fit your testing requirements?
Facility Power Requirements
The amount of power your facility can provide may limit which chambers are appropriate or possible within your particular situation.
Test Chamber Size
The chamber size you choose will depend heavily on the kinds of objects you're testing. If your organization is regularly testing a large quantity (to expedite product screening)—which shouldn't exceed 70% of the chamber's workspace—then you may want to consider a larger chamber.
It's also wise to factor in appropriate airflow when considering how many products or devices you can fit into a test chamber. If you don't properly account for airflow, you run the risk of thermal events, inaccurate testing, or undermining chamber performance.
Humidity Needs
Many industries require humidity capabilities in their testing. A standard humidity chamber is designed to reliably accommodate a relative humidity (RH) range between 20% to 95% (±2% precision).

Furthermore, if you're doing any kind of corrosion testing, you may need to consider a salt spray test chamber.
How to Use the AES Product filter
AES's product filter gives you the opportunity to become more acquainted with our product library before consulting with an engineer who can ensure you purchase the right chamber for your needs.
Filtering Environmental Test Chambers
Using the left panel, you can apply multiple filters to the following categories, to sort out those chambers that don't fit your criteria:
Test Type (Temperature Only, Temperature & Humidity, Thermal Shock, Corrosion/Salt Spray, Liquid Cooled Ovens, or Laboratory Ovens)
Internal Workspace (Ranging in size from 0.5 to More Than 63 Cubic Feet)
Chamber Style (Benchtop, Rack & Stack, Floor, or Walk-In Models)
Desired Low Temperature (-20°C, -37°C, or -70°C)
Maximum Allowable Facility Power (110VAC, 1PH 120VAC, 1PH 208VAC or 230VAC, 1PH 480VAC, or 'No Facility Power Restrictions')
Chamber Series
At any moment, you can learn more product details by clicking on a single product or by "Asking an Expert."
Once you've narrowed your search, you can compare up to four chambers by selecting 'Compare' in the upper left corner of the product description. Then, once you have your chambers selected, click "Click to Compare" to see how the specs and costs measure up.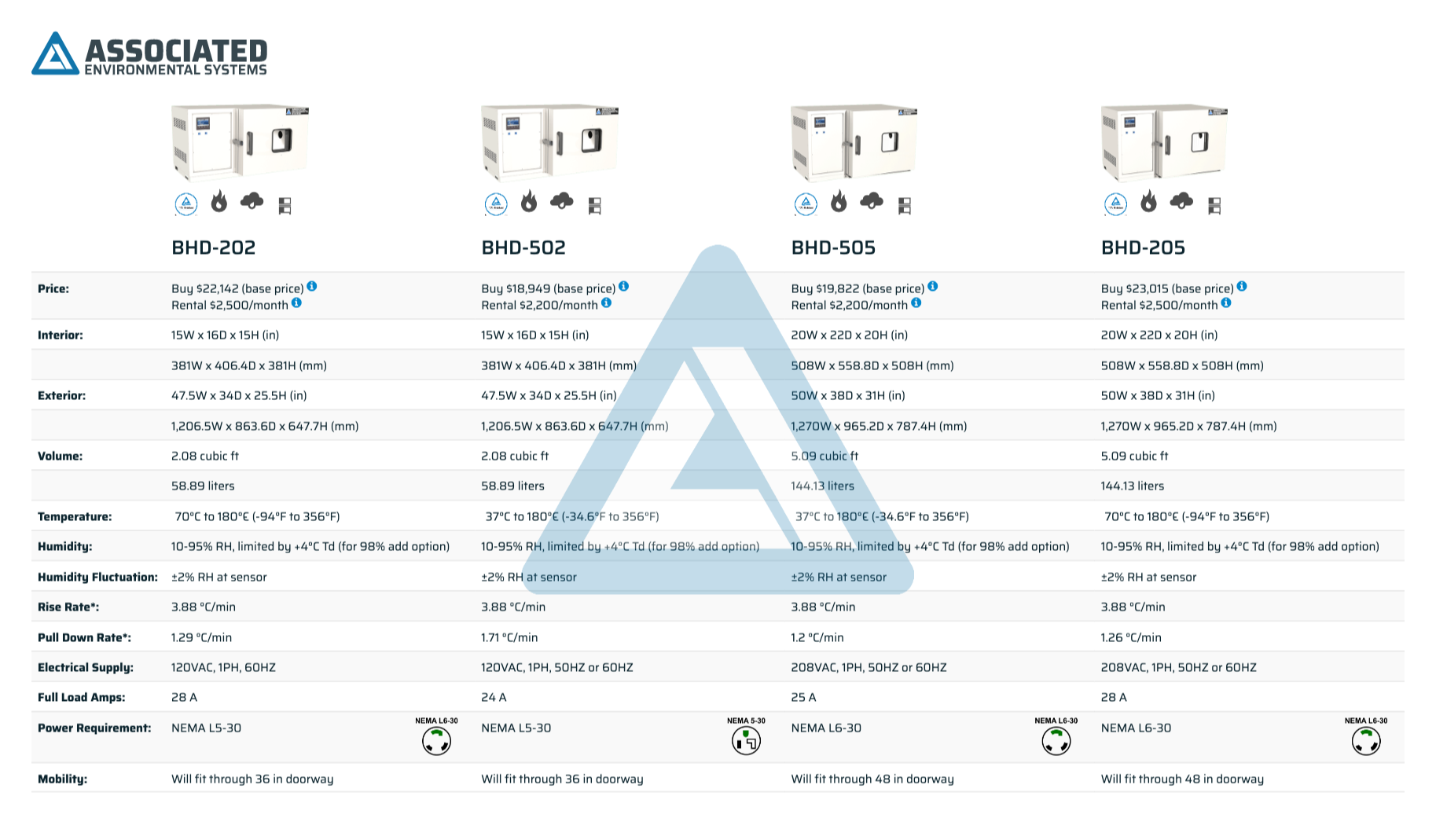 Download the comparison to share with the rest of your team.
Furthermore, a similar filtering system is in place specifically for ATP chambers and fixtures. With functionality that mirrors the Product Filter Page, the ATP filtering system categories include:
Application (Coin, Cell, Prismatic, Pouch, and Pack)
Max Current (1A, 20A, 60A, 1,000A)
Total Channels (2-6, 8-16, 16-48, >48)
Holders (Cylindrical, Clip, Coin Cell)
Fixture Series (ATPPRIME, ATPHEAVY, ATPFLEX)
Lastly, if your selected filter combination provides no results, then you may need a custom chamber. AES engineers are more than happy to help you figure out what you might need.
Associated Environmental Systems manufacturers industry-leading test chambers and battery testing fixtures. With more than 60 years of experience, our experts can consult you on everything you need to know before purchasing an environmental test chamber. Contact us today to learn more.