Plan Ahead: Navigating the Chamber Buying Process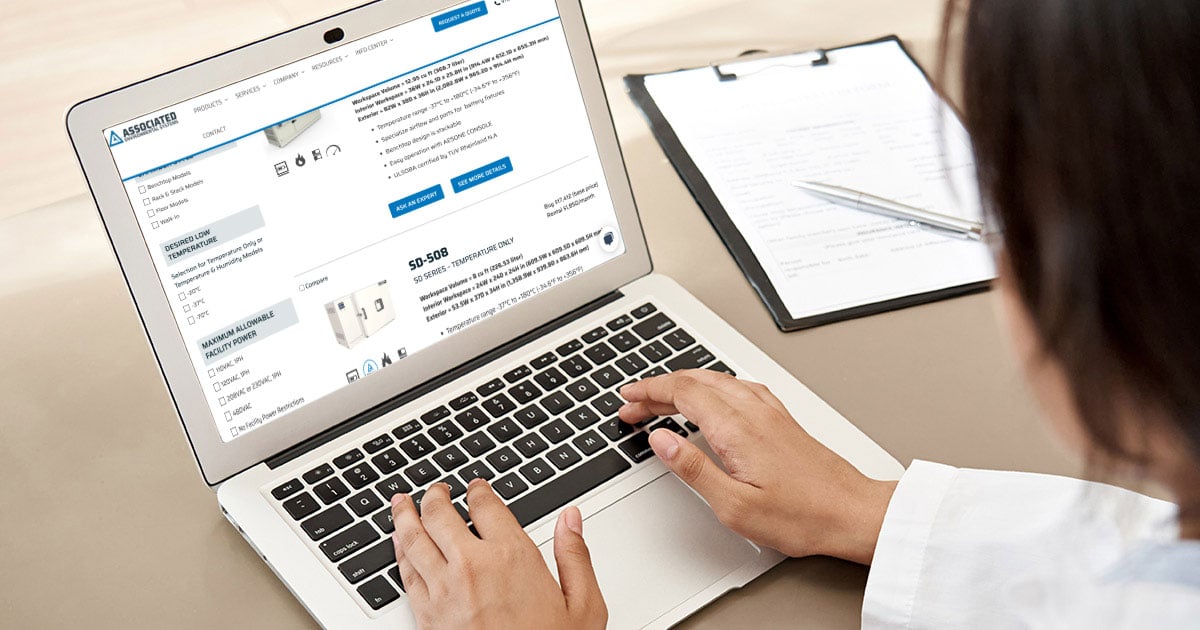 The importance of working with an experienced manufacturer to purchase a new environmental test chamber can't be overstated. You may have an idea of what you're looking for and when you need the chamber in your lab, but there are many factors to consider—including timeline.
For instance, custom chambers take considerably more time to process than standard chambers. However, manufacturers tend to sell out their inventory of standard chambers quickly. Lead times often vary significantly based on availability and external circumstances like supply chain issues.
Here are some things to consider during the ordering process to ensure you plan accordingly, including when you should order an environmental chamber, what affects the timeline, and what you can anticipate when requesting a quote.
What Should You Know Prior to Buying an Environmental Chamber?
The more information you can provide a manufacturer prior to purchasing a chamber the better. For instance, the nature of your testing, particularly if you're testing to a certain standard, will determine your temperature and/or humidity requirements, including range and change rates.
Then there are the specifics of the products you plan on testing. They shouldn't take up more than 70% of the chamber's workspace to ensure proper airflow and accuracy. Live loads, those that give off heat during testing, may require even more space.
These details will guide discussions with a manufacturer. You also need to consider the layout of your lab. Performance chambers have certain power requirements, so consult your building manager in addition to the chamber manufacturer as you weigh options. And if you're conducting humidity or salt spray testing, you'll need to set up the chamber near a water source.
Finally, there's an obvious detail that sometimes can be overlooked: you must have a way to get the chamber into your lab. This isn't a challenge with small benchtop chambers, but it's vitally important if you're shopping for a 64-cubic-foot floor model, or something bigger.
Buying a Standard Chamber
Manufacturers stock standard chambers based on demand, which varies based on the type of chamber and the time of the year. Consider that changes to the Military Standard (MIL-STD) often increase demand for salt spray chambers. Manufacturers anticipate the push and stock more to get ahead of requests.
Traditionally, they also accommodate the late calendar rush by increasing inventories in November and December. However, at all times, standard chambers tend to sell out rather quickly, so if you're targeting a certain model, it's best to proactively ask about availability.
Keep in mind, too, that in many cases standard chambers can be modified. Your testing requirements may lead you to a custom chamber, but skilled engineers often adjust standard models—such as customizing port location, window sizing or adding a boost cooling option—without greatly elongating lead times.
Purchasing a Custom Chamber
Lead times for custom chambers vary from customer to customer. The chamber will be unique to you, and therefore require considerable input from all parties involved.
Industry-leading manufacturers work closely with their engineering, production, and manufacturing teams while quoting custom chambers to formulate accurate timelines.
Most customizations will be discussed in depth at the beginning of the purchasing process. Once your custom order is received, the engineering team generates approval drawings in three to four weeks (depending on the backlog). Many manufacturers will build these three to four weeks into the overall lead time quoted to you to set realistic expectations.
Once you approve the design, the chamber drawing goes to manufacturing to begin the build process.
It's worth remembering there several unforeseen factors, such as supply chain issues, can hinder the manufacturing process. Manufacturers prioritize having the most necessary mechanical components on site, but sometimes crucial chamber parts have been pushed past expected timelines.
In these cases, a proactive manufacturer will reach out and advise you of potential delays.
How Far Ahead Should You Order a Chamber?
There's no obvious or straightforward answer to when you should order, aside from: as soon as you know you need a test chamber.
A manufacturer's sales team will work closely with you to get you set up with new vendor information and payment terms to help expedite the ordering process.
Sometimes customers reach out early in the quoting phase because they are budgeting ahead of time for future orders. This is where a sales team will follow up and re-quote estimated lead times based on factory capacity.
Quotes are often only valid for 30 days, so it is good practice for you to be aware of ever-changing lead times and request an updated quote with the newest lead times (in case pricing or lead time has changed). This can give you a good sense of what to expect as you get closer to the ordering date.
Again, these are all the questions a sales team discusses well in advance to set your expectations and ensure everyone is on the same page. They want you to find the right environmental testing solution for you.
So whether it's a custom build or stock model, knowing your resting requirements, and having reasonable expectations for the buying process will help you navigate the sometimes complex process of ordering an environmental test chamber. Working with a patient, seasoned, and reliable manufacturer goes a long way in keeping the process smooth and transparent.
Associated Environmental Systems has been designing, building, and servicing test chambers for more than 60 years. We are a customer-centric manufacturer committed to keeping you informed throughout the buying process and will stay ahead of delays. Contact us today to learn more about environmental chambers or to request a quote.