Powering Through: AES in 2021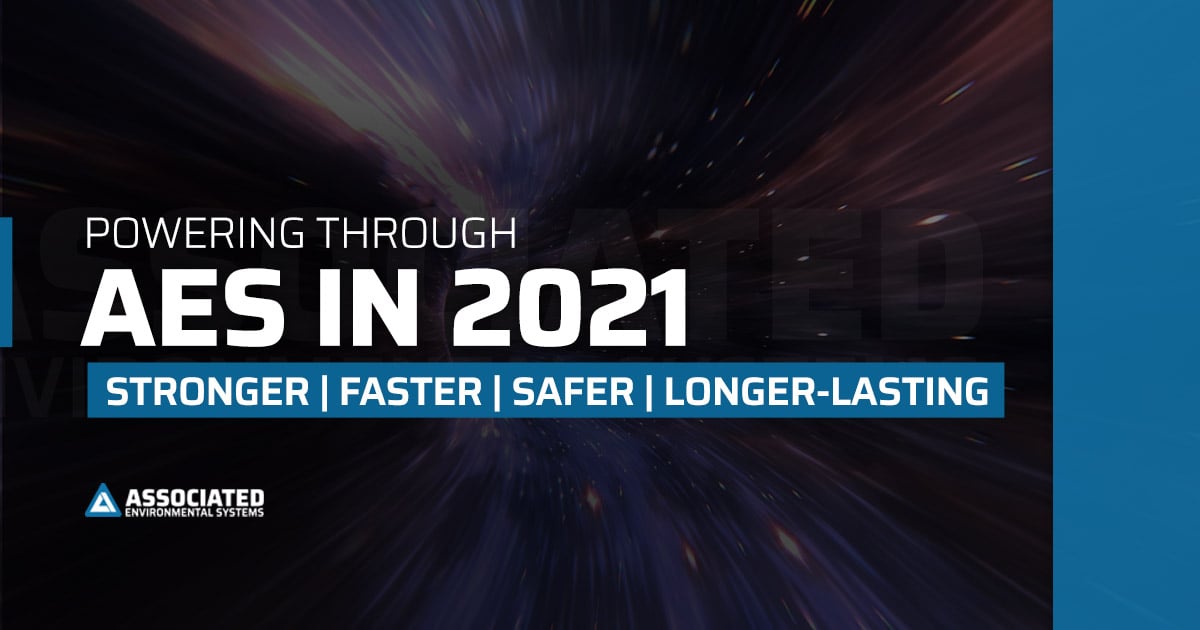 Associated Environmental Systems' purpose is to help customers make their products stronger, faster, safer, and longer-lasting. That pursuit has been challenged over the last two years, but AES hasn't wavered. In fact, the company has continued to double down on its efforts to drive innovations in the industry and for its customers.
2021 has been another year of breakthroughs for AES despite difficult circumstances.
"We kept pushing through challenges because we believe so strongly in doing right by our customers," says Aaron Robinson, AES Vice President of Sales and Service. "We had to continue to provide the best for our customers by continuing to push forward on projects and continue to be innovative because we want to exceed the expectations of customers. Their future plans were dependent on us completing some new designs on our test chambers. We couldn't let them down."
As 2021 comes to an end, let's take a look back at what AES has accomplished.
Introducing the Most Powerful Benchtop Test Chamber in the World
As companies across industries seek to improve the quality of their products, they require testing that makes these innovations possible. They often face tight deadlines and strong internal goals. AES embraces this challenge and designs chambers to maximize efficiency by helping customers optimize their lab space and resources, and conduct safe testing.
In 2021, the company introduced the SD-508-4 to its lineup. This model, also known as the Super 508, builds on the established SD series of temperature chambers and earns the title of the most powerful benchtop chamber in the world. This chamber also has the smallest footprint in the world for testing high-amperage batteries.
Every aspect of the SD-508 has been improved upon, highlighted by even higher compressor capabilities. The chamber features ramp and pull-down rates of 5°Celsius per minute, the fastest in the industry. At eight cubic feet of volume, the Super 508 fits on lab desks or in racks to help you get the most out of your lab space.
Along with the new Super 508, AES announces a new battery fixture to its line of ATP battery fixtures: ATPHEAVY. The ATPHEAVY fixture is designed to make testing batteries with up to 1,000 amps easy and safe to do.
The Super 508, with its powerful cooling capabilities, simplifies the testing of high amperage batteries. The ATPHEAVY is built with heavy wiring, bus bars, and safe connection points, which enables companies to test batteries up to 1,000 amps. This is particularly important to the automotive industry as companies pursue more powerful, longer-lasting, lighter, and faster-charging batteries for their electric vehicles (EV).
You can read more about how AES collaborated with an EV automaker specializing in SUVs and trucks to develop what became ATPHEAVY.
Hyperdriving the FD & HD Series
Speaking of power, AES had long sought to give its customers flexibility in performance. They wanted customers to be able to select power requirements without the need for customization.
That capability became available in early 2021. AES revamped its FD and HD series of temperature-only and temperature and humidity chambers (from 13 cubic feet to 96) to include four performance levels upon request:
Thrust: Up to 3.89°C/minute
Impulse: 4°C to 6.49°C/minute
Warp: 6.5°C to 8.9°C/minute
Hyperdrive: 9°C/minute and higher
Customers no longer have to face delays—wasting precious time and money —getting a custom chamber built.
With four standard performance options, you can confidently approach your testing schedule.
Returning to the Trade Show Floor
In years past, trade shows represented important networking, business, and relationship-building opportunities on the calendar—which, in part, made getting through 2020 and early 2021 more of a challenge.
It's no wonder then that the return to the Battery Show North America in September served as a highlight for AES in 2021.
The company showcased the new ATPHEAVY test chamber among other innovations related to battery testing. It also gave the team chances to see what EV automakers have been doing—including recent battery research and the shift to prismatic cells—to learn how AES might continue complementing advancements in battery technology with powerful battery testing capabilities. Communication and establishing chemistry is a crucial aspect of AES's services, and the time spent in Novi, Michigan only reinforced that notion.
Putting People First
AES has been fortunate enough to grow this year. The company remains grateful to its customers and team of talented engineers, salespeople, marketers, administrators, manufacturers, service staff, and operators who made it possible.
If there's one secret to achieving success amid difficult circumstances it stems from this: AES always puts people first. It invests in its team and brings new members to the team to work in an engaging work environment. When customers reach out to AES, they always get a human response as soon as possible. AES has available service team members around the country to provide maintenance and repairs upon request so you can keep your testing schedule.
All of the high points of 2021—the Super 508, ATPHEAVY, performance flexibility in the FD and HD Series, and advancements in battery testing capabilities—stem from internal and external collaboration. AES listened to pain points, developed solutions, and put them into action.
As the calendar flips to 2022, expect the work to continue. Innovation doesn't stop. AES doesn't either. Stay tuned.
Associated Environmental Systems designs and manufactures test chambers for companies across industries, delivering leading customer service and support. Contact us to learn more about our offerings.