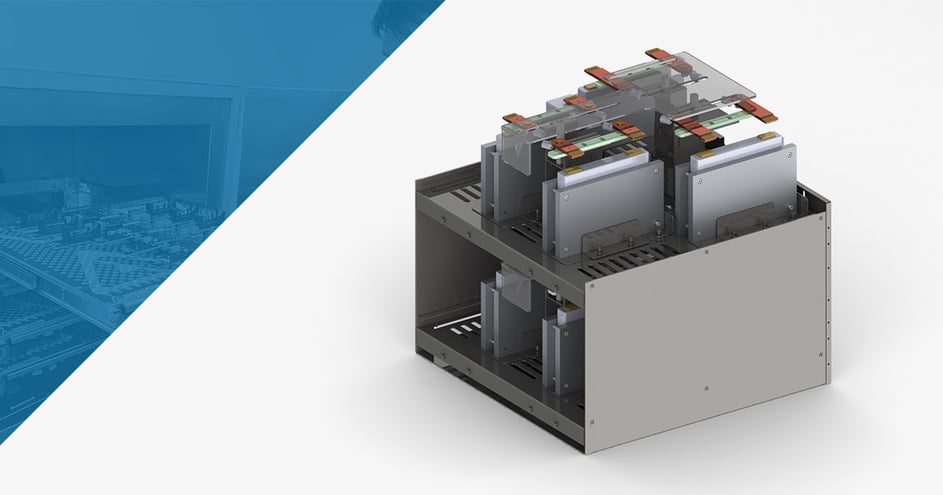 Batteries power the modern world. Most of us always have one in our pocket, keeping us digitally connected. In addition to providing convenience, they serve as the lifeblood of our most beloved digital devices. Batteries are a key component in the fight against climate change, reducing how much carbon dioxide we emit into the atmosphere, and empowering us to lower our dependence on fossil fuels.
Given their promise for a more sustainable future, a number of industries are investing resources into developing longer-lasting, more effective batteries. Associated Environmental Systems (AES) has similarly developed test chambers for this purpose, optimized to drive innovation. This includes the ability to test high amperage batteries (up to 1000 amps).
ATPPRIME and ATPFLEX enable users to turn existing chambers into battery testing fixtures.
"We always strive to do right by our customers," says Aaron Robinson, Vice President of Sales & Service at AES. "As they've increased their ambitions to expand battery performance, we want to deliver solutions that will help them achieve their goals. These include patent-pending chambers and battery testing systems and fixtures."
Read more about AES's battery testing below.
The Demand for Higher-Performing Batteries
The increased demand for higher-performing batteries, particularly lithium-ion, is due to a blend of factors. More eco-conscious consumers want to shift toward energy sources that are more sustainable than carbon-based ones. In tandem, governments are applying pressure through incentives and regulations to nudge citizens. Businesses are also more frequently embracing green initiatives and making pledges to take action on climate change.
Batteries will play a prominent role in any environmentally conscious efforts. Look no further than what's happening with electric vehicles (EVs).
Currently, EVs come with the reality of range anxiety, the fear customers have that a charged battery won't last between recharge stations, leaving the driver stranded somewhere. In general, the range is supposed to be 325 miles per charge for EVs—but 250 is more typical.
EVs just don't have the same range as conventional vehicles with a full tank of gas. Further, extreme outside temperatures can reduce a battery's performance level or consume more energy in moderating temperatures within the cabin. Batteries also experience a 30% decrease of range in cold weather conditions and need 30 minutes of conditioning before leaving to go anywhere. Batteries are always discharging energy when not in use, also known as battery drain, creating another obstacle to the widespread adoption of EVs. These are certainly big challenges for batteries—but they're not insurmountable.
Battery testing and development continue to extend the charging equipment used in EVs, shrinking the range gap, and calming concerns around battery drain. To overcome current deficiencies, some companies are experimenting with capacitors to replenish battery energy while driving. Others are moving toward large-format battery pouches because they're lighter and more energy-efficient than traditional EV batteries.
At the end of the day, innovation requires hours and hours of testing to prove reliability and effectiveness for batteries—and it's not just unique to electric vehicles. Power grids, public transportation, shipping, electric aircraft, and more stand to benefit from battery improvements.
This is where AES comes in.
Testing High Amperage Batteries with AES
AES listens to the challenges of its customers and works to solve them. Recently, companies have requested chambers to accommodate a number of large format batteries to be tested all at the same time, largely for reliability and effectiveness.
So, AES engineered and manufactured test chambers capable of safely and efficiently testing up to 1000 amp batteries. That customization is now standard.
Leaning into the technology found in the ATP Series, AES enables the testing of high amperage batteries with high-current connections.
Here are just a few of their features:
Testing of batteries up to 1000 amps.
Heavy-duty shelving

can bear weight of up to 500 pounds.

Ensure a

secure connection and accurate charge and discharge readings

and data collection with the built-in Battery Interface Board (BIB).

From a single control panel, synchronously operate the test chamber and battery cycler while collecting correlated temperature and cycling data in one location.
Multiple safety features are available to meet your test severity, including nitrogen purge, inert gas pressure vent, ventilation blower, and more.

Clear labeling

of every part reduces setup time and enables you to begin testing sooner.

AESONE CONNECT facilitates

remote testing and monitoring

, giving your engineers the ability to collect data in real-time and operate your chamber from anywhere in the world.
In addition to more efficient testing, AES offers service plans for the life of the chamber. Its support team can help you address any maintenance issues to help you maintain a consistent testing schedule.
Contact AES

at any time to learn more about our patent-pending battery testing chambers. And if you're attending the Battery Show North America, stop by

Booth 2817

. We'd love to connect.