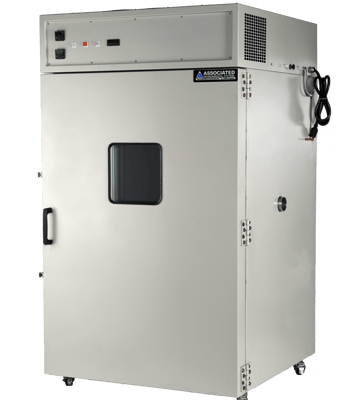 HM-436
Floor
The Model HM-436 is a steady-state temperature and humidity test chamber specially designed for hydrogen-maser atomic clocks.
With 34.6 cubic feet of workspace, the HM-436 is designed to generate and control temperature and humidity environments at and above +23°C (+73.4°F) at 35% relative humidity.
The test chamber is designed for minimal maintenance. Run long-term tests at a constant, steady-state temperature and humidity, or cycle testing with well-tuned reliability. It is known for its ability to run unparalleled tight temperature and humidity control.
HM test chambers feature heating systems equipped with open ceramic-core nichrome heaters for reliable and accurate temperature control within ±0.5°C (±1.0°F).
The humidity system is tuned to operate at a constant 35% relative humidity. For humidification, a vapor generator system incorporating stainless steel blower wheels is used to introduce water vapor into the chamber. The system utilizes safeties to de-energize the vapor generator in the event of no water to the generator tank. Dehumidification is accomplished with a mechanical refrigeration system.
The cooling system consists of a self-contained, compact, mechanical, single-stage refrigeration system.
The HM-436 has casters to increase mobility and offer flexibility in your laboratory. Two doors, front and back, open fully into the workspace and includes a removable ramp. Two power outlets are housed inside the workspace. A 3-inch port on the right side is centered in the workspace from top-to-bottom and front-to-back.
The standard instrumentation includes two manual-set digital controllers for independent control of the temperature and humidity.
Contact us for quote

Specifications
Standard Features
Instrumentation
Safety Features
Specifications
Interior:
33.0W x 37.0D x 49.0H (in)
838.2W x 939.8D x 1244.6H (mm)
Exterior:
48.0W x 50.0D x 81.0H (in)
1219.2W x 1270D x 2057.4H (mm)
Volume:
34.62 cubic ft
980.32 liters
Temperature:
23°C to

°C (

73.4°F to 77°F)
Humidity:
35% RH steady state with load
Humidity Fluctuation:
±5% RH at sensor
Electrical Supply:
208 VAC, 1 PH, 50HZ or 60HZ
Full Load Amps:
12 A
Power Requirement:
NEMA L6-20
Refrigeration System:
Single stage
Mobility:
Will fit through 62 in doorway
Approximate Product Weight:
1380.0 lbs (626 kg) without added options
Approximate Shipping Weight:
1490.0 lbs (676 kg) without added options
Standard Features
STANDARD FEATURES
Internal light with external switch
Forced air circulation
Standard full opening door, right-hand hinge
Two 115v, 15a interior outlets
Full-height battery access door
Self-contained refrigeration system
Mechanical dehumidification system
Steam generator humidity system
Floor supports 600 lbs
Live load supported up to 75-100 watts
Locking swivel casters, set of 4
Instrumentation
STANDARD INSTRUMENTATION
CONTROLLER
2 Independently controlled, manual-set Watlow EZ-ZONE PM controllers for temperature and humidity control (non-programmable)
UPGRADE WITH
HM Series Test Chambers can incorporate AESONE CONNECT creating a robust connected device for a standard and uniform interface making test chamber operation easier.
AESONE XCHANGE increases your functionality

Connects the test chamber controller to your network for increased accessibility
On-board multi-year data logging
AESONE SOFTWARE gives you the power to
Remote chamber operation and monitoring,
Web-based test profile creation,
Viewing current data and historical data visually
Secure multi-level user access
WATLOW F4T PROGRAMMABLE CONTROLLER. Features a 4.3" capacitive touchscreen minimizing the chance for error. Ethernet communication supported by AESONE HARDWARE. View more controller options
ADDITIONAL ONBOARD INSTRUMENTATION
SENSORS.
for temperature, 100 OHM platinum RTD is highly-accurate sensor made from platinum components for increased sensitivity
for humidity, solid-state sensor for 10-95% relative humidity
View sensor options
COMMUNICATIONS. via RS-485
OPTIONAL DATA LOGGERS. View additional data loggers
Safety Features
STANDARD SAFETY FEATURES
Internal high-temperature limit safety
Refrigeration system over-pressure safety circuit
Low-water steam generator over-temperature circuit