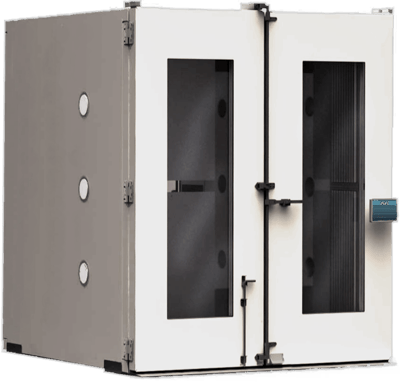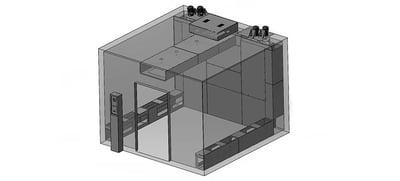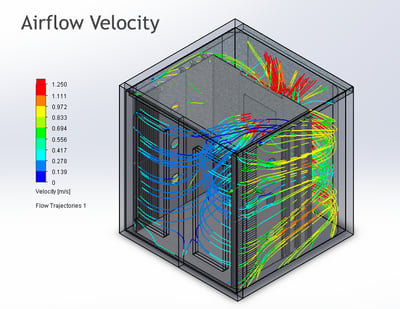 WRH-STRUCTURAL
Floor
Walk-In
Solid-structure walk-in models are built using AES' high-performance versions of the popular floor-style models and can be ordered for stability testing purposes or cycle testing.
STRUCTURE. When you require extreme temperatures and saturated humidity rates, your testing is more suited to structural build construction. Structural walk-in rooms are welded, one-piece units assembled with durable steel making them optimal for heavy or over-sized product loading and high humidity. Structural walk-in rooms are advantageous for speedy temperature change rates, high humidity, and explosion resistant applications.
In high-humidity conditions where increased pressure is present, a welded-steel structural frame interior is required. Under these reinforced conditions, temperatures from -73°C to +538°C (-100°F to +1000°F) can be sustained. And relative humidity can range from 10-95%.
Structural build chambers are most often custom-designed products. Because of our extensive product offering and years of designing test chambers, your specific needs will not increase delivery time, but they do require more planning and engineering design time to create the plans and drawings which are followed by customer approvals before manufacturing can begin.
PERFORMANCE. To optimize temperature conditions within the workspace a specially designed plenum allows airflow to enter the space from the back and pushed to the sides for conditioning. Toward the front of the workspace, registers spread the air top to bottom creating a uniform workspace for testing dense products under dead-load and live-load situations.
Airflow for products under test is fed by triple-blower wheels at the back wall with left and right air discharge. Plenums on both the left and right sides condition and discharge air to the front of the workspace through baffles that direct the airflow uniformly top to bottom. As air enters through the back of the chamber, the flow is directed along the sides through a plenum where the air is conditioned to the correct temperature. When the air reaches the front of the chamber it flows through registers with baffles that direct the air to move uniformly from top to bottom. Stacked circulation fans on the back wall of the workspace pulls the air through the product and back into the plenum to be reconditioned.
Access ports can be placed on each side, using your specific requirements.
HEATING SYSTEM. A mix of several open nichrome heaters and ceramic core nichrome heaters spread across airflow for reliable and accurate temperature control within ±0.5°C.
HUMIDITY SYSTEM. Reach highly saturated humidity levels with no concerns. High-pressure environments require solid structures so there is no chance of leakage through seams. To extend your humidity range, see the optional features section. View RH Chart.
COOLING SYSTEM. The cooling system is a self-contained mechanical refrigeration system with the configuration that will fit your needs. An AES engineer can discuss the benefits of a water-cooled or air-cooled condenser.
Add boost cooling with liquid LN2 or CO2 for even faster pull-down rates. It's a great option for stress tests that require rapid cooling. Even without boost cooling, AES' standard cascade refrigeration systems have the fastest standard change rates of any environmental test chamber manufacturer. See Basic Specifications tab below.
INSTRUMENTATION. FDP-4264 Series Test Chambers have incorporated the AESONE CONNECT creating a robust connected device for a standard and uniform interface making operation easier.
Contact us for quote

Applications
Standard Features
Instrumentation
Safety Features
Optional Features
Applications
STABILITY WALK-IN CHAMBERS
When products need to be tested or stored in a constant environment, stability chambers will replicate such conditions.
Stability chambers are meant to run constantly for long periods of time at a consistent temperature with or without humidity.
These steady-state chambers are electronically configured to meet several governmental regulations and test requirements in industries such as electronics, healthcare, food and beverage, packaging, life science, and more. Chambers are always factory set and configured to meet your specific test requirements, and a service team member can calibrate the chamber to ensure accuracy.
Below are common sizes manufactured at Associated Environmental Systems in Acton, Massachusetts. We are known for building custom stability chambers which meet our customers specifications with the same manufacturing lead times as standard chambers.
Common Standard Sizes
Working Volume †
Exterior †
264.8 cu ft (7,498.3 l)
Interior: 52x88x100 in
60x96x116 in
337.9 cu ft (9,568 l)
Interior: 52x112x100 in
60x120x116 in
485.1 cu ft (13,736 l)
Interior: 88x88x108 in

96x96x124 in
617.4 cu ft (17,482.8 l)
Interior: 88x112x108 in
96x120x124 in
785.8 cu ft (22,251.4 l)
Interior: 112x112x108 in
120x120x124 in
954.2 cu ft (27,019 l)
Interior: 136x112x108 in
144x120x124 in
1,112.6 cu ft (31,788.5 l)
Interior: 160x112x108 in
168x120x124 in
Stability Performance
Temperature Only* or
Temperature & Humidity*
Standard
Range
-40° C to +85° C
Extended
Cold Range
-65° C to + 85° C
Extended
Hot Range
-40° C to +150° C
Standard: 3.5HP, Air Cooled Unit
Optional: Water Cooled Unit
Specify your needs, and an Associated Environmental Systems Engineer will work with you to calculate your needs for temperature system or a dual temperature and humidity system. The gray ranges in the chart are the most common. However, other configurations are available.
* Temperature and humidity at sensor † Additional WidthxDepthxHeight configurations available
Standard Features
Interior Cabinet: Stainless Steel, Type 304
Exterior Cabinet: Cold Rolled Steel, Heavy-Gauge, Powder Coat finish, Color: Bone
Port Configuration, 2 back panel, stainless steel ports, config. for ATP, with 4in (101.6mm) Diameter
Internal Light with External Switch Full Opening Bi-parting Doors, Manual Door Latch,
2 Full-Length, Multi-Pane Viewing Window
Forced Air Circulation
Instrumentation
STANDARD INSTRUMENTATION
CONTROLLER
Walk-in Series Test Chambers have incorporated AESONE CONNECT creating a robust connected device for a standard and uniform interface making test chamber operation easier.
AESONE XCHANGE increases your functionality
connects the test chamber controller to your network for increased accessibility
on-board multi-year data logging
AESONE SOFTWARE gives you the power to
remote chamber operation and monitoring,
web-based test profile creation,
viewing current data and historical data visually
secure multi-level user access
ADDITIONAL ONBOARD INSTRUMENTATION
WATLOW F4T PROGRAMMABLE CONTROLLER. Features a 4.3" capacitive touchscreen minimizing the chance for error. Ethernet communication supported by AESONE HARDWARE. View more controller options
SENSORS.
for temperature, 100 OHM platinum RTD is highly-accurate sensor made from platinum components for increased sensitivity
for humidity, solid-state sensor for 10-95% relative humidity
OPTIONAL DATA LOGGERS. View additional data loggers



Safety Features
STANDARD SAFETY FEATURES
HIGH/LOW TEMPERATURE CONTROL. an adjustable temperature limit controller allows you to program the highest and lowest temperature of the device under test, protecting products from compromising temperature exposure.
Internal high-temperature limit safety
Refrigeration system over-pressure safety circuit
TUV Rheinland Certified Meeting UL 508A, US, C, E
Optional Features
LN2 Boost Cool
CO2 Boost Cool
Adjustable Saftey with Alarm
Honeywell Chart Recorder
Honeywell Digital Chart Recorder
Change Port Size/Access Point
Desiccant Air Dryer to ensure conditions as low as 5% RH
Dry Nitrogen Purge to keep condensation and frost from accumulating on DUT surfaces at cold temperatures and to prevent oxidation of metals surfaces at high temperatures
Dehumidifier
Water-Cooled Condenser
Noise Reduction Package
Alternative Power Requirements
Other Options Available on Request