International Battery Seminar Recap 2023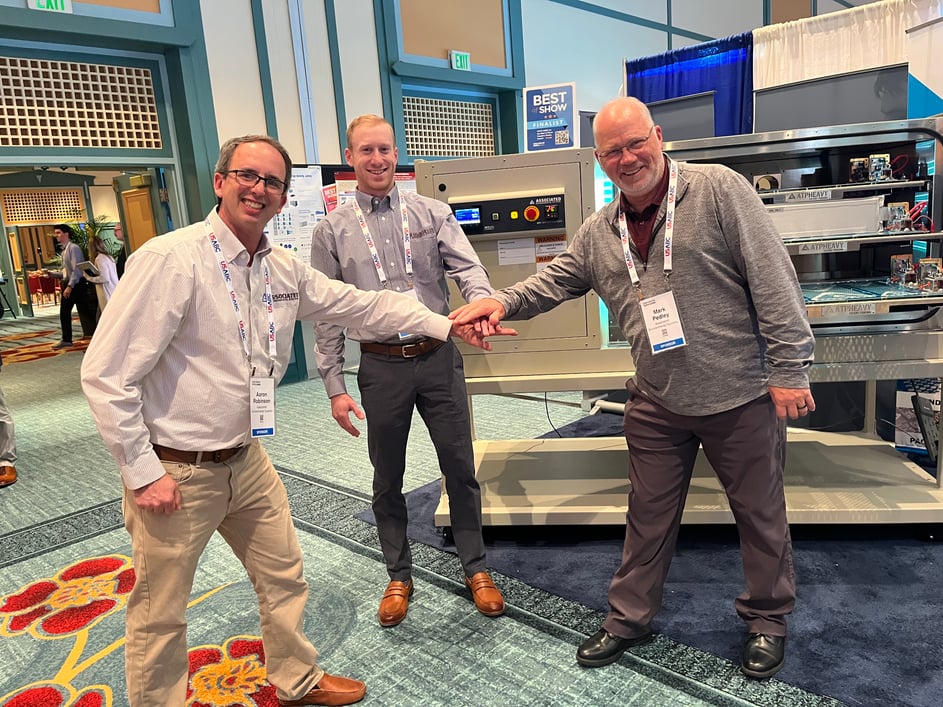 Attending the International Battery Seminar in Orlando, Florida is always an invigorating experience filled with innovation from industry leaders, which is precisely why Associated Environmental Systems (AES) makes it a point to be there each year.
The 2023 show ran from March 20-23. We showcased our patented ATPPRIME and patent-pending ATPHEAVY ADAPTABLE battery fixtures and the SC-512-SAFE, a stackable benchtop temperature chamber designed specifically to accommodate high-capacity cells.
AES was thrilled to be a Best of Show Finalist for our Patent-pending ATPHEAVY ADAPTABLE battery fixture.
Bob Laudisi, Applications & Mechanical Engineer at AES, also presented "Increasing Success & Safety: Applying Lean Methodologies to Battery Testing." This presentation emphasized the importance of lean methodologies in achieving safe and efficient battery testing with low and high amp hour cells.
Aaron Robinson, AES Vice President of Sales and Service, highlights the seminar's vital role in the ongoing innovation of its chambers: "Throughout productive conversations with industry leaders, we consistently get inspired with new ideas to make battery testing safer and more efficient. It was exciting to share a sneak peek at the newest innovation AES has to offer."
In case you missed it, here's a recap of our time at the International Battery Seminar.
AES Battery Testing Solutions on Display
As an innovative ally, AES thrives on the conversations we have at the International Battery Seminar. Feedback during these interactions has sparked many technological advancements through the years. We displayed two of our cutting-edge battery testing fixtures in Orlando.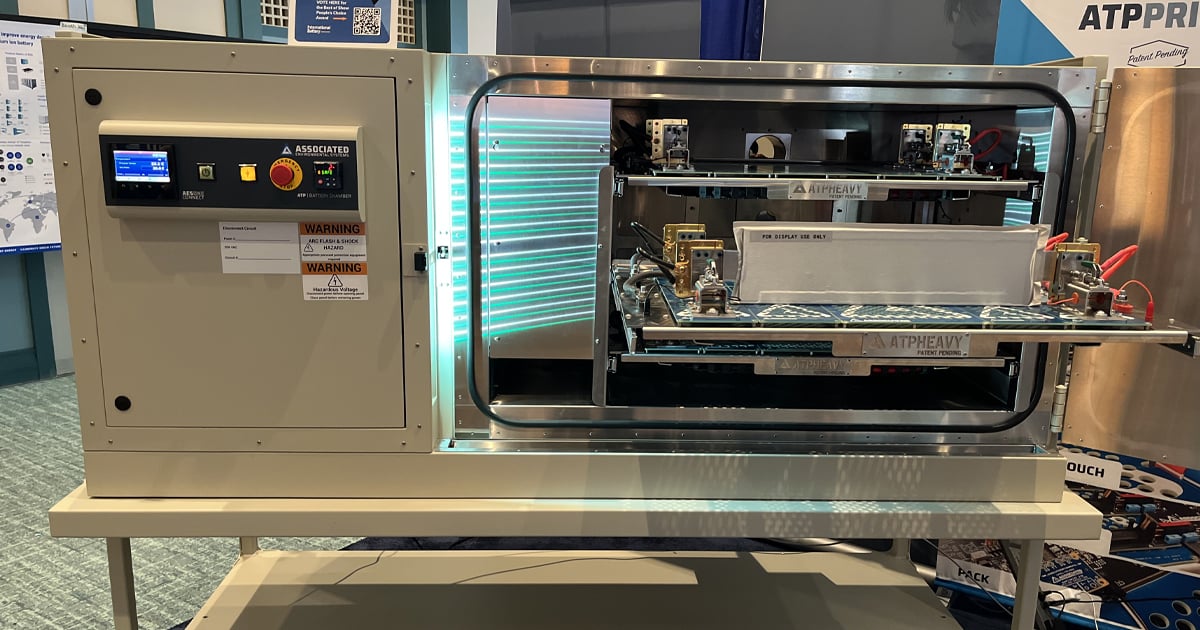 BEST OF SHOW FINALIST: Patent-Pending ATPHEAVY ADAPTABLE
We were thrilled to share our ground-breaking battery fixture with attendees, ATPHEAVY ADAPTABLE, and be a finalist for the Best of Show award.
The 2023 Best of Show Awards offer exhibitors of the International Battery Seminar an exclusive opportunity to distinguish and highlight their products, ranging from an innovative application, technology, tool, or solution. The International Battery community is invited to identify exceptional innovation in technologies used by industry professionals, voting on most impactful new products of the year.
With a patent-pending design, ATPHEAVY ADAPTABLE accommodates a wide variety of high-density battery formats and sizes. Designed to handle high amperage cells of up to 500 amps, our fixture test surface is perforated for optimal airflow and made of F4R, which is heat and fire-resistant. The board is also made of non-conductive material to prevent accidental shorting and thermal events.
When affixed to the SC-512-SAFE, a temperature chamber specifically designed for high-amperage battery testing, your lab will be fully equipped to become an industry leader.
This full system enables you to efficiently and safely test your choice of high-density battery formats.
SC-512-SAFE: A Temperature Chamber Optimized for Battery Testing
The electric vehicle industry is expanding rapidly and the need for batteries that last longer and charge faster is on the rise. As a result, battery testing must also progress to keep up with trends. Enter the Super 508 and the SC-512-SAFE, the latest developments in battery testing, designed precisely for testing large pouch and prismatic battery formats.
When paired with an ATPHEAVY ADAPTABLE fixture, the SC-512-SAFE is particularly effective at testing high-capacity cells and large pouch batteries. This top-of-the-line benchtop chamber offers several advantages, such as the ability to stack multiple chambers to efficiently use lab space and test more cells using two chambers instead of one.
Its sliding shelves allow for safe and easy cell changes outside the chamber, while the proprietary baffle and fan design ensures optimal air movement throughout the chamber. Battery safety features are included in this chamber to keep products and lab equipment safe from a potential thermal runaway. Safety features like temperature-limited sheath heaters, burst disks and more keep control of any potential hazards inside the chamber.
Furthermore, AESONE CONNECT provides remote monitoring of the SC-512-SAFE from anywhere in the world, using a web interface on a desktop, tablet, or laptop.
Patented ATPPRIME Battery Fixture
The patented ATPPRIME system offers a highly adaptable solution for battery testing in your lab.
Visitors to booth 700 experienced its versatility, efficiency, and ease of use up close, characteristics that make ATPPRIME an excellent choice for battery testing in any lab.
ATPPRIME can be configured to test nearly all cell formats, including coin, cylindrical, prismatic, pouch, and pack batteries including supporting multiple cell types within the same fixture. With its universal Kelvin connectors, ATPPRIME enables quick removal, insertion, and switching between cell types. The system has been expertly engineered to maximize airflow and maintain consistent temperature conditions for up to 192 cells across four shelves.
Its integrated Battery Interface Board (BIB) provides precise, strong charge and discharge data signals that are transmitted from each cell to the battery cycler. The IGUS track keeps cables organized, and labeled channels and wiring make battery testing error-proof and more efficient.
However, if you are in need of testing more than 60 amps, our ATPHEAVY series will better suit your high amperage testing.
Sneak Peak: SC-536
If you weren't in attendance at the show, AES had something new to share.
Building upon the best of show finalist, ATPHEAVY ADAPTABLE, AES continues to raise the bar. The newest innovation coming to market is our SC-536, a battery testing chamber for temperature testing. With the ability to accommodate more cells than our previous model, the SC-512, this chamber triples the capacity for testing high-density cells at once.
This chamber is ready to outperform any battery test chamber on the market and we can't wait to share more information with you.
Lean & Safe Battery Testing With Bob Laudisi
Battery testing, research, and development require effective optimization, efficiency, and safety. In that same spirit, Bob Laudisi, Applications & Mechanical Engineer at AES, presented "Increasing Success & Safety: Applying Lean Methodologies to Battery Testing" as part of a battery safety track in Orlando.
In the presentation, Laudisi outlined 6S and lean manufacturing principles and how they inform AES's approach to designing battery testing systems. Here are some of the key takeaways:
Lean manufacturing seeks to reduce waste, defined by non-value-added work.
Unorganized cables and wires can lead to wasted space, inefficient and unsafe testing.
Improving your testing process by implementing mistake-proofing measures such as proper cable management, utilizing non-conductive surfaces, having proper airflow, and implementing sliding shelves for easy access to cells will enhance safety and efficiency.
By applying these principles, you can create a safer, well-organized, and maximized lab for battery testing, leading to increased productivity and competitiveness in the marketplace.
If you missed us at the International Battery Seminar this year, don't worry. Our team is hyper-responsive. You can connect with us at any time. In fact, AES is the only chamber testing partner with a person answering the phone or live chat responsive within 30 seconds. Reach out today to learn more about efficient and safe battery testing solutions.