Introducing the Super 508: The Most Powerful Benchtop Test Chamber in the World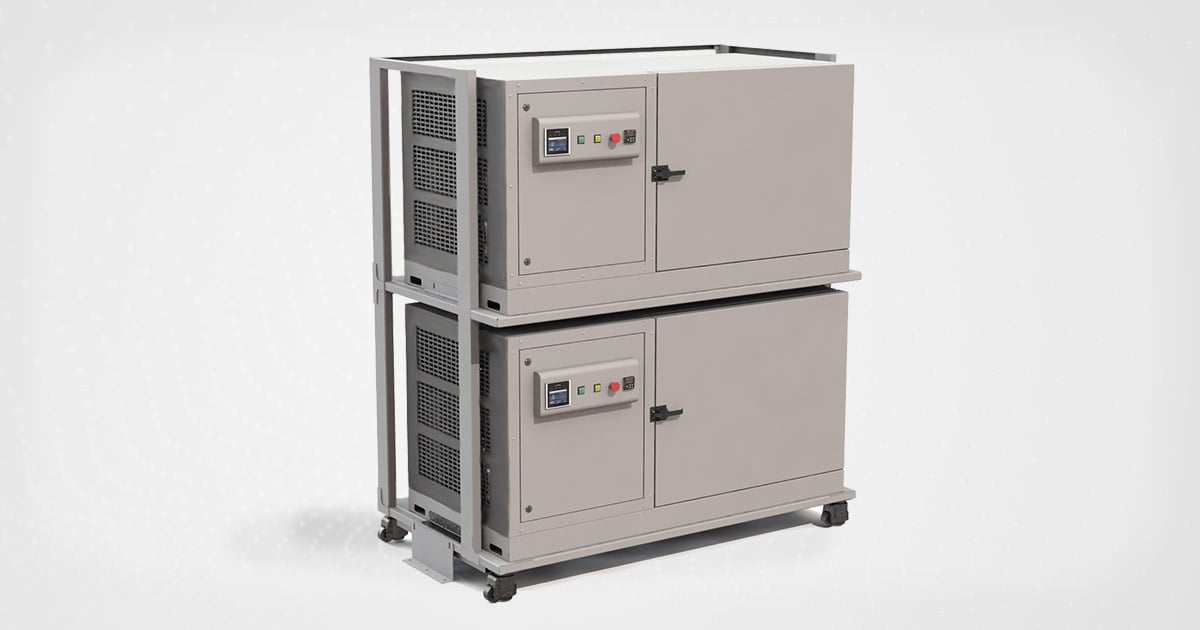 For years, companies have enjoyed the benefits of benchtop test chambers. You can optimize limited lab space. You can increase efficiency in your testing by utilizing multiple, stacked benchtop chambers rather than one larger, floor model. You can build your lab up at a cost-efficient pace by investing in smaller units.
Now, there's an exciting new breakthrough in the benchtop chamber market: Power. Associated Environmental Systems recently introduced the Super 508, the most powerful benchtop test chamber in the world.
With the SC-508, also known as the Super 508, you get the advantage of a benchtop with the performance capabilities of a larger chamber. This innovation has also been designed to accommodate battery testing fixtures—even high-amperage battery testing, necessary for driving the electric vehicle market.
Here's what you need to know about the Super 508.
Advantages of the Super 508 Benchtop Chamber
Intended to fit on your lab bench or workspace, the Super 508 provides a simple and safe way to access devices under testing (DUTs) when reaching into the environmental test chamber. Multiple benchtops can also be racked and stacked using an optional floor stand, which will save floor space, as well.
The Super 508 has the benefits of an industry-leading, temperature-only benchtop test chamber, but includes a larger compressor. The larger compressor enables change rates of 5°C/min and a temperature range of -37°C to 180°C. You can reach extremes faster and stay there longer.
It's not just the compressor that makes the difference, though. Every aspect of the Super 508 is optimized for safe, efficient, accurate testing.
For instance, proper circulation is vital for high-performance test chambers. The Super 508 includes a proprietary baffle and fan design combination. This chamber has just the right airflow and temperature control system to handle the thermal heat that is created during charge and discharge cycles. The chamber accommodates our ATPPRIME and ATPHEAVY battery fixtures (more on this below).
As far as heating goes, the Super 508 is furnished with stainless steel tubular fin heaters. These test chambers can be controlled for testing reliably within ±0.5°C.
When you need cooling, a self-contained mechanical refrigeration system kicks in with an air-cooling condenser. The Super 508 also offers an optional water-cooling condenser as well.
Like most AES chambers, the Super 508 comes with AESONE CONNECT. This facilitates a robust, remote connection between your test chamber and a digital interface, allowing you to monitor and control testing from anywhere in the world. This remote monitoring enables you to stop and restart a test should any error occur, eliminating constant manual supervision.
Battery Testing Capabilities with the Super 508
Batteries are a driving force for many of today's most important technologies, including medical devices, cell phones, electric vehicles, aviation, and computers.
Battery testing helps forecast how batteries will perform and determines whether they are safe for consumers before going to market.
Battery technology only goes as far as battery testing chambers can. By employing the most powerful benchtop environmental chamber for testing, you can ensure reliable battery testing.
A great addition to the Super 508 is the ability to add in AES's patent-pending ATPPRIME or ATPHEAVY battery testing.
The ATPPRIME is a modular fixture that can be adapted to nearly every mainstream battery testing. Built with multiple full-extension shelves capable of testing up to 192 different cells, you can test more batteries with our fixture in a smaller chamber.
ATPHEAVY, on the other hand, represents an exciting breakthrough in battery testing. With this system, you can test batteries up to 1000 amps. It's especially vital for the electric vehicle industry as they seek to extend the range and life of their batteries.
Talk to AES today about the benefits of the Super 508 to advance your battery testing capabilities. You can also elevate your research and development efforts without sacrificing lab space. Better yet, you get all the advantages of working with AES: personalized service, support, and guidance so you can get the most out of your testing.
Associated Environmental Systems is an industry leader in temperature test chambers designed for battery testing. Contact AES today to get a quote or learn more about the most powerful benchtop test chamber in the world.