Small Environmental Test Chambers: Ideal for Efficient Testing, Mobility, & Maximizing Floorspace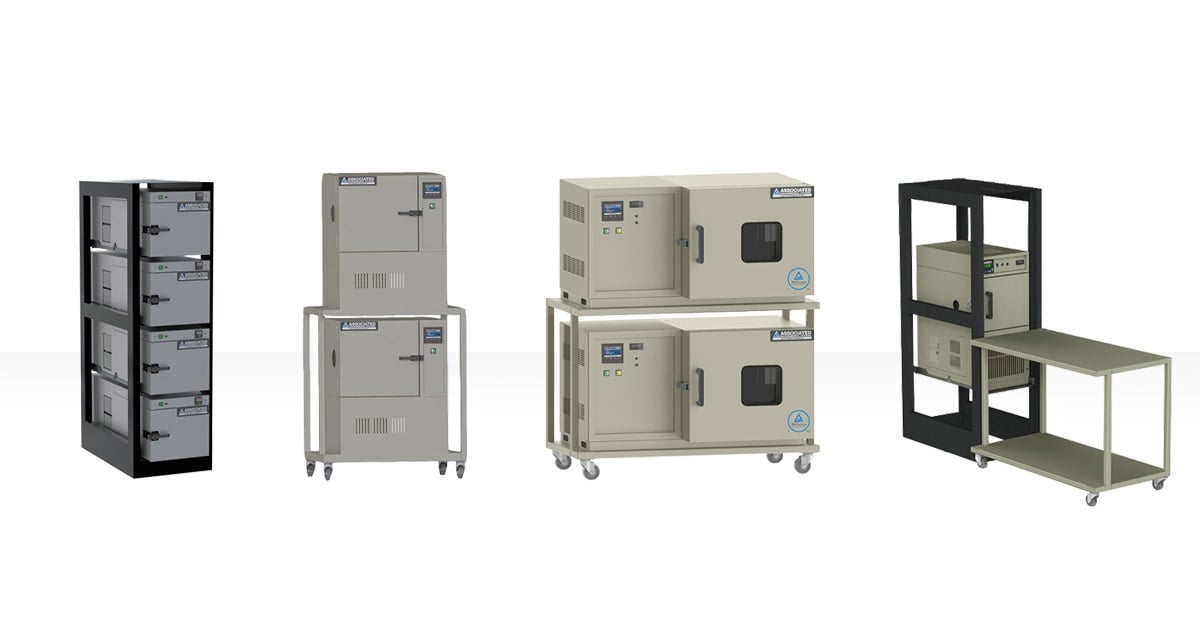 You likely know environmental test chambers cover a wide range of styles, performance capabilities, and sizes. The same could be said for small test chambers. After all, the term only defines one aspect of the chamber when so many variables will determine the right model for you.
For instance, if you're testing the corrosive resistance of a small product, you could purchase Associated Environmental Systems' MX-9204, a salt spray chamber with an internal volume of 3.375 cubic feet. Similar-sized test chambers exist for thermal-shock testing, steady-state testing, battery testing, and more.
What 'small' really refers to is mobility, and maximizing the internal and external workspace of the chamber. In that case, it applies to benchtop models, test chambers that can be moved and stacked to help you get the most out of your testing and lab space.
Test Chamber Size Considerations
Before we get into the benefits of utilizing smaller test chambers, let's discuss size considerations in general.
There are several components to choosing a test chamber size. The decision is easier for some companies than others: If you'd like to test six electric vehicles at once, for example, then you need a drive-in chamber to accommodate them.
Companies with smaller products, on the other hand, have more flexibility when it's time to select a chamber. The conversation should start by understanding the application test requirements, the test room space available, and the nature of the devices under test as it pertains to size, load, material, and density.
Characteristics of DUTs and Chamber Size
Size: Most tests require at least a ratio of at least one-to-three for the volume of the DUTs to the workspace to allow for adequate airflow.
Load: Live loads create heat, affecting the rates of change in the internal workspace. As a result, they require a larger chamber.
Material: Substrates (i.e. wood, aluminum, steel, or concrete) absorb heat and moisture differently.
Density: Highly dense products need a larger workspace to get up to and maintain conditions. On the other side of the spectrum, products that are either less dense or optimized for airflow (think computer chassis) can fill up more of the workspace without affecting the test.
It's not enough to look at a test chamber and the size of your products alone and decide on a model. You need to take all of these characteristics into account because they could hinder the performance of the chamber.
About Benchtop Test Chambers
Although floor models and ovens are available in 'small' sizes (Associated Environmental Systems' FD-201, for example, is a temperature-only, floor-style chamber with an internal volume of 1.125 cubic feet), usually small test chambers refer to benchtop models. These chambers typically range in volume from 1.5 to 8 cubic feet, and, as the name suggests, are designed to fit on benchtops, desks, or work tables.
That level of flexibility is appealing to companies that have limited lab space. There are temperature-only and temperature and humidity benchtop models, fit for either steady-state testing or cycling.
Benchtop models can help you maximize floor space as well, as some versions can be stacked or placed in a standard rack.
The Benefits of Owning Small Test Chambers
So, you've accounted for testing standards, have ample space in your lab, and talked to your building manager about adding new test chambers. You're left between choosing a larger test chamber to accommodate more products at once or smaller ones to spread them out.
Beyond the aforementioned flexibility and space-saving capabilities of benchtop test chambers, there's one benefit that will allow you to optimize your testing: Efficiency.
Let's say you conduct quality testing in batches as products come off the line. Rather than testing 100 devices at once, for instance, you could test 25 across four different chambers. That not only enables you to complete the same amount of testing in a shorter period of time, but also isolate potential problems to a single chamber.
In other words, if one product malfunctions, it would only potentially affect 24 others and one chamber as opposed to the full batch and the only chamber.
The same is true when it comes to test chamber repairs or maintenance. An issue in one test chamber won't halt your testing as a whole.
Keep in mind, there's no such thing as a one-size-fits-all test chamber. Instead of spending time looking for a perfect solution, contact an experienced manufacturer like AES. AES has the expertise to help you understand your testing requirements and deliver a custom chamber to fit your exacting specifications.