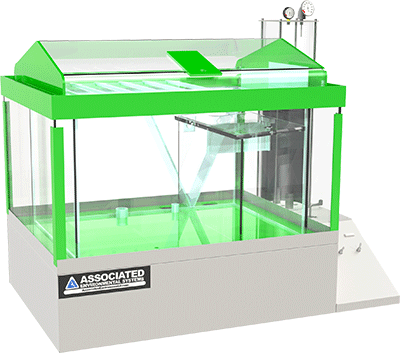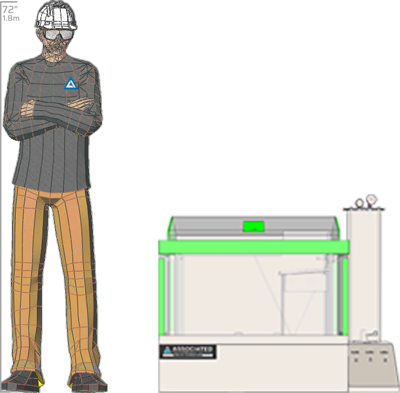 MX-9204
Benchtop
The unique features of the salt spray test chamber, allows you better observation and access to your corrosion testing. The construction is made of high-quality Lucite®️ plexiglass on five sides making it the only 360-degree view into the chamber workspace.
Completely self-contained, the MX Series salt spray chambers allow for test items to be subjected to a corrosive environment without introducing other contaminants into the test area.
STANDARDS. The standard MX-9204 salt spray test chamber has an atomizing nozzle that can be factory set to be compliant with the following standards:
HEATING SYSTEM. To ensure temperature uniformity in the test workspace, the unit uses two separate RTD sensors. One for holding and conditioning incoming water to an accurate 45.5°C (113.9°F). As the water is mixed with the salt solution and atomized the temperature falls. In the product workspace, a second RTD sensor holds the ambient temperature at a steady 35°C (95°F) as the fog fills the workspace.
Salt Spray chambers are commonly used to evaluate the corrosive properties of:
Phosphated surfaces (with subsequent paint/primer/lacquer/rust preventive)
Zinc and Zinc-alloy plating (see also electroplating)
Electroplated chromium, nickel, copper and tin
Coatings not applied electrolytically (such as zinc flake coatings)
Organic Coatings
Paint Coatings
INSTRUMENTATION. MX9204 Test Chambers incorporates AESONE CONNECT creating a robust connected device giving you a standard and uniform interface that makes operation easier. Learn more in the Instrumentation Tab below.
Specifications
Standard Features
Instrumentation
Safety Features
Optional Features
Downloads
Videos
Specifications
MX Series
---
---
| | |
| --- | --- |
| Interior: | 18.0W x 18.0D x 18.0H (in) |
| | 457.2W x 457.2D x 457.2H (mm) |
| Exterior: | 40.5W x 26.5D x 30.5H (in) |
| | 1028.7W x 673.1D x 774.7H (mm) |
| Volume: | 3.38 cubic ft |
| | 95.71 liters |
| Tower Temperature: | 45.5 °C (114°F) |
| Chamber Temperature: | 35 °C (95 °F) |
| Salt Solution Capacity: | 6.9 gal (26 liters) |
| Saturation Tower Capacity: | 1.9 gal (7.0 liters) |
| Approximate Operating Hours: | 144 hours |
| Compressed Air Requirements: | 30PSI |
| Electrical Supply: | 120 VAC, 1 PH, 60 HZ |
| Full Load Amps: | 7 A |
| Power Requirement: | NEMA 5-15 |
| Mobility: | Will fit through 32 in doorway |
| Approximate Product Weight: | 263.0 lbs (119 kg) without added options |
| Approximate Shipping Weight: | 378.0 lbs (171 kg) without added options |
Standard Features
STANDARD FEATURES
Temperatures

Tower +

45.5°C (+114°F)

Workspace +35°C (+95°F)

Meets ASTM B117 standard
Single tower water conditioning
Benchtop Style
Transparent Lucite Construction features visual observation of items being tested
Stainless steel base
Tower Level Control
Salt Spray Reservoir Level control with 10-gallon saltwater storage tank (auto refill system)
Salt Fog Collectors 80cm Horizontal Area (2 Required) compliant with ASTM-B117
Instrumentation
STANDARD INSTRUMENTATION
CONTROLLER
MX Series Test Chambers have incorporated AESONE CONNECT creating a robust connected device for a standard and uniform interface making test chamber operation easier.
AESONE XCHANGE is hardware internal to the chamber that increases your functionality
Connects the test chamber controller to your network for increased accessibility
On-board multi-year data logging
AESONE SOFTWARE gives you the power to
Remote chamber operation and monitoring,
Web-based test profile creation,
Viewing current data and historical data visually
Secure multi-level user access
ADDITIONAL ONBOARD INSTRUMENTATION
WATLOW F4T PROGRAMMABLE CONTROLLER. Features a 4.3" capacitive touchscreen minimizing the chance for error. Ethernet communication supported by AESONE HARDWARE. View more controller options
SENSORS.
TEMPERATURE SENSOR. Measured at the point of airflow entering the workspace. Class A, 3-wire, 100 Ohm Platinum RTD sensor
OPTIONAL DATA LOGGERS. View additional data loggers
Safety Features
STANDARD SAFETY FEATURE
Internal thermal heat fuse interrupts electricity flow if it reaches a preset temperature
Optional Features
Special Filter for MIL-STD-202H and 810H (P/N 86264)
Modification to Meet MIL-STD-883K Method 1009.8 Procedure 3.1
Water Demineralizer System
Floor Stand
Downloads
Videos